Products by
LINE
Alphacast
(Kept in Memory of Spyros Koumousis)
Products by
TYPE
FEATURES
Funny

Little

Wars
---
Products Currently Available And In Development

Funny Little Wars
Little Warriors
Little Houses
Little Flags
Little Wheels
Little... STUFF
---
Welcome to TVAG's new page dedicated to the works of Padre Paul Wright, and the growing number
and variety of war game accessories expanding the possibilities of his original war game rules,
Funny Little Wars (FLW) and Little Campaigns (LC).
"In the Beginning was the Word," or in this case, the rules themselves!
---

Funny Little Wars
2nd Edition
By Padre Paul Wright

Retired Chaplain in the British Army, lately of the Household Division, London, former Senior Chaplain at RMA Sandhurst, veteran of postings to the Balkans and Afghanistan, the author may be a man born almost exactly a century too late. His love of toy soldiers--everything from the original ancient and honorable 54mm Britains, To the popular plastic figures now available--the Padre owns them all, and what he can't find he converts with aplomb.

A lifetime admirer of HG Wells, the acknowledged founder of the modern hobby of miniatures war gaming, The Padre felt that the Master's work could be modernized in several ways to make it more challenging--and frankly fun!--for today's war gamers. That he has succeeded in keeping the charm and even innocence of Wells' original work for the pre-Great War era, and yet made a wonderful game for the lawn or table top, is proved by the ever growing number of readers, and all the new products to support them.

Author Wright's latest work, Little Campaigns, is filled with ideas and tools to help players--novices and veterans alike--move into the engrossing world of miniature campaigns.

Other supplemental material allowing players the widest latitude to collect, organize and employ their favorite figures in a wide range of eras and subjects are also on his desk. Napoleonic, American Civil War, the conflicts between WWI and WW2, real and imaginary, and more, are all in development.

Click on either cover to visit the Rules & Books Page to read more, and order the rules for yourself!
---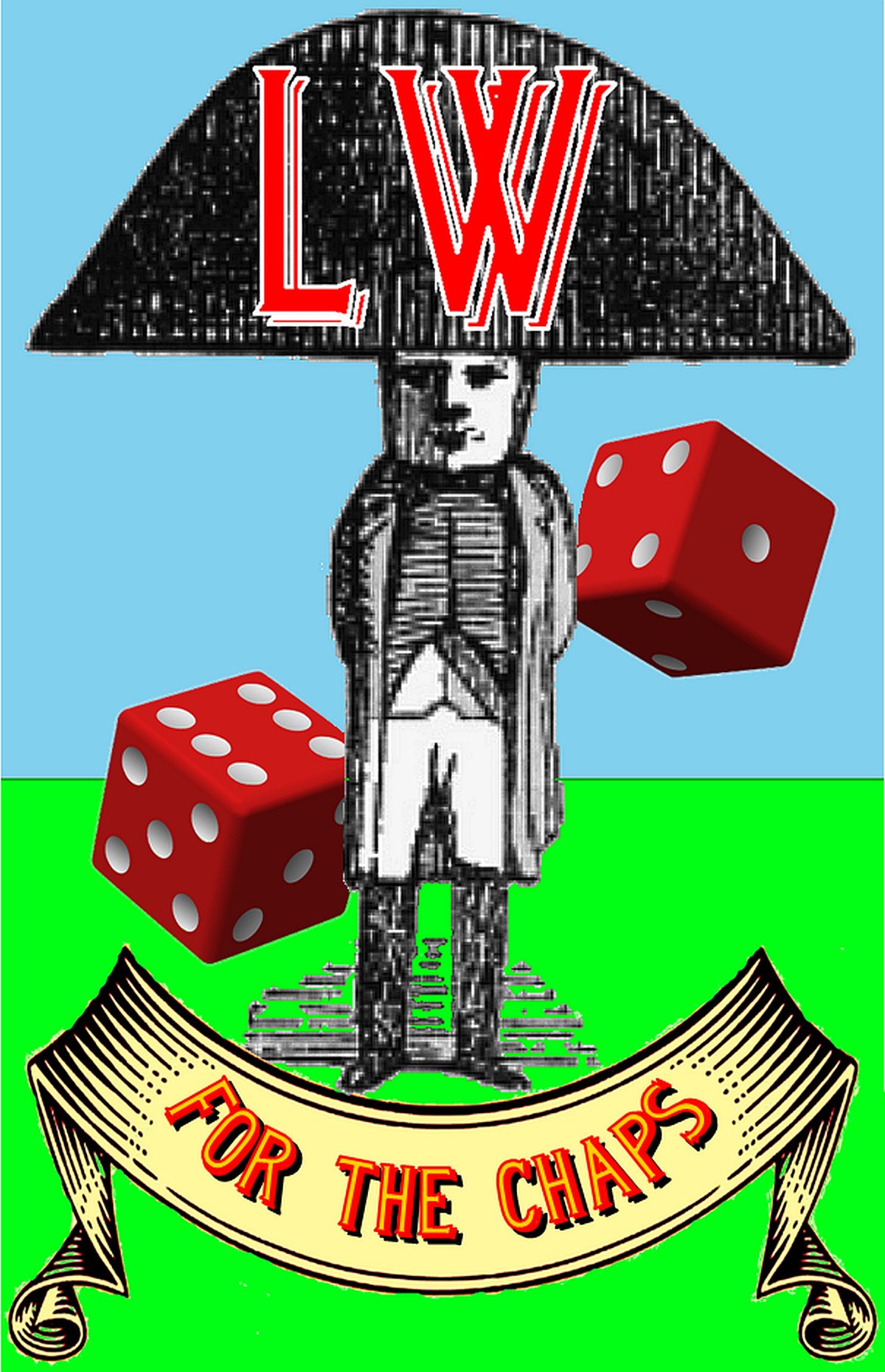 Little Warriors
Unique and Original 54mm/1:32 Scale War Game Figures for FLW Players & Toy Soldier Collectors

From long time sculptor, Chris Ferree, comes the first range of resin castings specifically designed to provide figure types not available in the period of Funny Little Wars (c.1890-1913).

As Funny Little Wars encourages the use of Field Hospitals, Supply Dumps, Wagons/Trucks, Signalers, Observation Balloons, and even early Aircraft, it can be difficult to impossible to find affordable and useful figures to serve as proper Nurses, Surgeons, Litter Bearers, Drivers (and Passengers), Pilots, Supply, Signals and other personnel.

Thus Little Warriors became a necessity, and the first releases are now available. Follow the link on the photo and visit the new LW Page for photos and info on how to order any for your own Armies.
Return To Top
---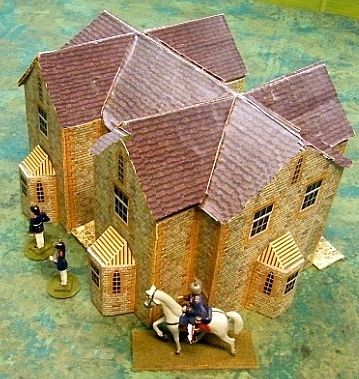 Little Houses
Authentic 54mm/1:32 Scale European Buildings for FLW Players, Dioramists, and Collectors
Farms, Cottages, Barns, Walls, Gates, Roads, Shops, and public buildings dot the countryside wherever Funny Little Wars are fought. Heroic assaults and defenses of such structures fill the history books, and whether playing on the lawn, floor, or table top, they can be important features on any battlefield--not to mention beautiful and rich with a sense of time and place.
However, the majority of model buildings tend to be "railroad layout" oriented, and expensive--sometimes shockingly so--even if they can be found. But players of FLW and Toy Soldier Collectors everywhere now have a very affordable alternative source in Little Houses.
Click on the photo and see for yourself!
---
Little Flags


54mm/1:32 Scale Unit Colors & Standards for All FLW Armies

As each Army is identified only by one or more colors (as was Wells' practice in the original Little Wars), it is vital that each has its own Flags/Standards/Banners to identify the Battalions/Regiments/Batteries each collector will field.

While most Armies have easily discernible historical counterparts, it spoils the effect if they march under "real" colors. The game loses some of it's romance without these extra elements of national character and heraldry.

Thus "Little Flags" were born in order to provide players and collectors everything they need to give their chosen Armies brave banners to fight under--to risk the shame of loss in battle, and seek the chance to win undying fame by wresting them from the enemy!

Click on the Logo to visit the "Little Flags" Page to see the complete range of sets now available, and order your own Army's Colors!
---

54mm/1:32 Scale Vehicles and Rolling Stock for FLW Players, Dioramists, & Collectors

No Army--whether for FLW, Display, Dioramas, or the Real Thing!--can exist without Vehicles of all kinds. From General Service Supply Wagons, Ambulances, to Trucks, Staff Cars, Pontoons and Wagons to haul them, and even Armored Cars and early Tanks, your Funny Little Wars Army must be supported by at least some of these.

And while some lovely die cast models are out there in our Scale, many are extremely expensive and/or hard to find. So, once again, The (Virtual) Armchair General, in league with gifted designer, Chris Ferree, offers these inexpensive, full color, card stock alternatives for so many items you might never be able to find anywhere else.

But that's not all! How about authentic Machine Gun Carts to be pulled by dogs? Well, here they are for Armies Purple, Red, and Ruritania. More key pieces of field equipment are coming that would cost a fortune in metal--even if made! Field Kitchens and Forges, and more basics are already available, and others are in the pipe.

As ever, examples of what are already for sale may be seen and bought as PDF's for home economical printing and self-assembly by following the link to their page.
Return To Top
---
54mm/1:32 Scale War Game Accessories for FLW Players, Dioramists, & Collectors

So, you have the rules, you have the figures, the Houses, Roads, Walls, and more. You've built your Supply Dump and Field Hospital, but where do you get the Crates of Rifles, Ammunition, Rations, (and Champagne and caviar for your Staff Wienies) to pile up on the field? You come HERE and buy your own self-assembly card Boxes/Crates/Barrel labels, and more--marked in the proper Native Language of your Army!

Now you can have dedicated containers, bearing your Army's colors/devices, with stenciled text and symbols "painted" on them, and so inexpensively and easily, you can fill every wagon, every Echelon, and every tent as you wish. Supplies for you to protect--and to capture on the field and add to your own stores!

And watch for more tentage, camp furniture, and other accessories to help complete the picture. To see what's already available, follow the link above see how you can add the "Little Details" that make your collection stand out and make your miniature world ready to move into!
Return To Top
---
Fall Back To The Virtual Armchair General's HOMEPAGE
All text, photos, and artwork are COPYRIGHT©2003 by Patrick Wilson.
They may not be used without written permission.
Contact The Virtual Armchair General
Names of individual product lines are trademarks (TM) of the manufacturers.