From the imagination of the late Scott Saylors, and the designs of Patrick Wilson for Studio 33 Productions, comes Mean Streets , the first comprehensive effort to provide Gangster, Pulp Fiction, Sci-Fi and Horror gamers with the period urban environment crucial to their miniatures scenarios. Rules and figures for these have come and gone, but never before have the city streets, buildings, sidewalks, alleys, etc, so vital to the look and success of these games been available with such comprehensive detail and affordability.
Mean Streets is a range of full color, self-assembly building models to be printed on card stock Block Sections in 1:60 scale (28mm), uniformly 10" square, though of variable height. Created using photographic textures and architectural features proper for the period of around 1920 to about 1950, the buildings have a look that can hardly be equaled in any other medium, and for far less cost, time, and effort. Each Block Section represents all walls and roofs of one or more buildings along one street side, then around the corners to the opposite side facing the next street. Four Block Sections may be fitted into a standardized Full Block of 56" length and 14" width (including one 2" alley between each building, and a central alley 4" wide, with 2" wide sidewalks all around). Each Block Section may be bought separately, as may street surfaces, sidewalks, and much more, for those wishing the maximum variety in their own layouts.
The following Layout Schematic shows how to fit basic parts of the project together, but only hints at what can be done with the Block Sections and various accessories.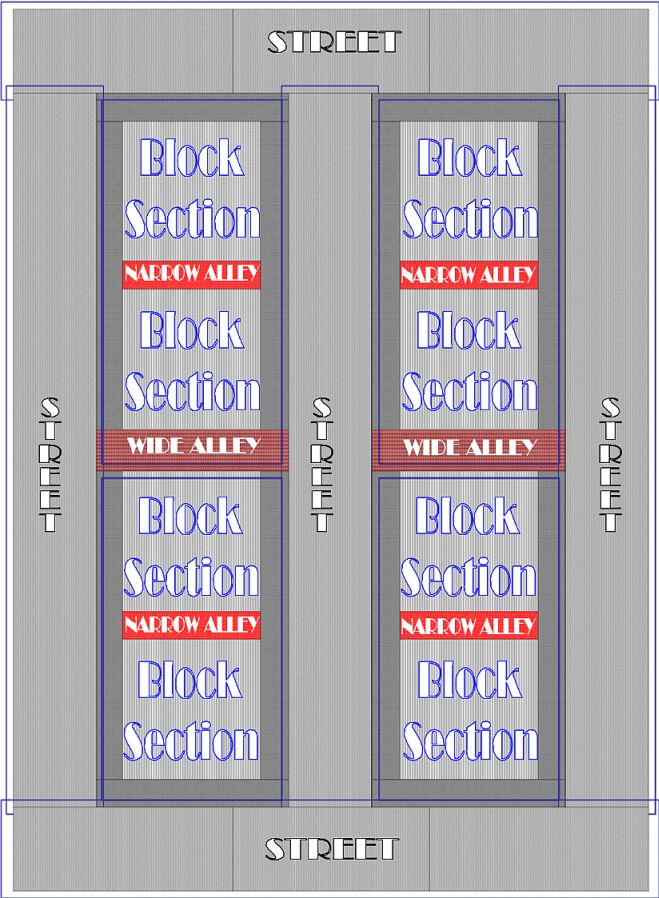 Only scissors, a craft or box knife, white glue, standard 3/16"/5mm foam board, and optional heavy matte board, are required to build each Block Section into a permanent gaming accessory that will provide years of service for a fraction of the cost of other materials. Light weight but durable, a Mean Streets layout is easily transported to games and even conventions. No painting is required, and most buildings come with their own signage, advertising art, and authentic period posters (especially the Movie and Burlesque theaters).
Most sides of each assembled Block Section may be seen via the photographs below. The Block Sections are listed with full particulars, though some are shown with Optional Rooftop Sheds, Water Towers, etc, which are available in a separate "Rooftop Structures" set.
Every item in Mean Streets has undergone a nearly total revision--some more than one!--with the emphasis on new and ever superior graphics, as well as simpler assembly. There may be some visual differences between the photographs of these prototype constructions and the product actually received, but the changes are all for the better. All photos which appear are of the new re-designs, and until new prototypes have been photographed, the old photos have been removed. TVAG also wishes to credit Messrs. Barry Cadwgan, Jon Lundberg, Patrick Connor, Brian Weathersby, Alan Lockhart, and Glen Allison for their contributions as test assemblers and photographers--Thank You, Gentlemen!
All portions of Mean Streets are provided as PDF's for self-printing. If you choose to buy multiple PDF's, or the "Whole Town Deal" , significant discounts are offered. All items may be purchased directly via our Shopping Cart, and in your preference of "A4" or "Letter" sized formats via the drop-down menus provided. Files are delivered via E-mail through the service, "Transfer Big Files Free," as soon as the order is processed, eliminating postage costs for even greater savings.
---
The List of Currently Available Block Sections and Components for Mean Streets.
Block Section 1 --Diamond Ace Club, SMC Cartage Co. Garage, The Carlington Hotel, Farouk's Tobacco Shop
Block Section 2 --Anastasio's Apartments, Sbabaro's Funeral Parlor, Manzarelli's Grocery, Helth Ice Co., None Finer Diner
Block Section 3 --Biograph Theater, Lepke's Market & Deli, 33 Police Precinct Station, Central Bus Terminal
Block Section 4 --The Gaiety Burlesque Theater
Block Section 5 --Acme Warehouse
Block Section 6 --Central Police & Fire HQ
Block Section 7 --Kravitiz Fish Market, Backwater Inn, Joe Hill Union Hall, Steamship Office, Harbor Master
Block Section 8 --Federal Building, Metropolitan Police Garage & Dispatcher
Block Section 9 --Warehouses, Auto Repair, Kreplach's Factory
Block Section 10 --Schofield Florist, Attorneys, Barber Shop, Sports Inc., Sterlington's
Block Section 11 --St. Patrick's Cathedral
Block Section 12 --Mama Lagano's, Barton Arms Apartments, City Mission, Derelict Building
Block Section 13 --Central Park
Block Section 14 --The Court House
Block Section 15 --First National Bank Building
Block Section 16 --Hotel Metropole
Chinatown and Ethnic Businesses!
Block Section 17 --Chinatown 1, Haberdashers, Dr. Baruch Goldman's Office, Attorneys
Block Section 18 --Chinatown 2, Kosher Delicatessen, Pawn Shop
Block Section 19 --Chinatown 3, Cotton Club, Rudley's Diner, Buckley Beauty Supply, ThelmaShop (sic)
Block Section 20 --Chinatown 4, Dreamland, Booker's Cigar Shop, Ruby's Flowers

The Slums
Block Section 21 --Tenements "Washington" and "Iroquois," and Peruggio's Tool and Die and Santini Brothers Manufacturing at the rear
Block Section 22 --"Morrison" and "Savoia" Tenements, Clancy's Pool Room, The Blue Note, and O'Mally Green Grocer
Block Section 23 --"Hamilton," "Arcadia," "Weathersby" and "Columbia" Tenements and the "Gen. Ben Butler Hotel"
Block Section 24 --Splendid Garment Factory, Al's Machine Shop/Engine Repair, Acme Body & Paint, and greasy spoon diner

Block Section 25 --The Infamous HQ of Al Capone in Cicero
Block Section 26 --The General Hospital
"Mean Streets" Components
Levee/Riverfront Section
Streets
Alleys
Sidewalks
Streetcar And Track Sets
Rooftop Structures
Advertising, Posters, & Signs (Graphic Sets)

---
The Block Sections
Block Section #1-- Consisting of The Diamond Ace, a Members Only Club featuring fine dining, dancing, good music, and... entertainments. This Building is 6.25" high, and the SMC Cartage Co. Garage & Lot (4" high), and the Carlington Hotel, which the charitable would call a "flop house" (7.5" high with 1.5" tall Roof Access hed on top). On the Carlington's ground floor, Mr. Farouk operates his Tobacco Shop where you can meet some of the most interesting people--especially very late at night. The SMC Cartage Company is authentically modeled on the site of the infamous "St. Valentine's Day Massacre" of 1929 (note photo of the actual site for comparison).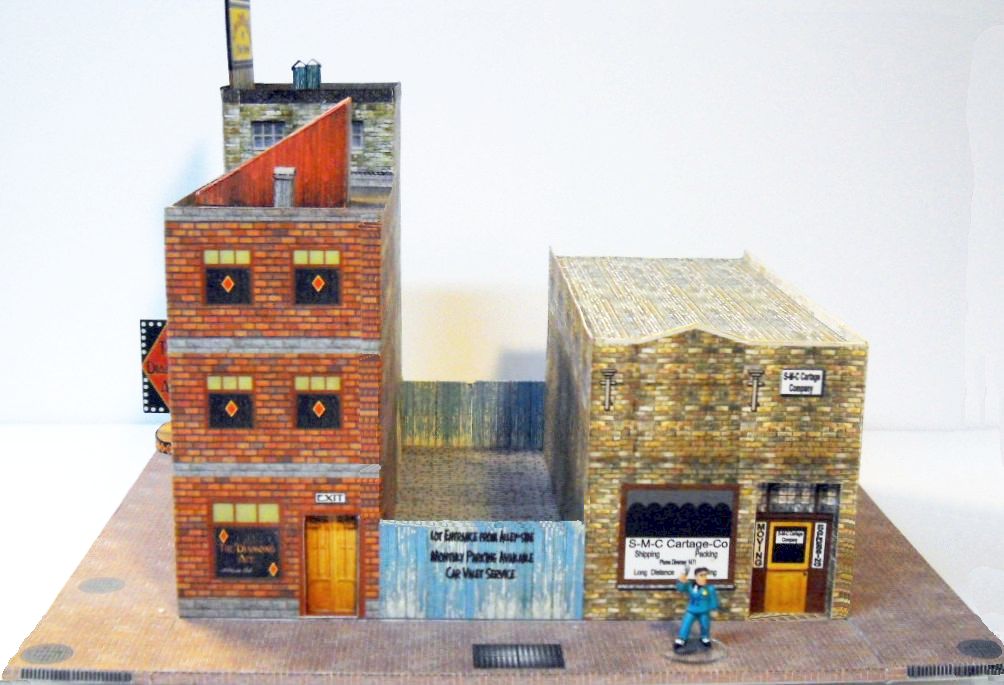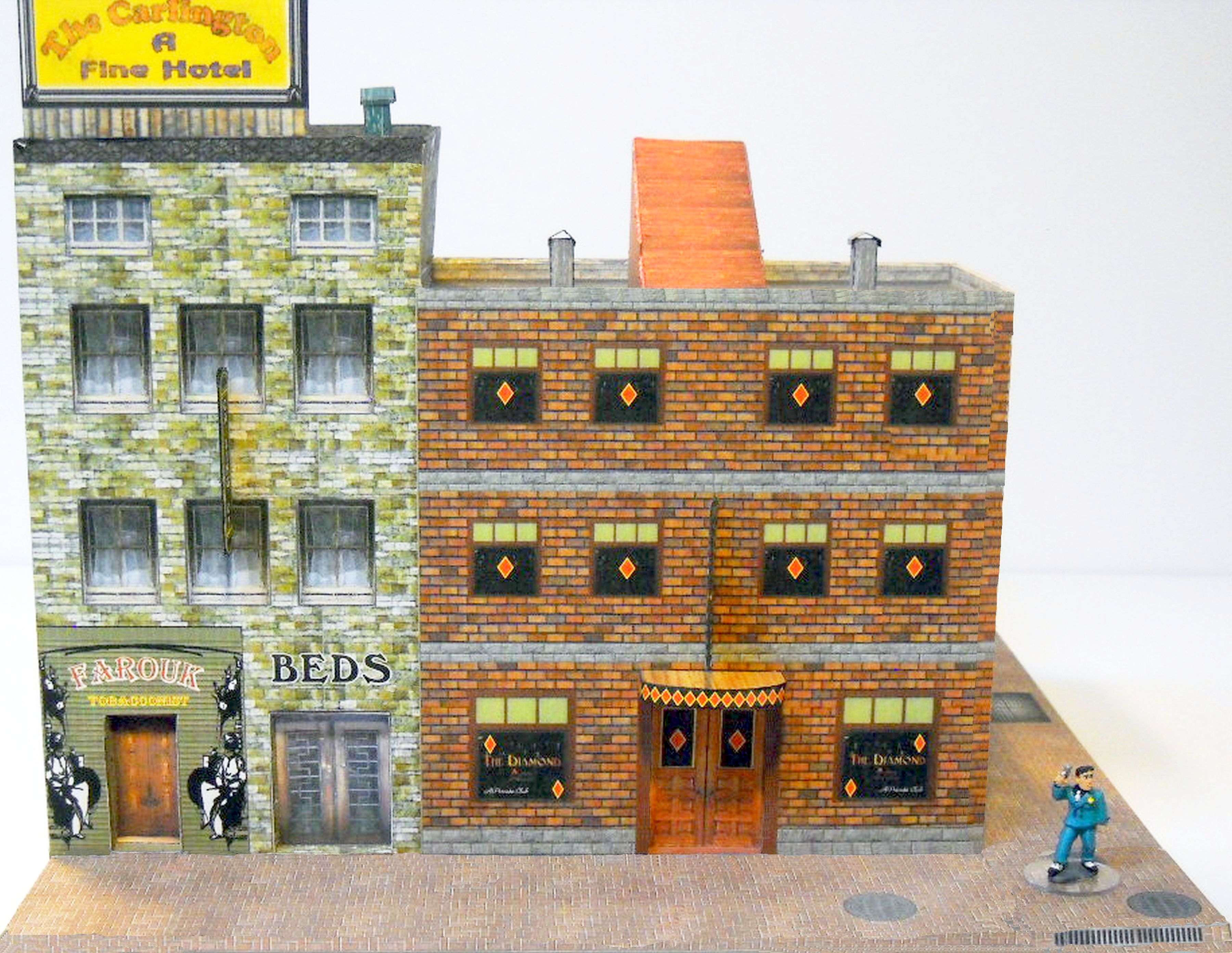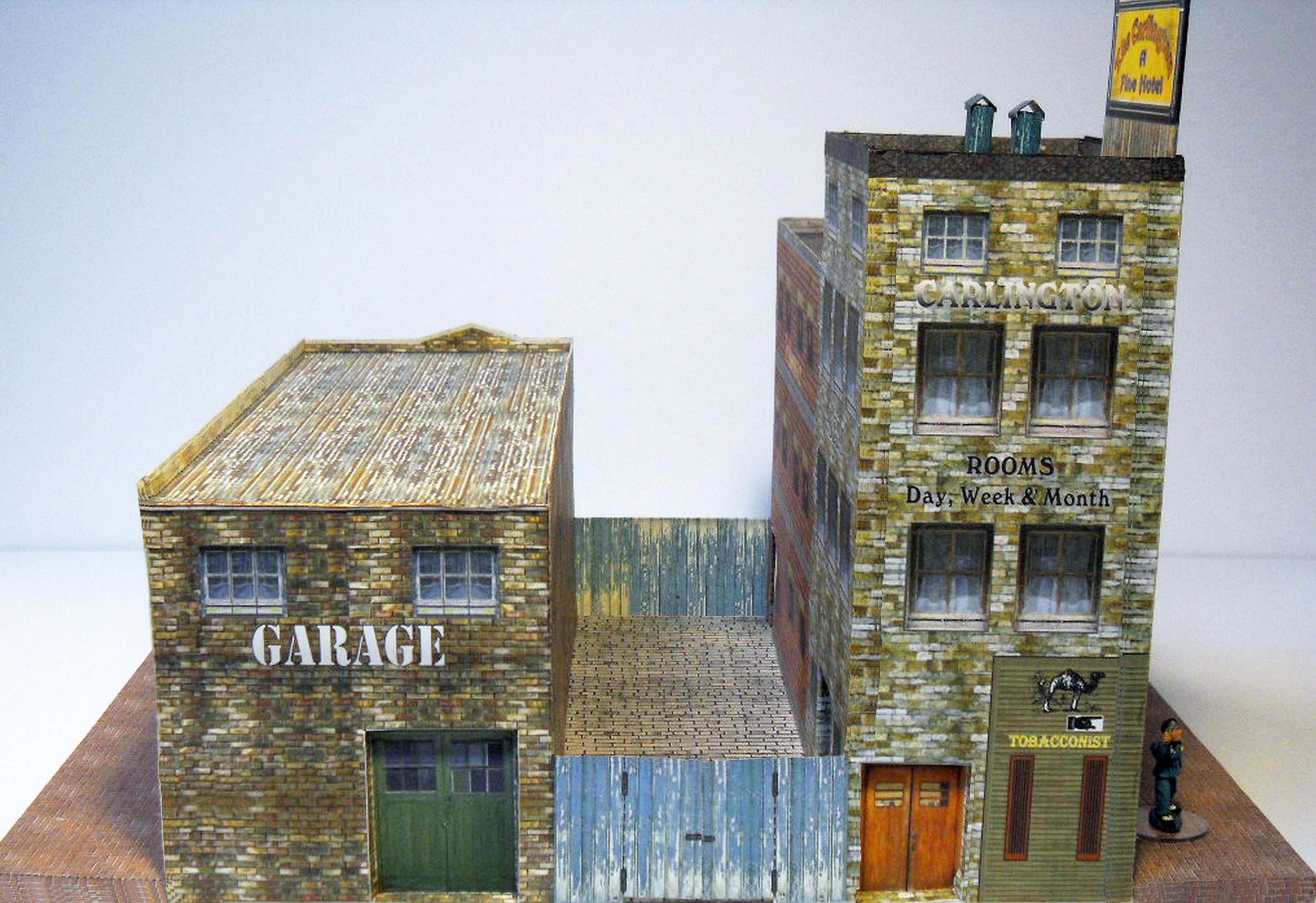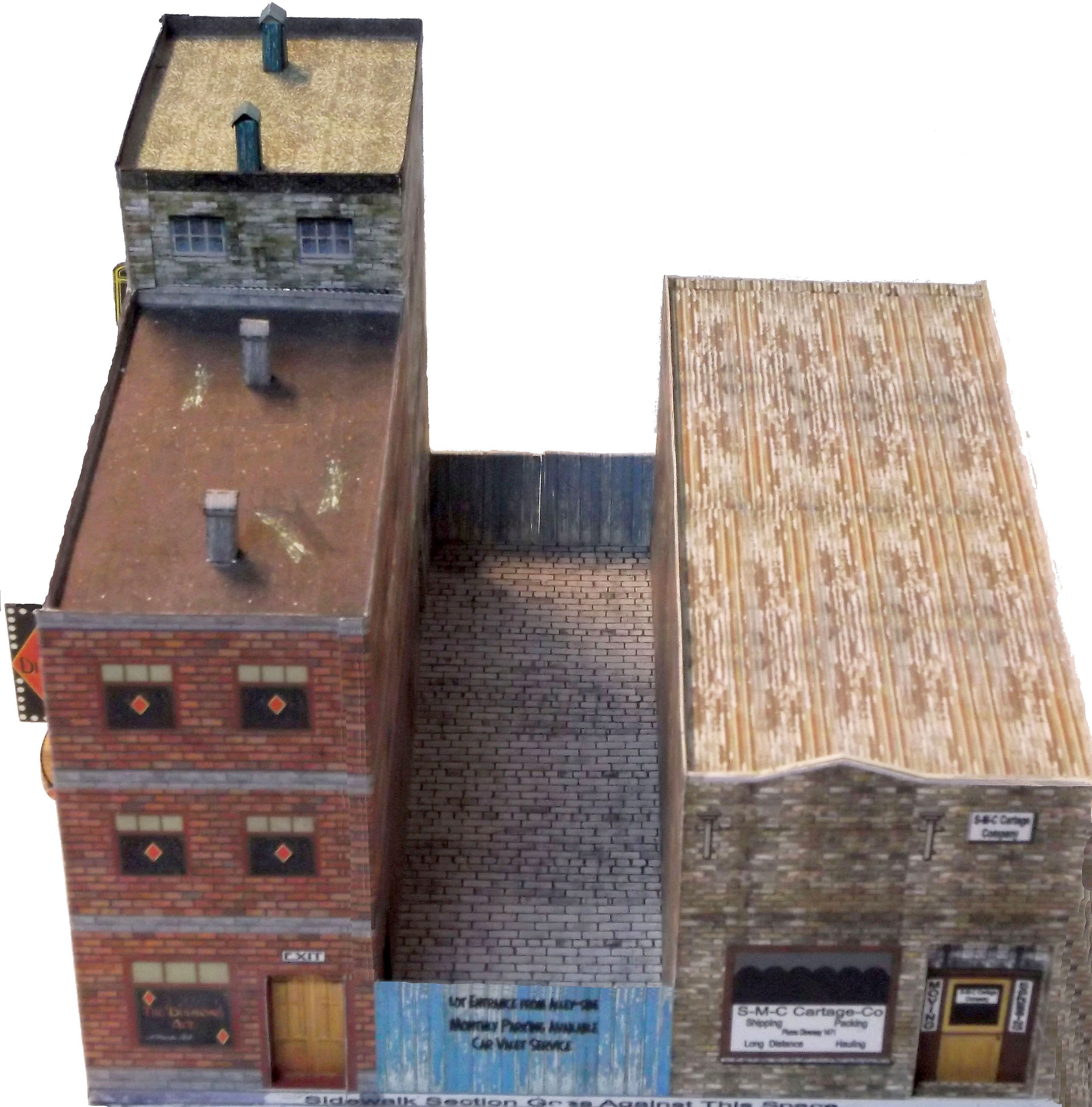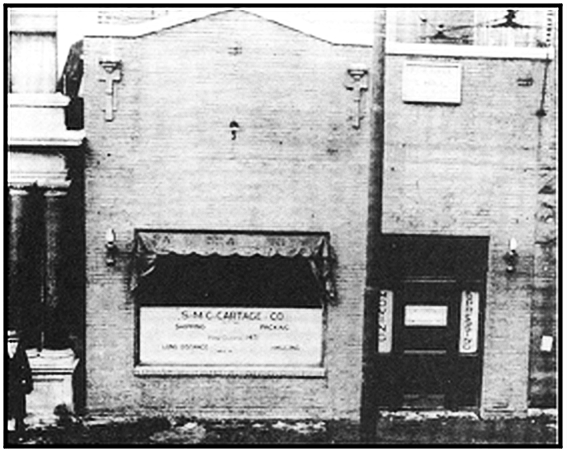 `
(Display Model Constructed and Photographed by Brian Weathersby.)
PDF File Format: $10.00
---
Block Section #2-- Consisting of Anastasio's Apartments, None Finer Diner, Manzarelli's Market, Helth Ice Co., AAA Best Shoe Shop, Sbabaro's Funeral Home, and Scott's News Stand (all 5.75" high, except the Shoe Shop at 4.25" and the News Stand at 2"). The News Stand comes complete with newspapers in racks on the back wall and actual period "Spicy" Pulp Magazines on the counter and sidewalls. Manzarelli's Market is on the ground floor, while those above contain "Rooms To Let," the offices of "Antonio Falco, Attorney at Law," and Medium "Madame Gazonga's" Seance Room (very popular with the Ladies since Valentino went over). Sbabaro's is also accurately modeled after the actual building (note the photo) which was the site of Chicago's most famous Gangland Funerals-- one of the few places where the Underworld Elite could meet on neutral turf--and give each other "The Look."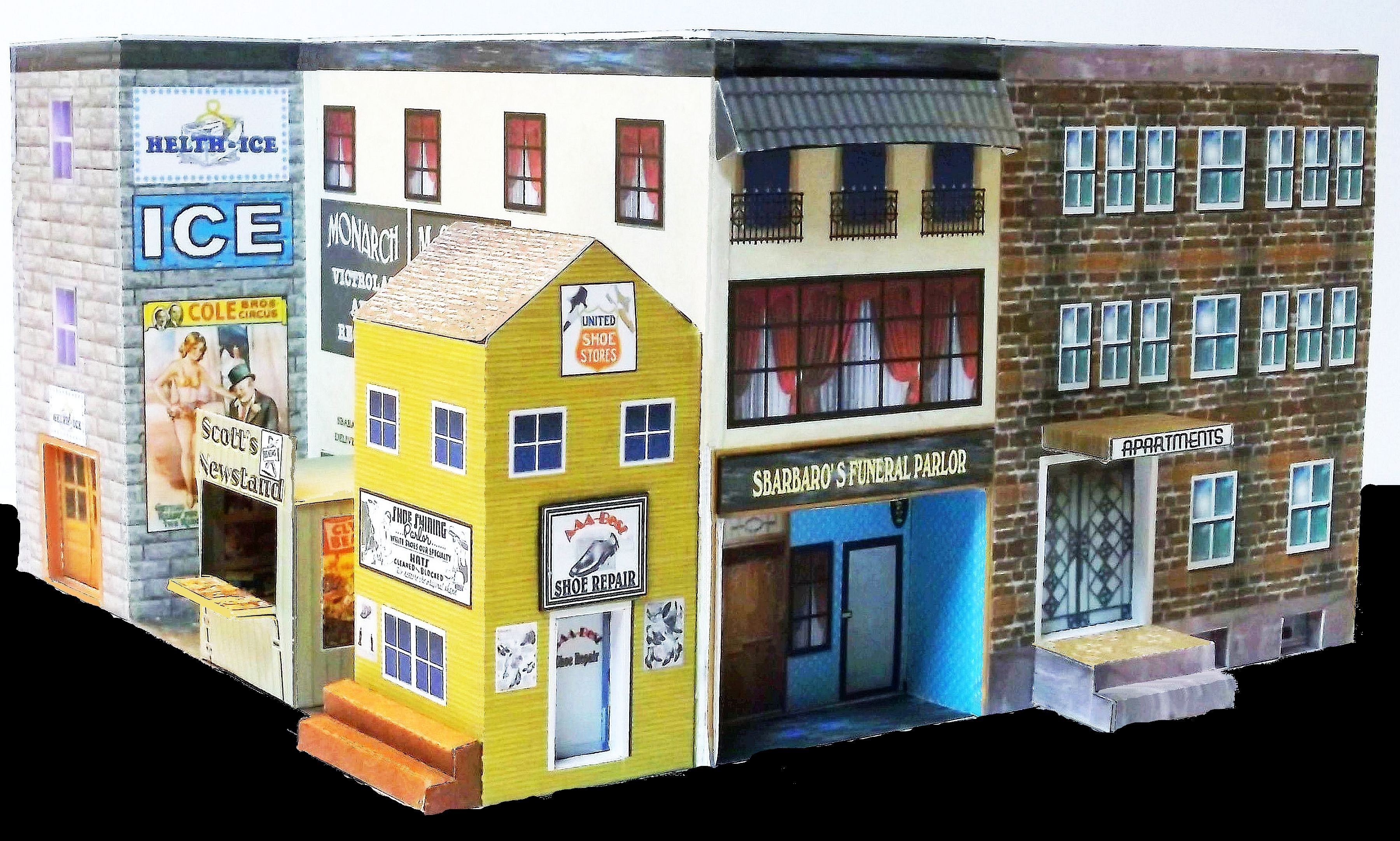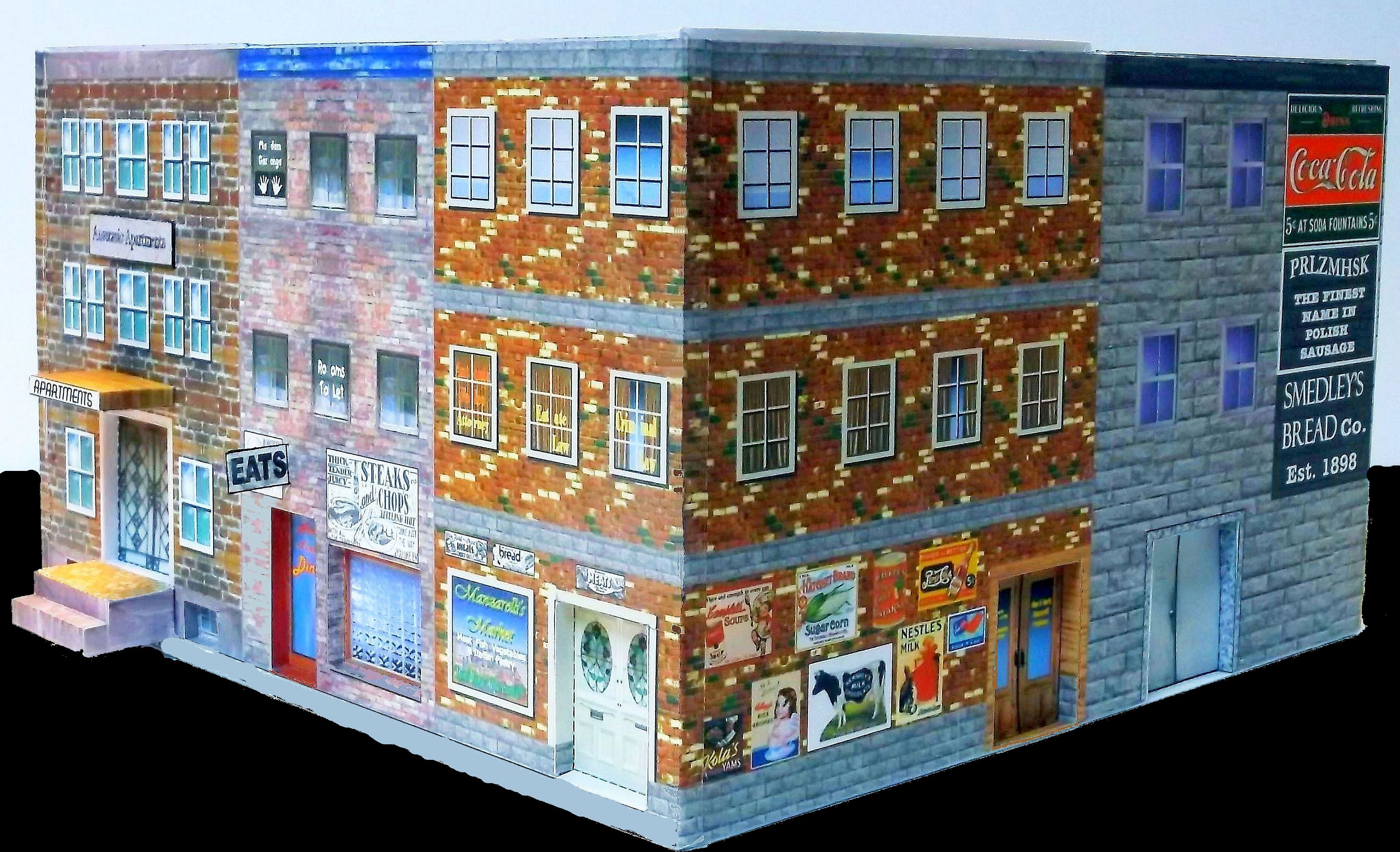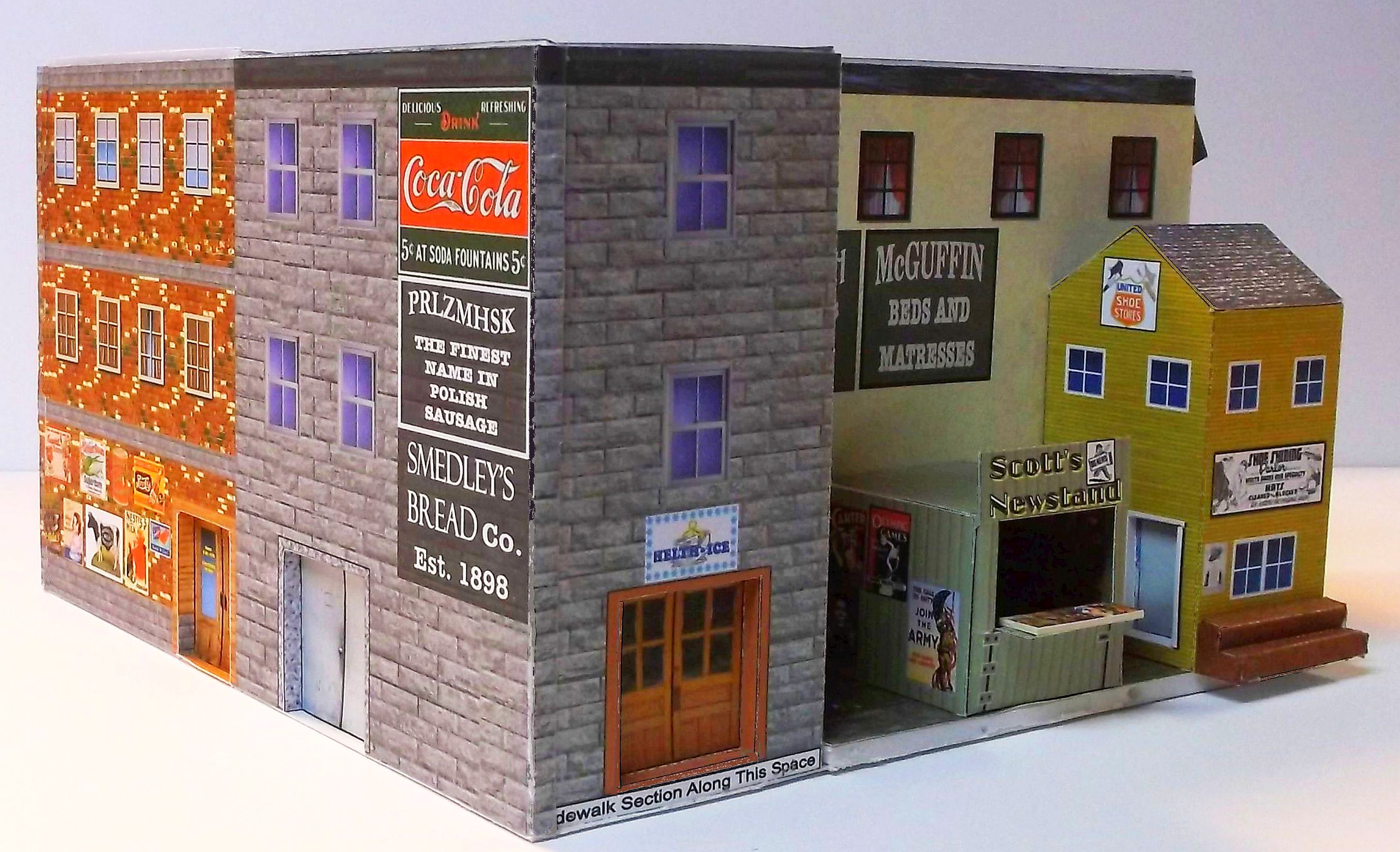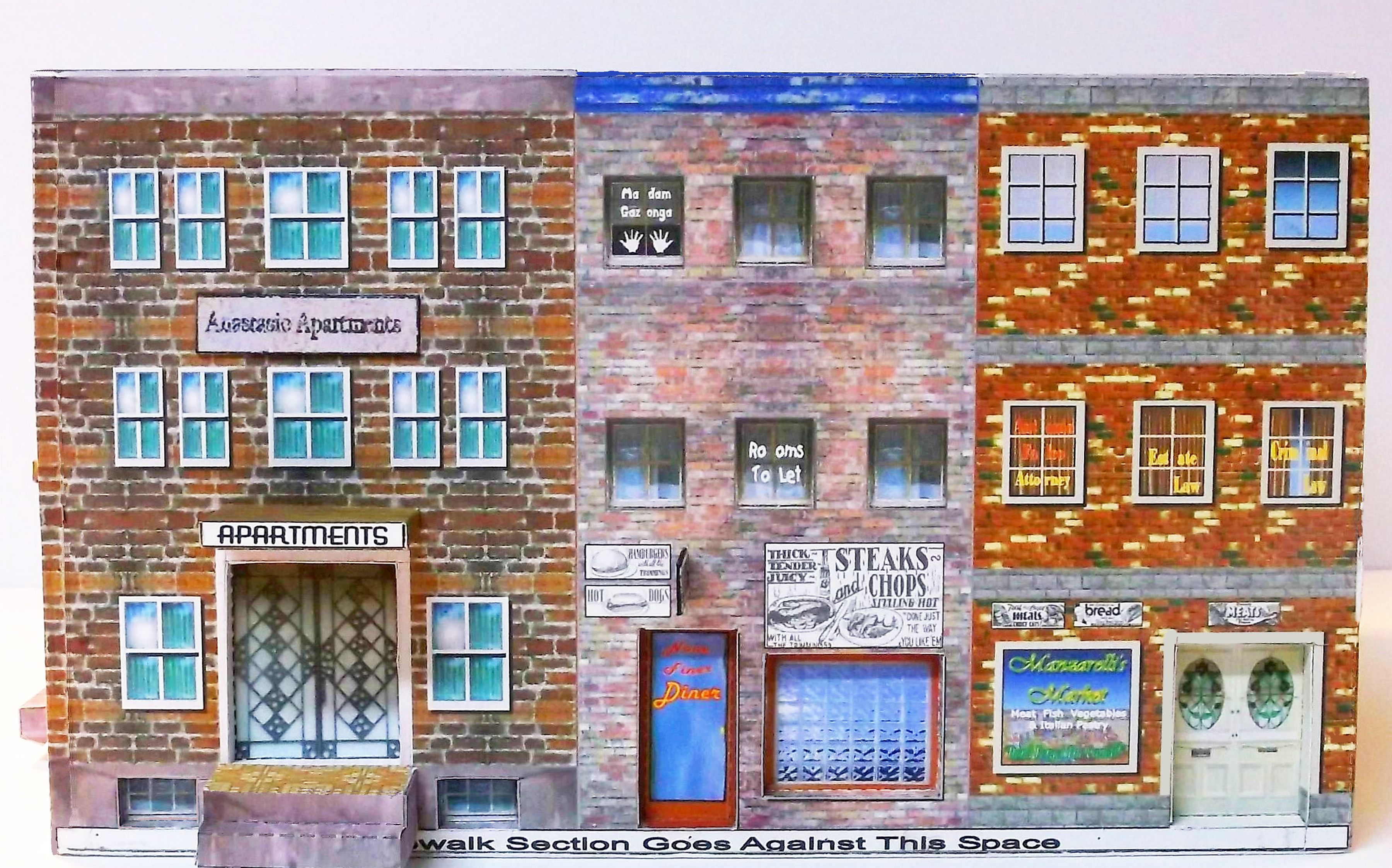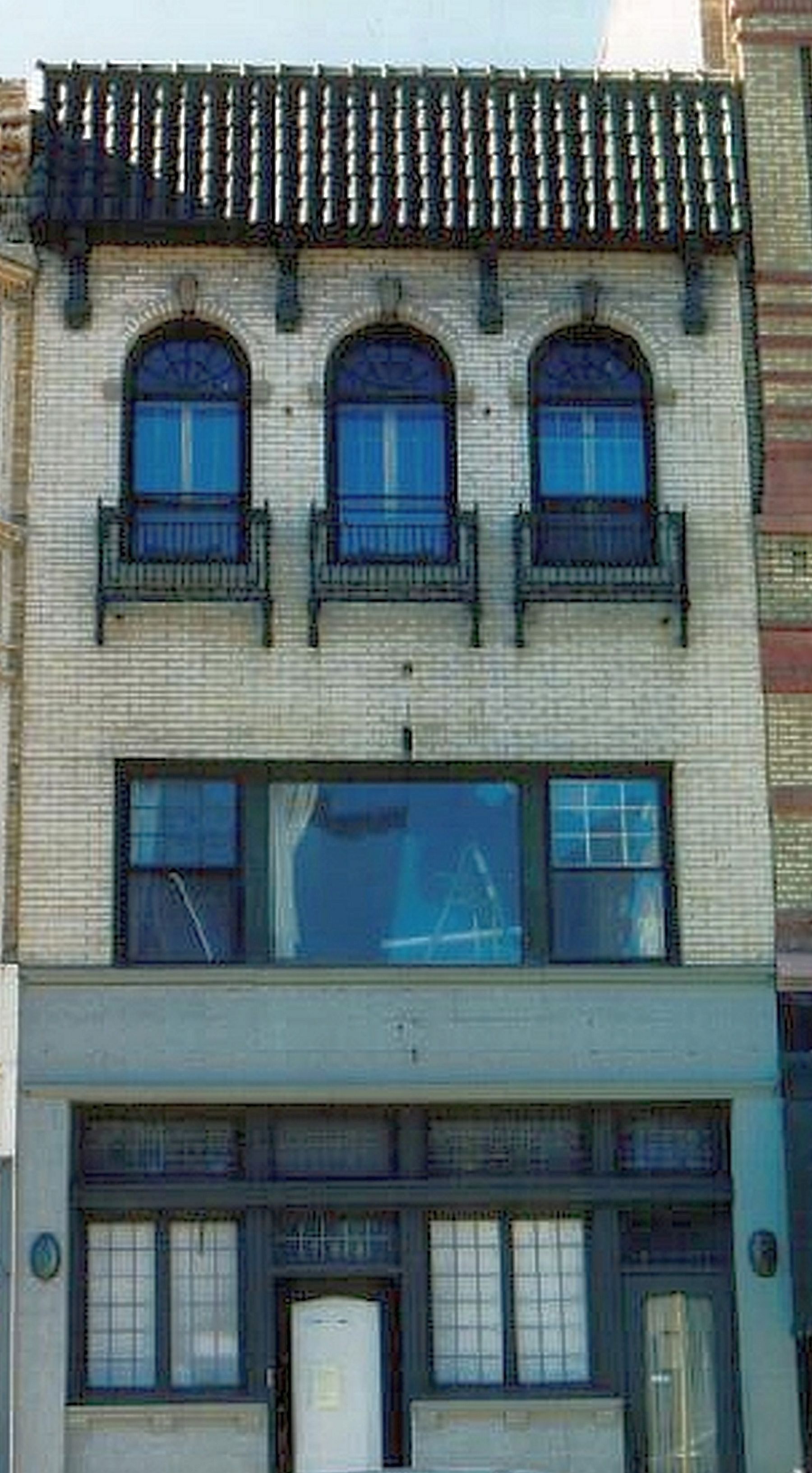 `
(Display Model Constructed and Photographed by Brian Weathersby.)
PDF File Format: $10.00
---
Block Section #3-- Consisting of the Biograph Movie Theater (6" high), Mom & Pop Lepke's Market and Delicatessen, The Central Bus Terminal, and the 33rd Precinct Station. The Theater comes with a huge selection of authentic movie posters ready to hang out front, in the lobby and to put on the marquee. Lepke's windows are full of goodies, and just the place for a bag of sandwiches on long stake out nights. The very Art Deco Central Bus Terminal is a great place to drift into town from--or get out of quickly. The "The Green Light Hotel" gives your Police a place quickly to run in a suspect for some 3rd Degree "question and answer" games, and for other characters a room for the night. Buildings come with separate signs and advertisements.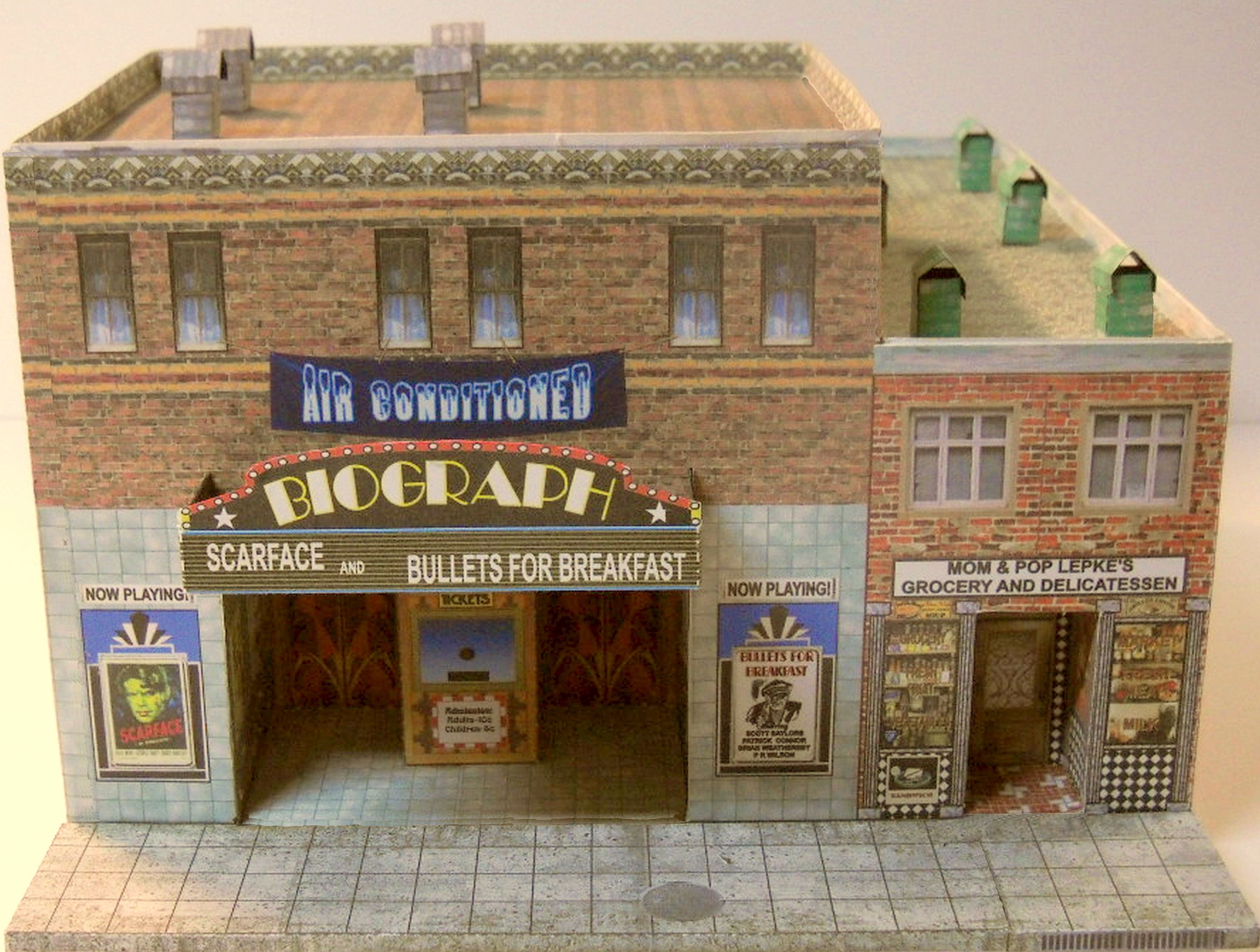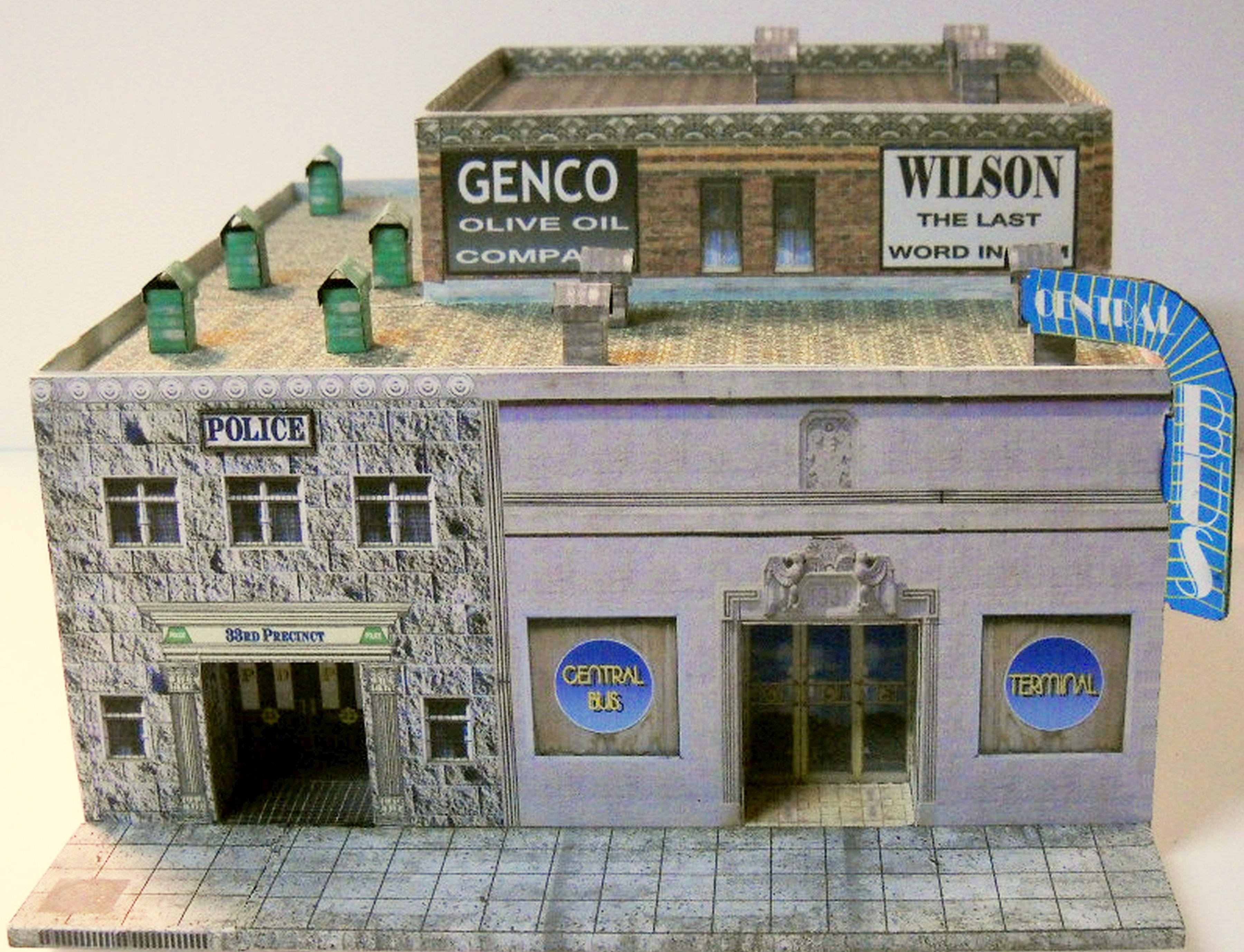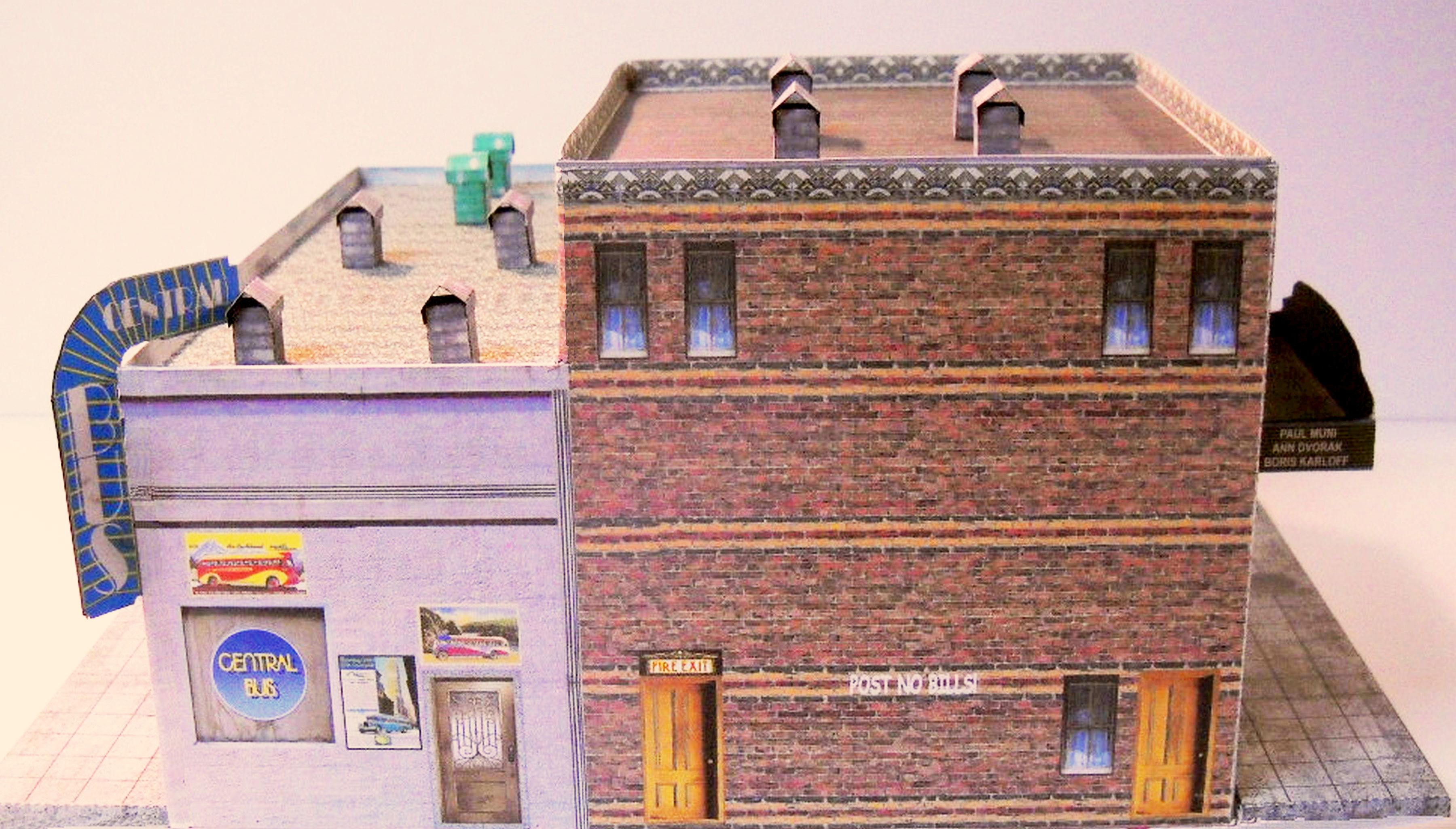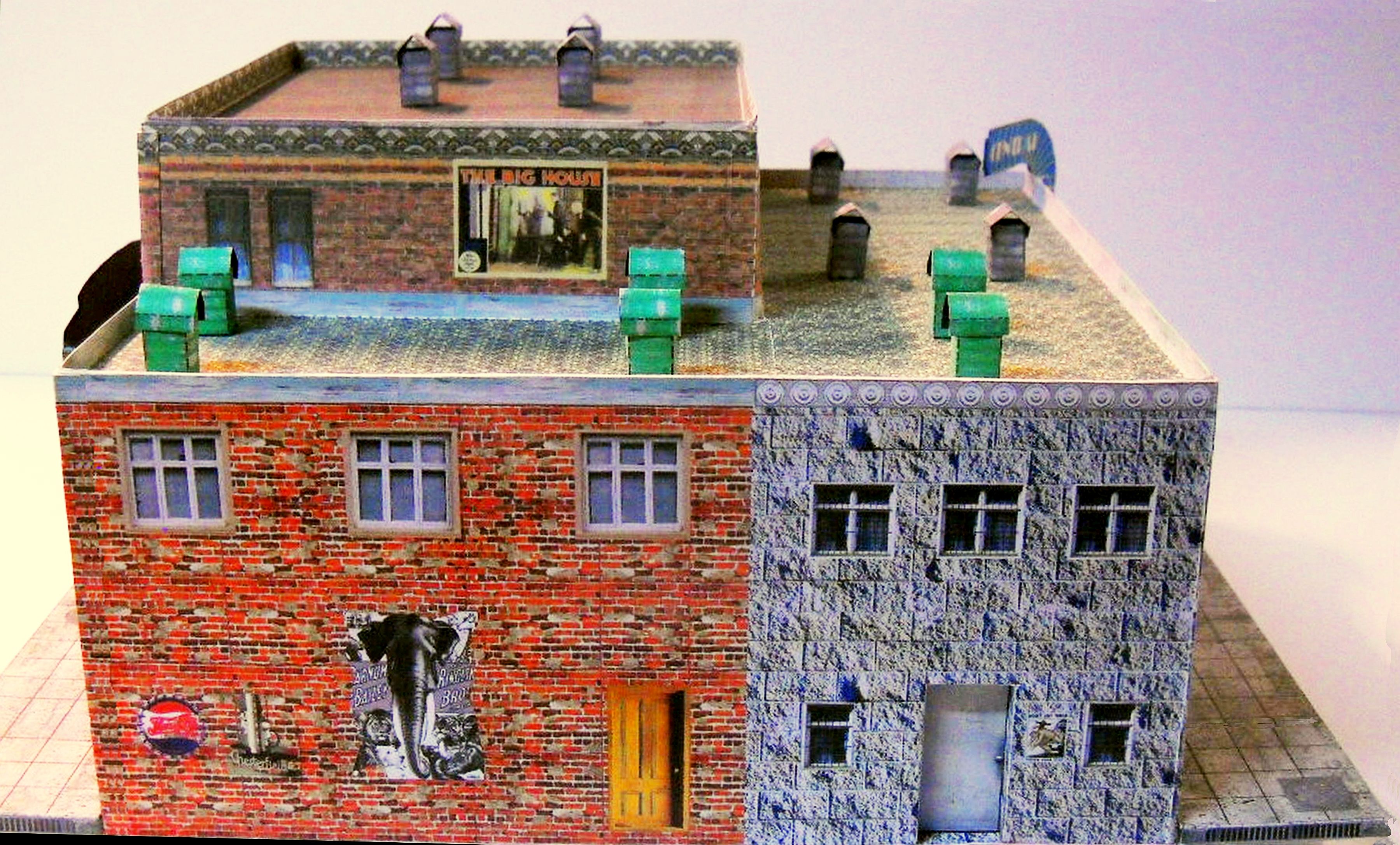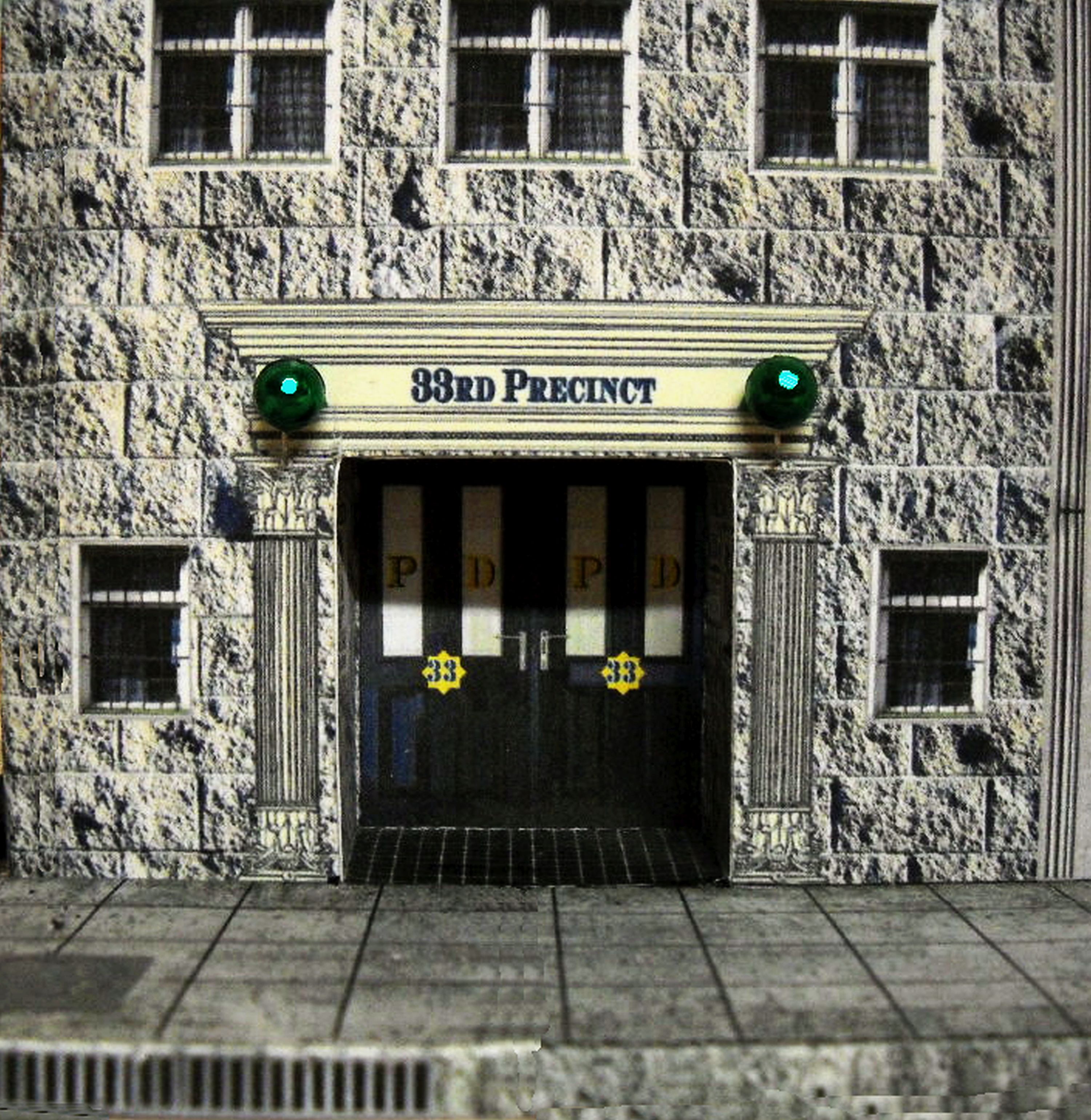 `
(Display Model Constructed and Photographed by Brian Weathersby.)
PDF File Format: $10.00

---
Block Section #4-- The Gaiety Theater (4.5" high at front, 7.5" at rear) occupies an entire Block Section and includes the blue tile for the lobby. An old fashioned House of Burlesque, it comes complete with period posters to hang, and even the Stage Door for that rendezvous with Trixie LaFleche after the last show.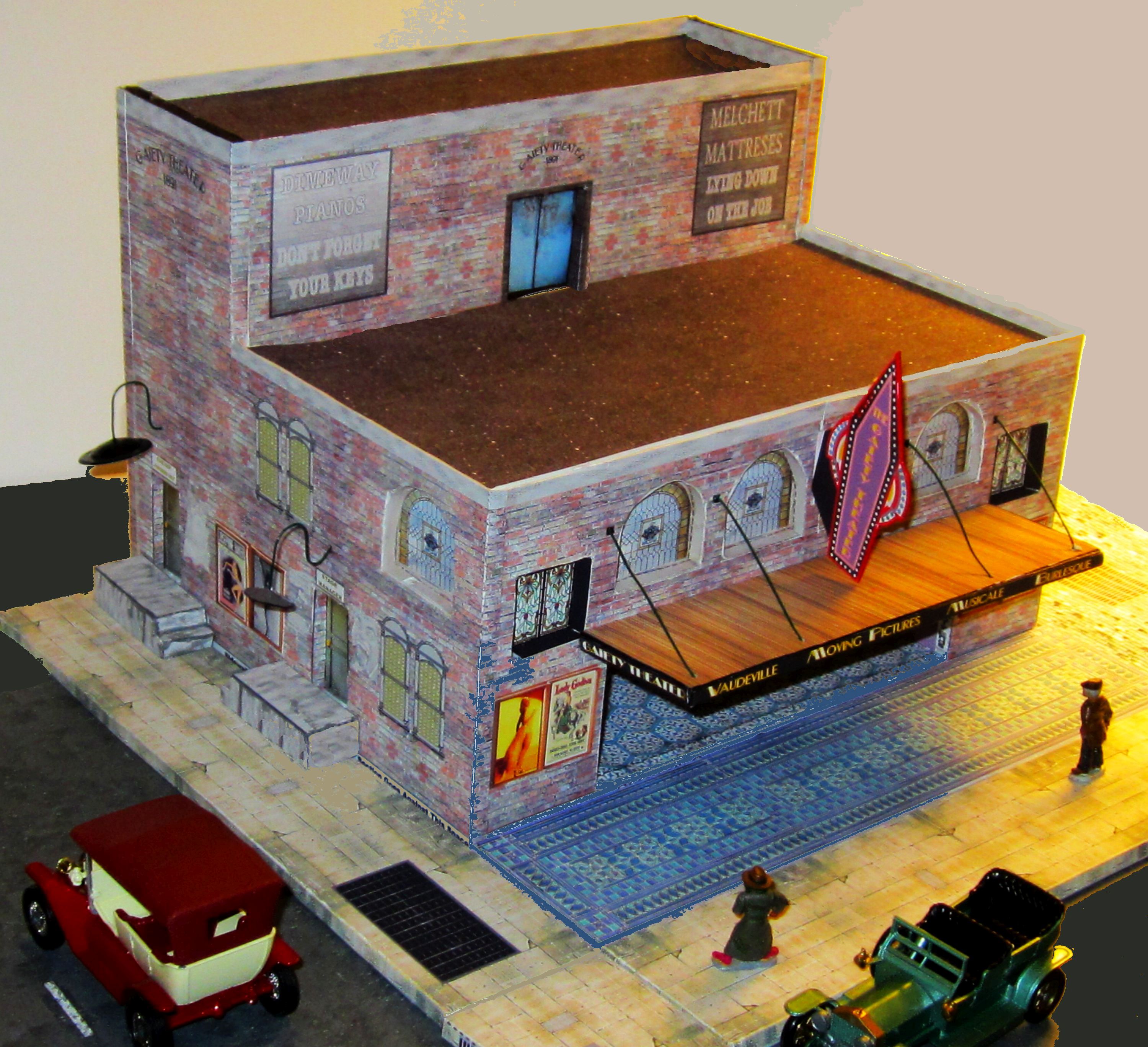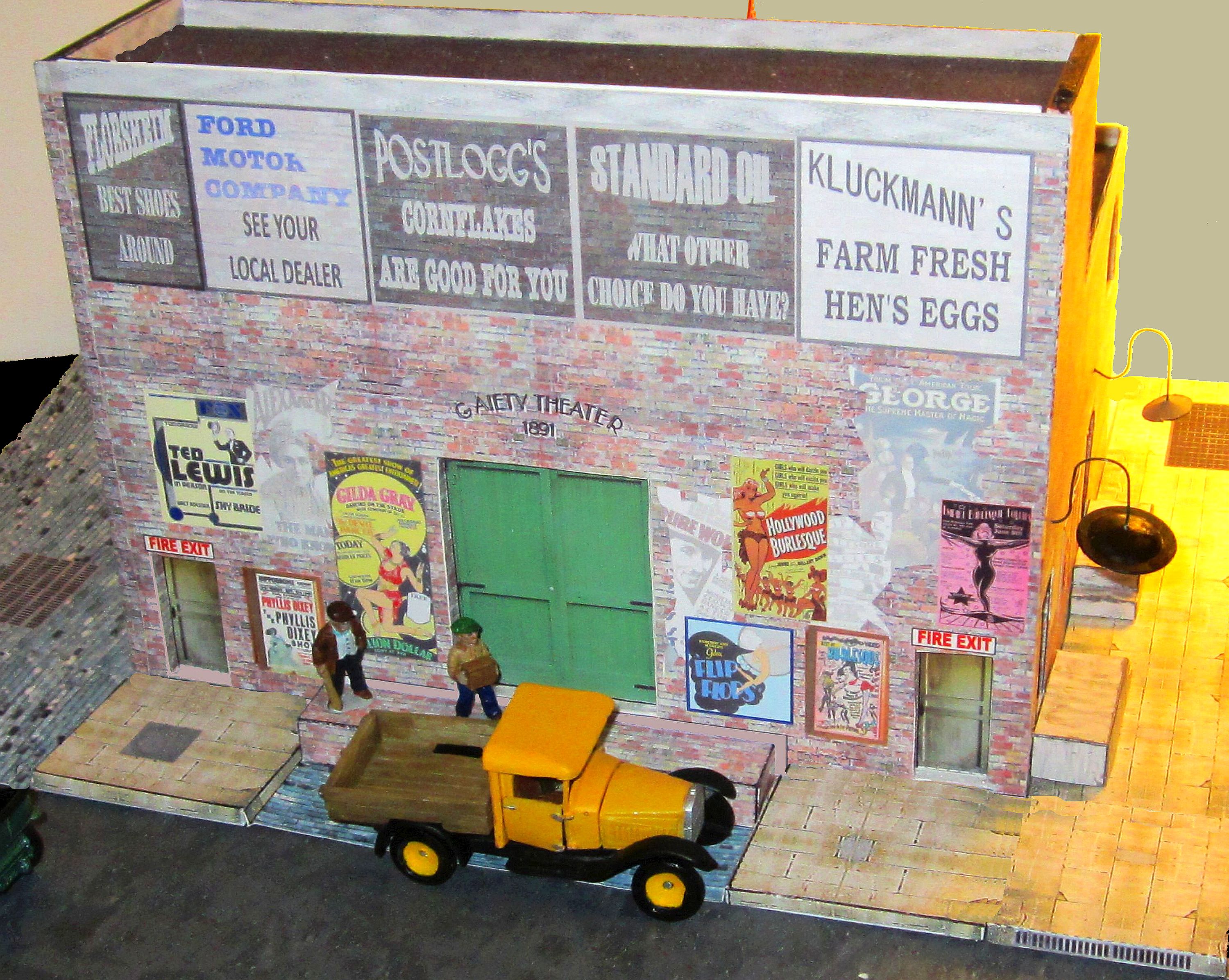 `
(Display Model Constructed and Photographed by Scott Colby.)
PDF File Format: $10.00

---
Block Section #5-- The Acme Warehouse (7" high at front, 3" at rear) occupies an entire Block Section. Tall front section with sloped rear roof and loading bay, this is the perfect, innocent looking place to hide everything from your illegal Brewery to Fu Manchu's Electrostatic Krebulator/ Cthulhoid Cult Temple/Shirley Temple Fan Club, or other sites of unspeakable horror!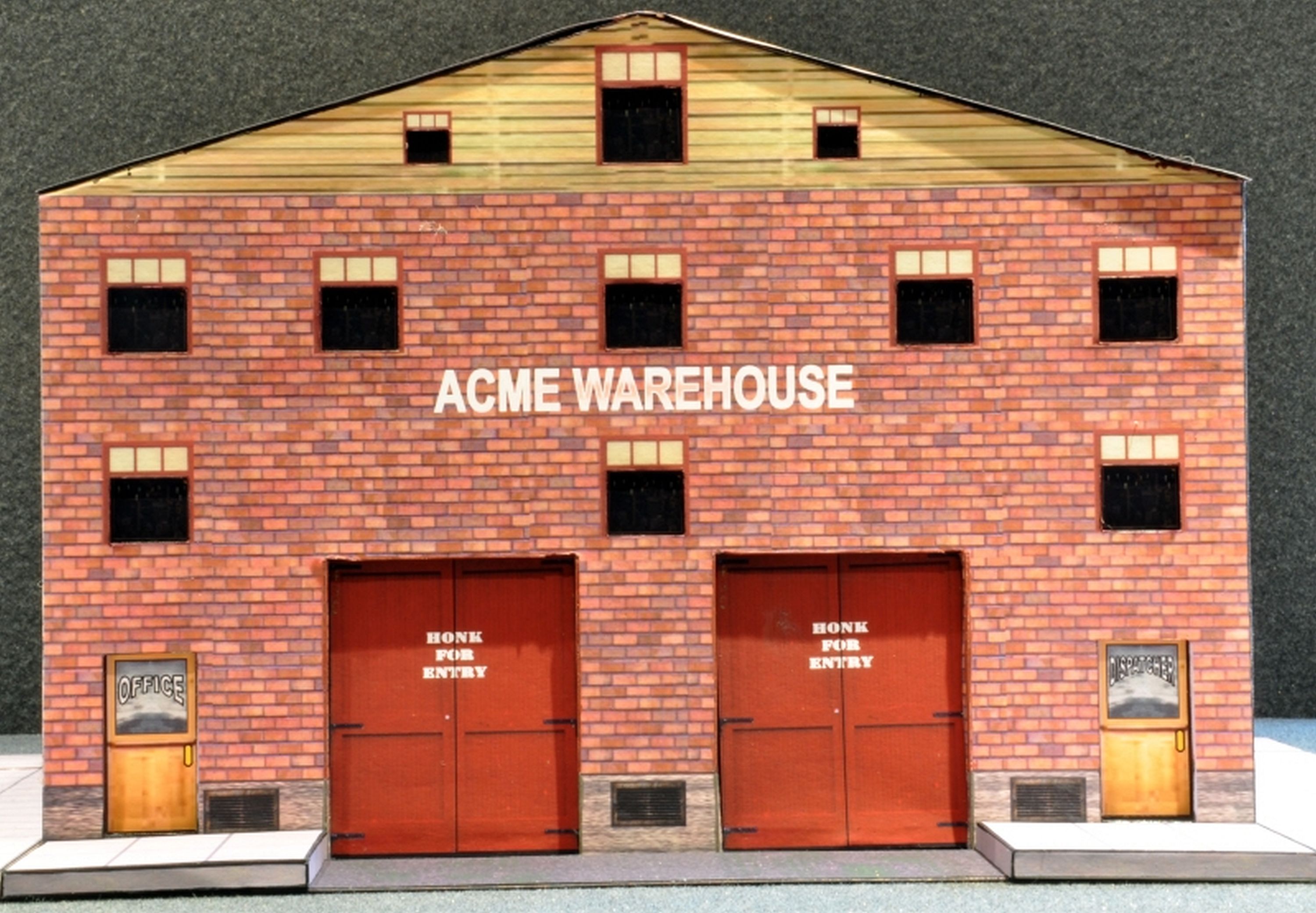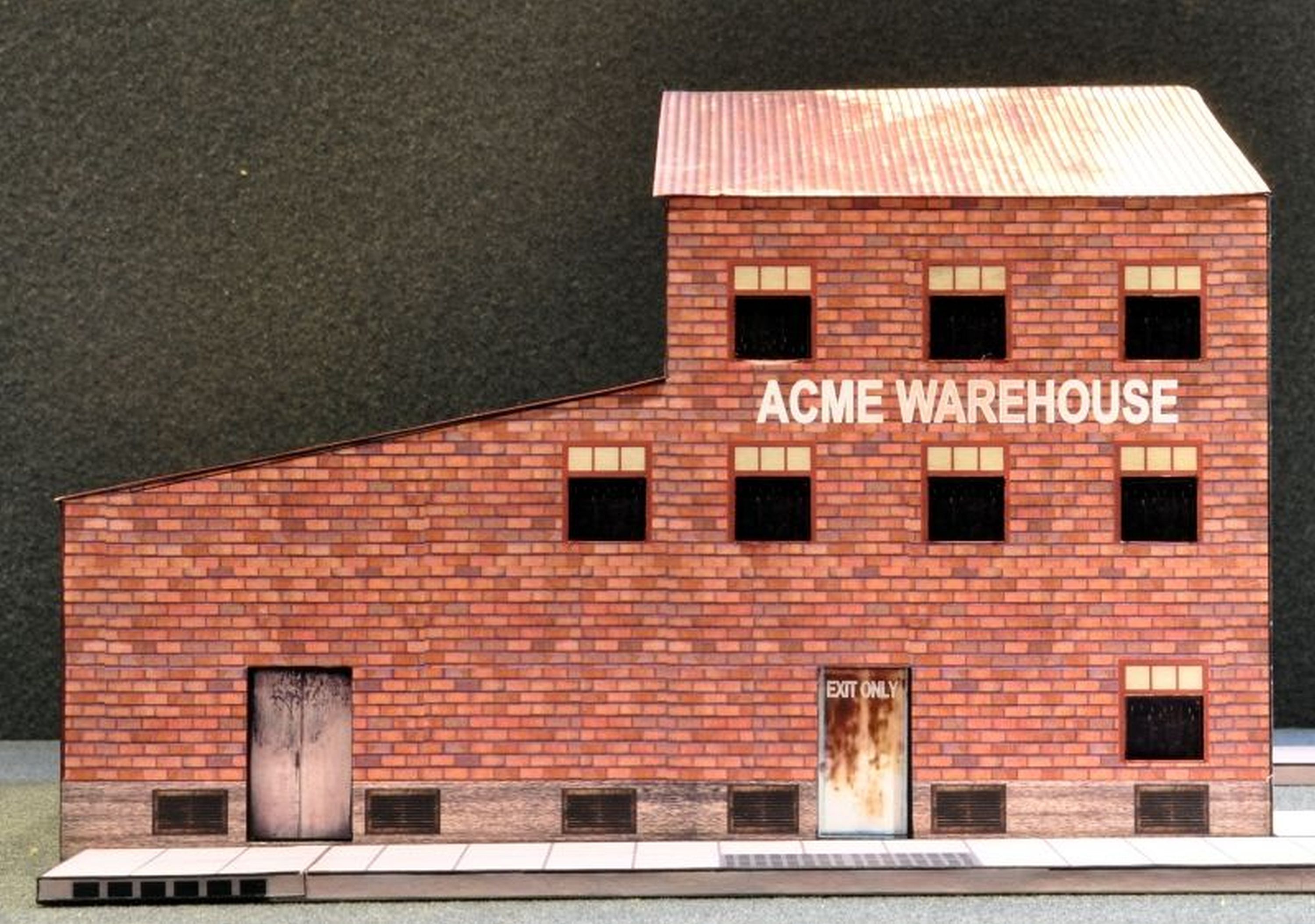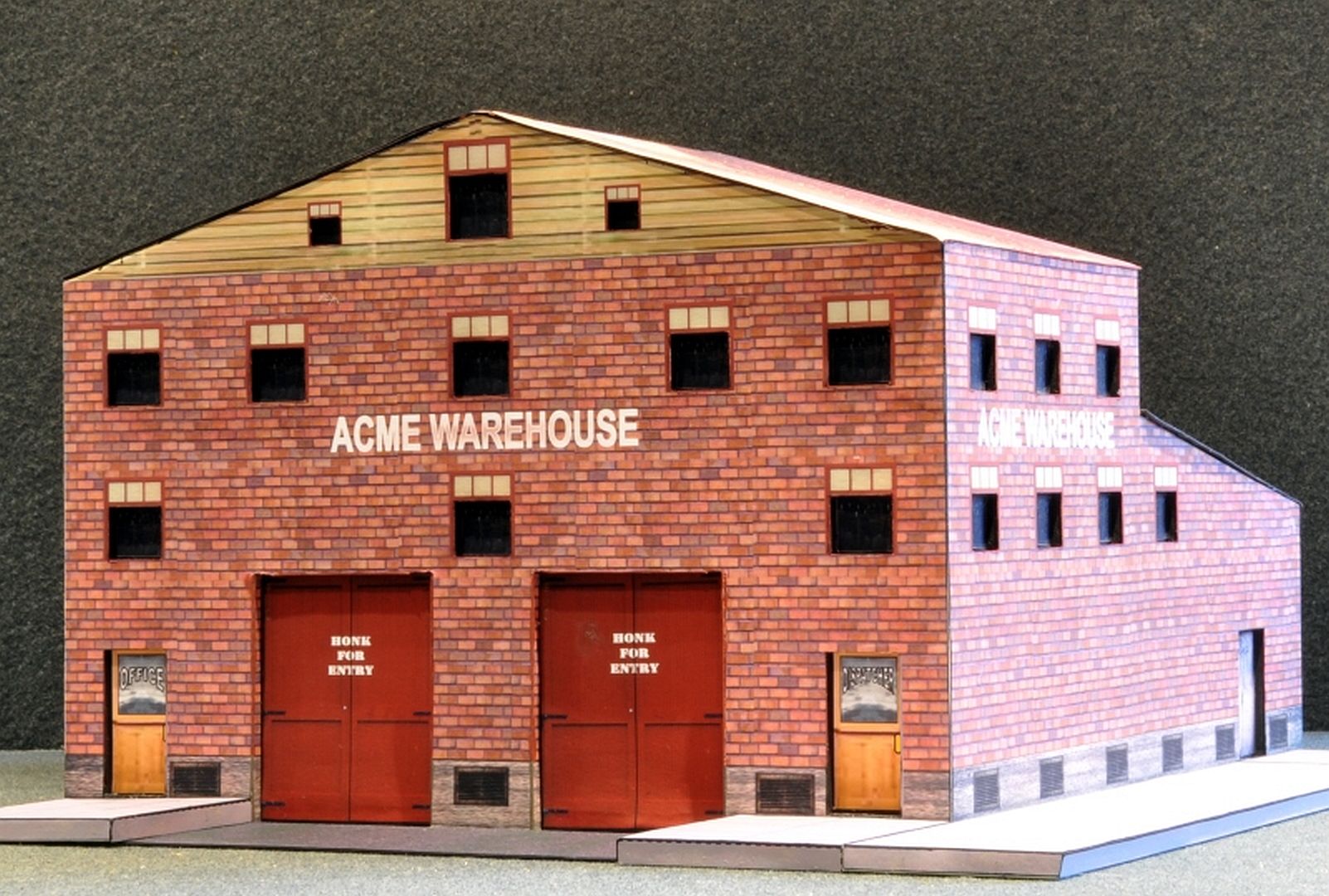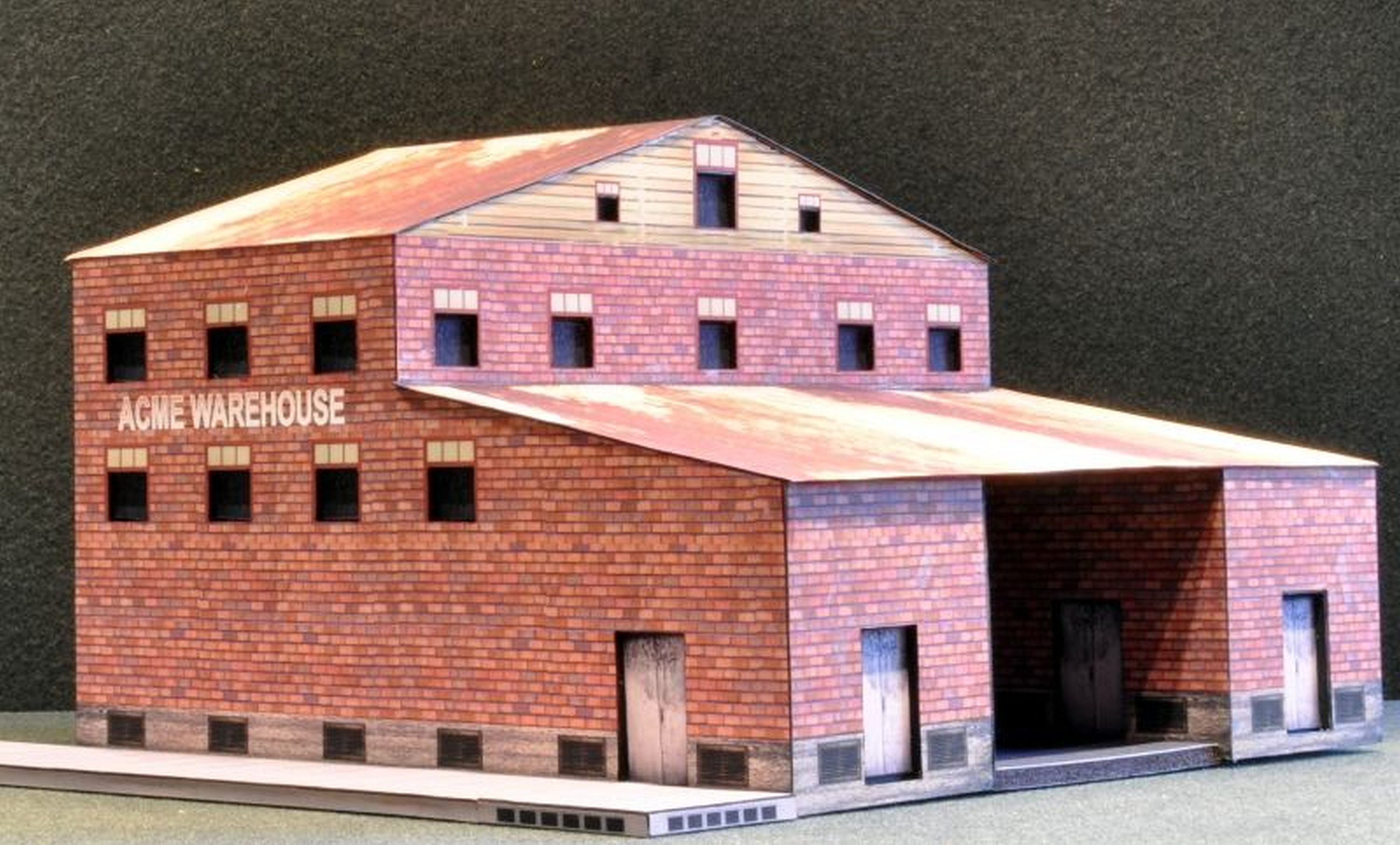 `
(Display Model Constructed and Photographed by Patrick Connor.)
PDF File Format: $10.00

---
Block Section #6--Police HQ & Central Fire Station (6" high all round) share a Block Section back-to-back. These three story buildings indicate entrances for Police Headquarters, Central Booking, Prisoner Transfer (a likely location for some nasty scenes), the Fire Marshall's Office, as well bays for Fire Trucks. No layout is complete without these, for if you're going to have crime, you've got to have a place for the Cops to eat donuts!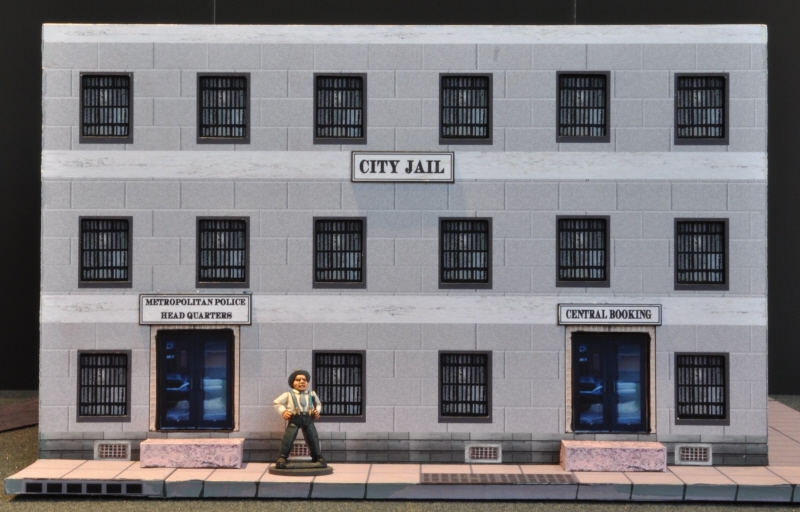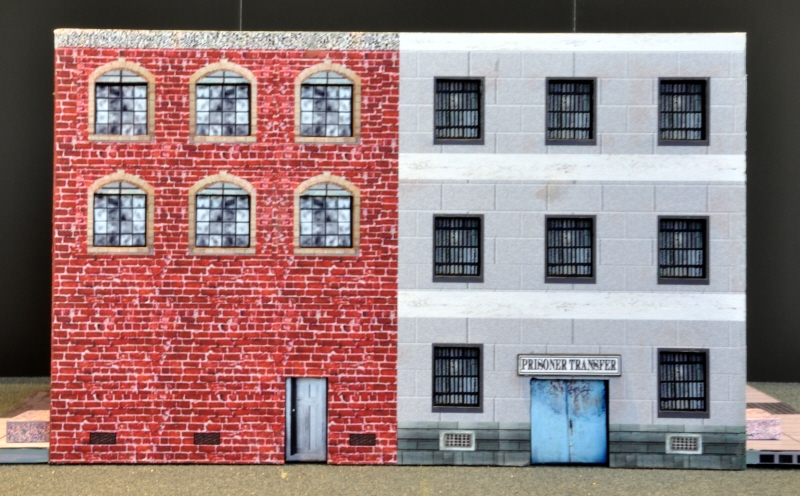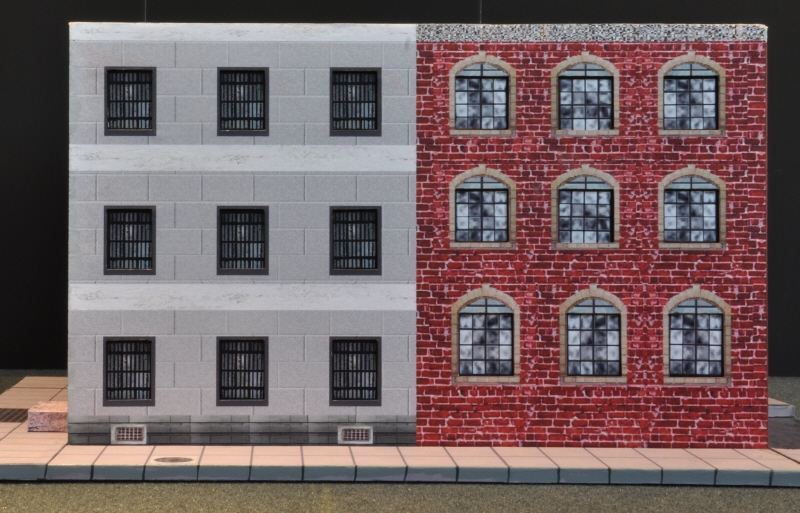 `
(Display Model Constructed and Photographed by Patrick Conner.)
PDF File Format: $10.00

---
Block Section #7-- Perfect for fronting on the Levee/Riverfront, this Block has the Harbor Master's Office next to the large Fish Market, a Waterman's flop house (the Backwater Inn), the Uranium Steamship Company's Offices, and the "Joe Hill" Union Hall for the Local Dock Workers Union, as well as district HQ for the International Workers of the World (I.W.W.). Between agitating Socialists on the one hand, and Mob attempts to control Labor Unions on the other, all kinds of action can be played out here. The Block is just under 6" high all around, though the Inn has a slightly higher gabled roof.





`
(Display Model Constructed and Photographed by Patrick Conner.)
PDF File Format: $10.00

---
Block Section #8-- Federal Building & Police Garage also share this Block Section back-to-back. The Police Garage and Dispatcher's Office is 5" high, while the Federal Building (with Post Office) stands 7" high. The FBI, Federal Attorney, and Revenue Agents would all have their offices here. The Police Garage is where all Patrol Cars, "Paddy Wagons," and Motorcycle Patrols would be centrally located, ready to come barreling out the doors and screaming onto the streets--just like in the movies!






`
(Display Model Constructed and Photographed by Patrick Connor.)
PDF File: $10.00

---
Block Section #9-- Light Industry & Warehouses are found here. Earl's Automobile and Truck Repair garage is next door to Kreplach's (makers of Barrels, Boxes, and Bottles with all kinds of uses), and behind them are Kleinmann's Dry Storage, and Anselmi's & Scalise's Storage warehouse. Earl's side of the Block is 5" high, but the two Storage buildings are 7.5" high. All have multiple entrances and make for a particularly tough looking part of town.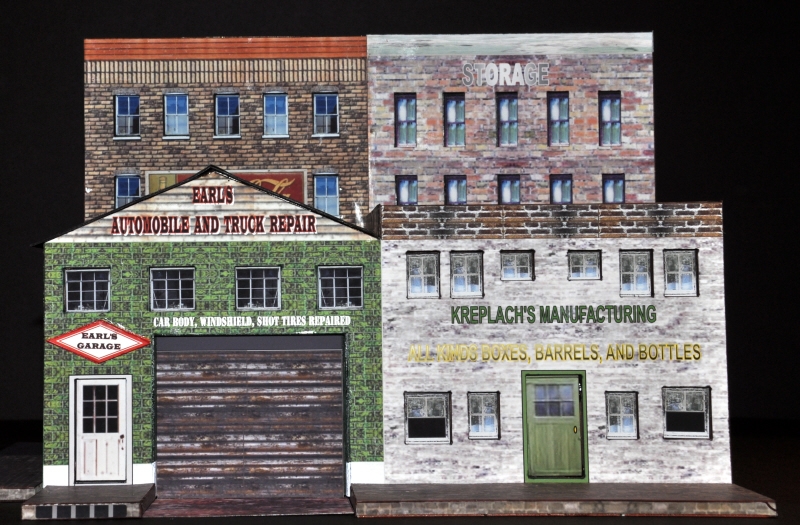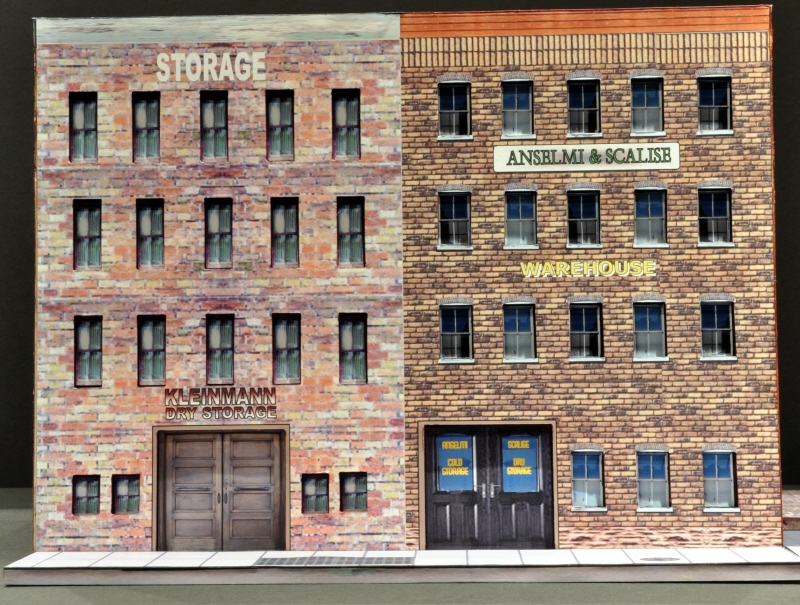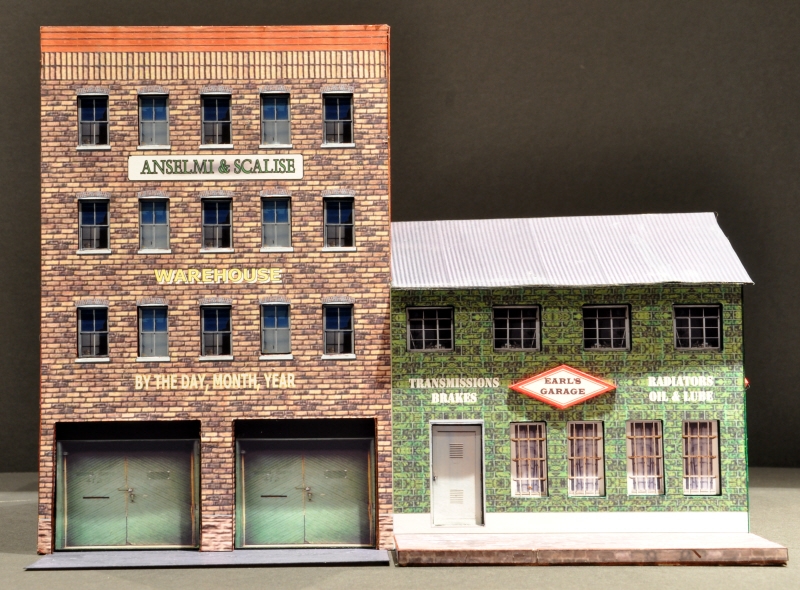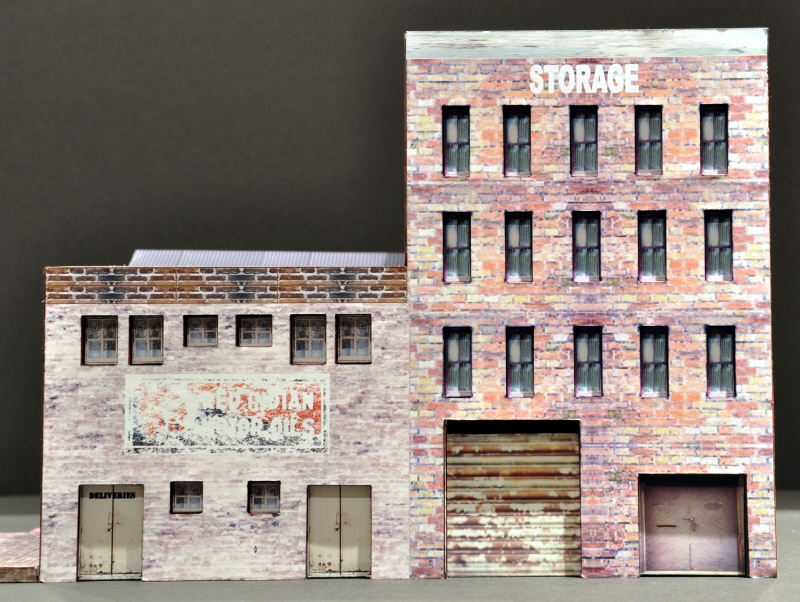 `
(Display Model Constructed and Photographed by Patrick Connor.)
PDF File Format: $10.00
---
Block Section #10-- A block of Shops featuring "O'Banion & Schofield's Flower Shop" where "Deanie" O'Banion ran the North Side Gang of Chicago (until business took a turn for the worse for him there one day), and "Sports Incorporated," where upstanding merchant Peter von Frantzius kept the Capone Mob armed with the latest in high powered weaponry. Other shops include the Law Offices of "Dewey, Cheatham, & Howe," "Tip Top Barbershop," and "Sterlington's: Gems, Gold, & Jewelry." A mix of upscale and working man's services, this block can be in the busy heart of any city.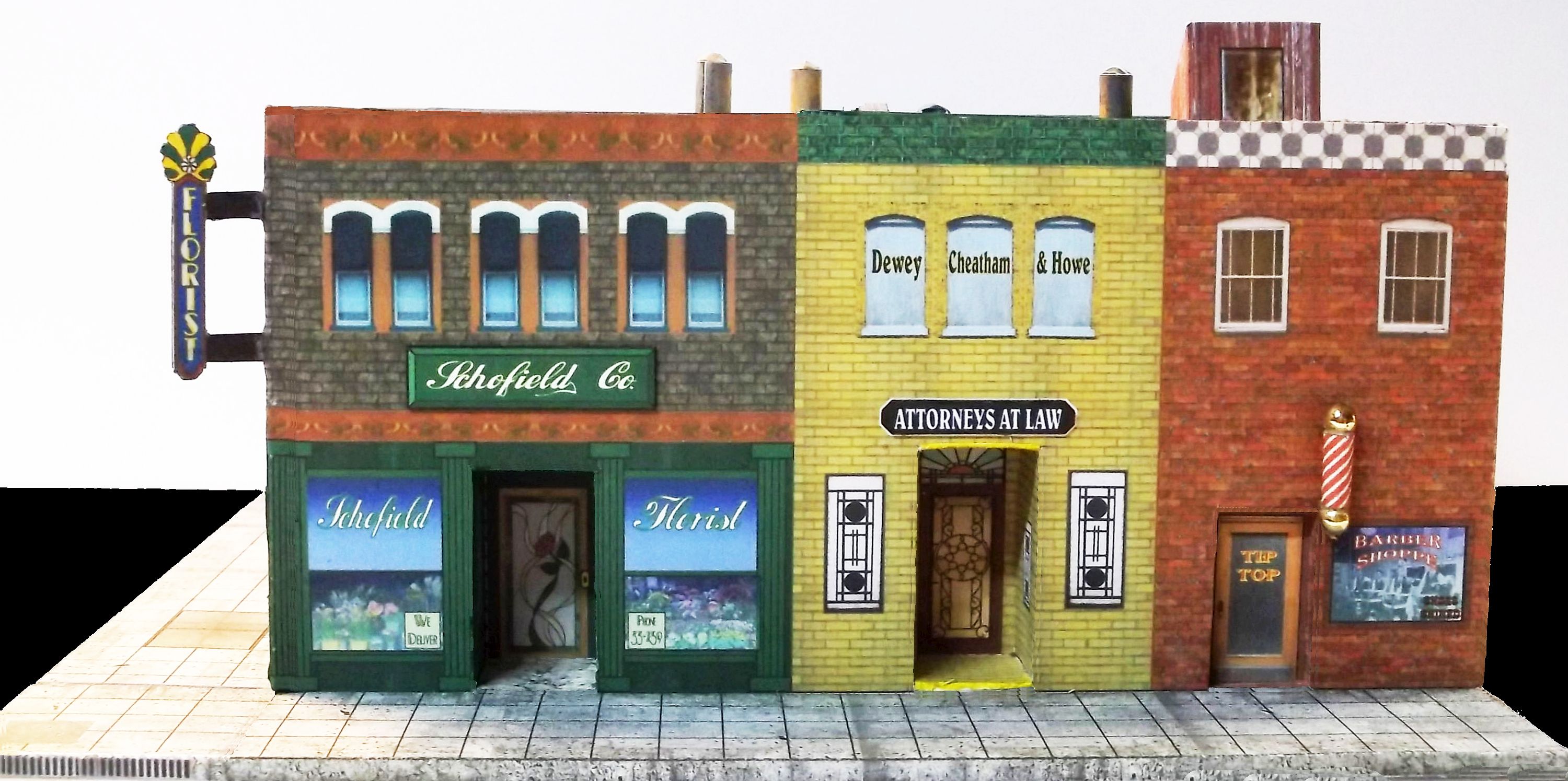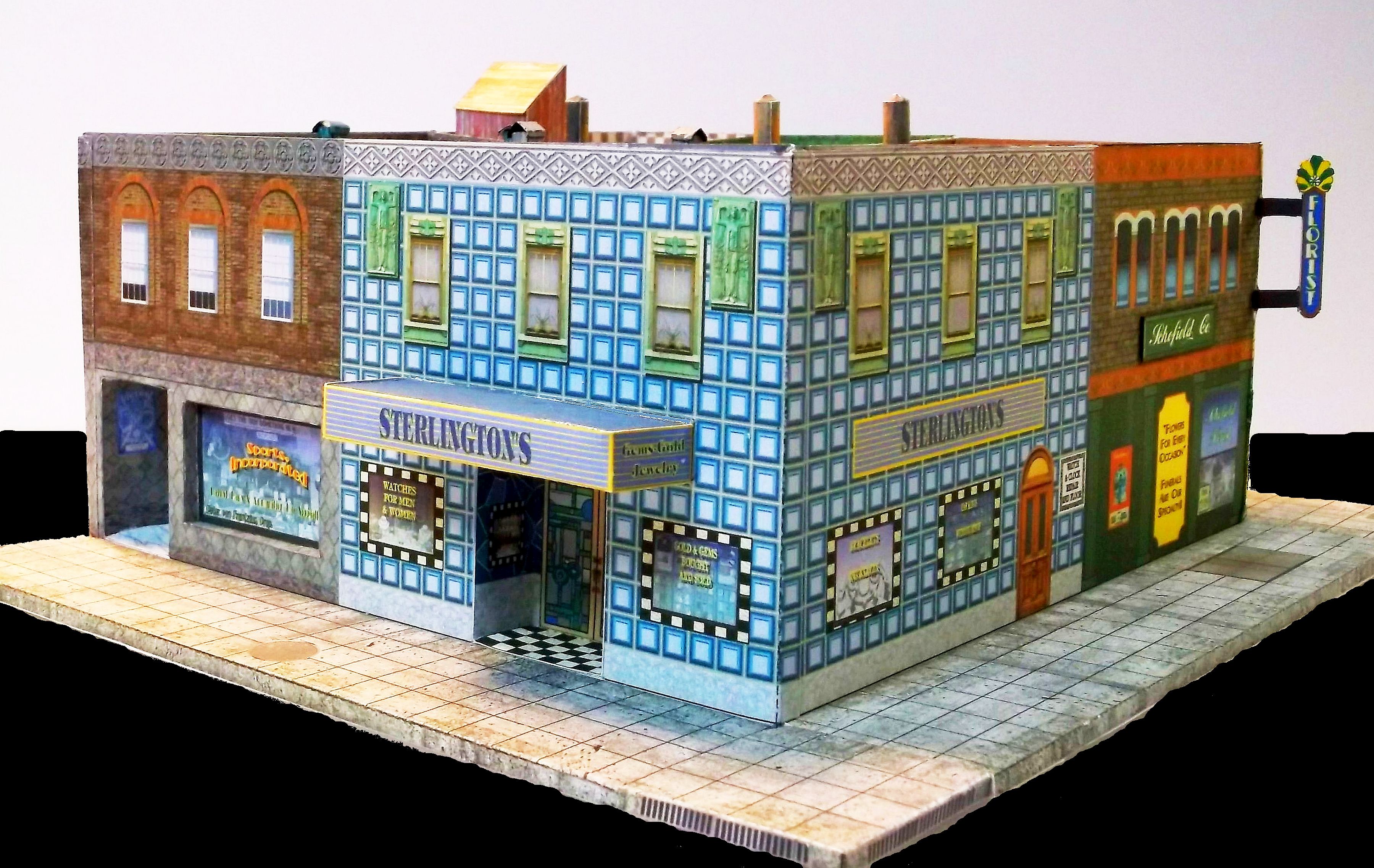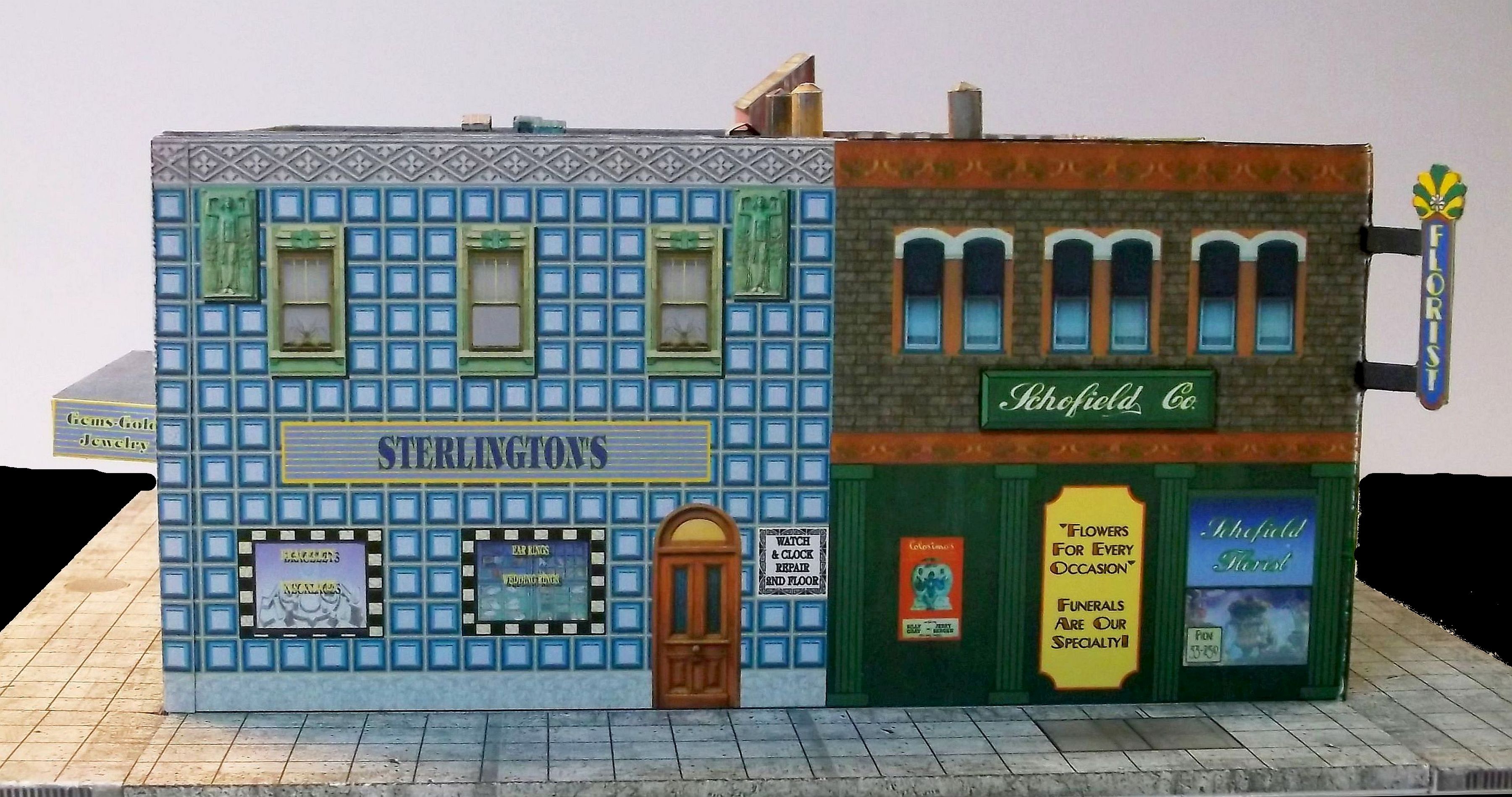 `
(Display Model Constructed and Photographed by Brian Weathersby.)
PDF File Format: $10.00
---
Block Section 11--Chicago's own Holy Name Cathedral, outside of which Hymie "The Pole" Weiss and his party were shot down (leaving bullet holes in the wall for years after), "Mean Streets" now has its own place of worship for your Irish, Polish, and Italian Businessmen to attend. An imposing structure, among the tallest in town, it has broad front steps for your bullet riddled worshipping convenience. Remember Cagney's end in The Roaring Twenties?--"He used to be a Big Shot." Well, now you can take your own shot at last minute Salvation!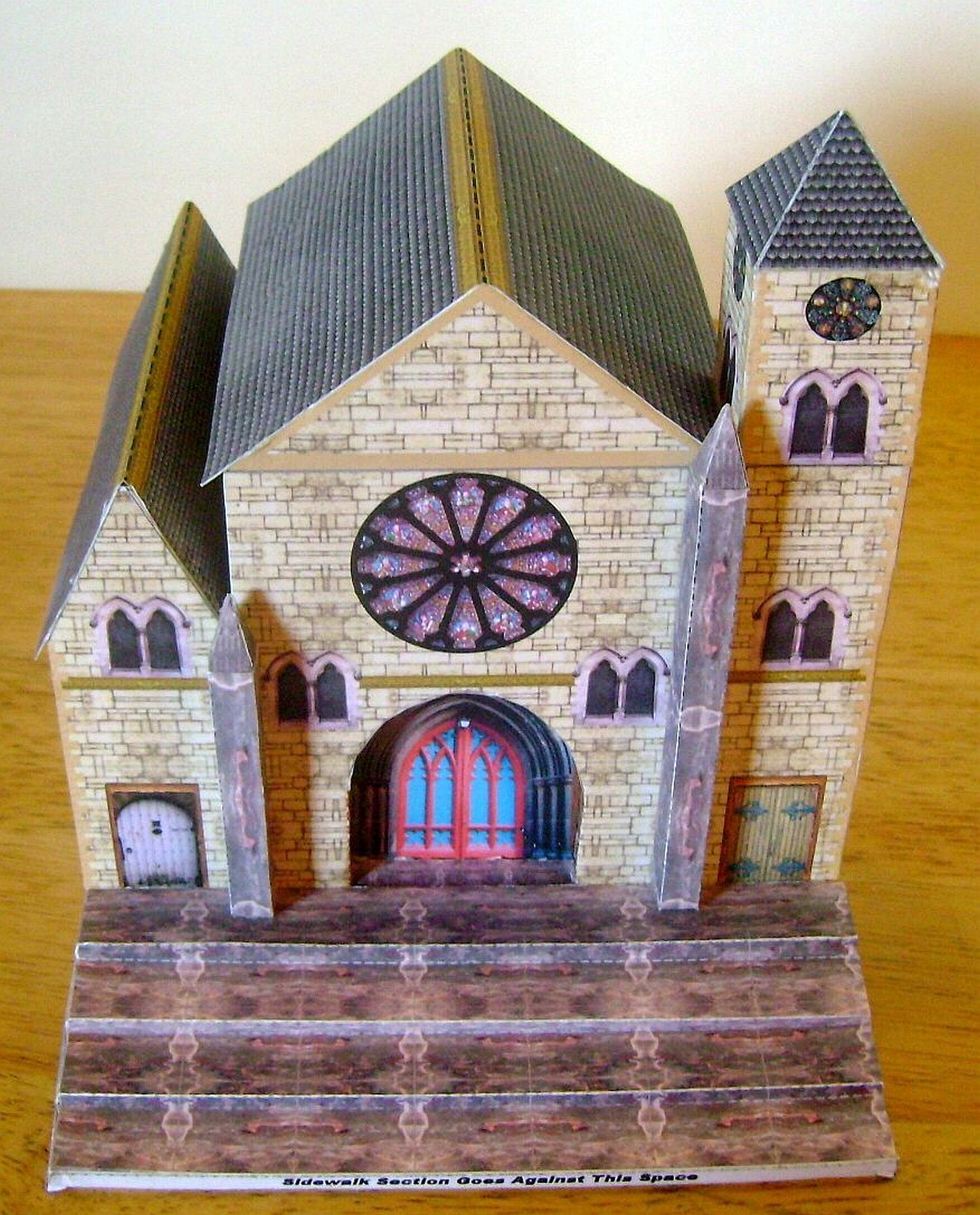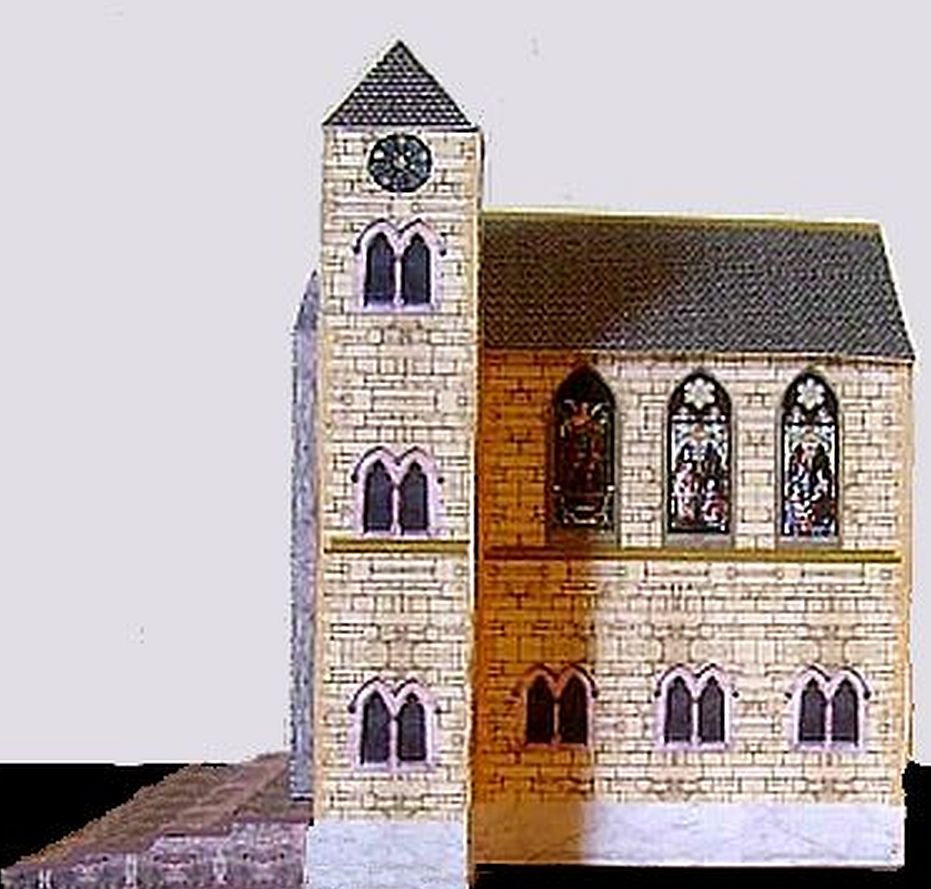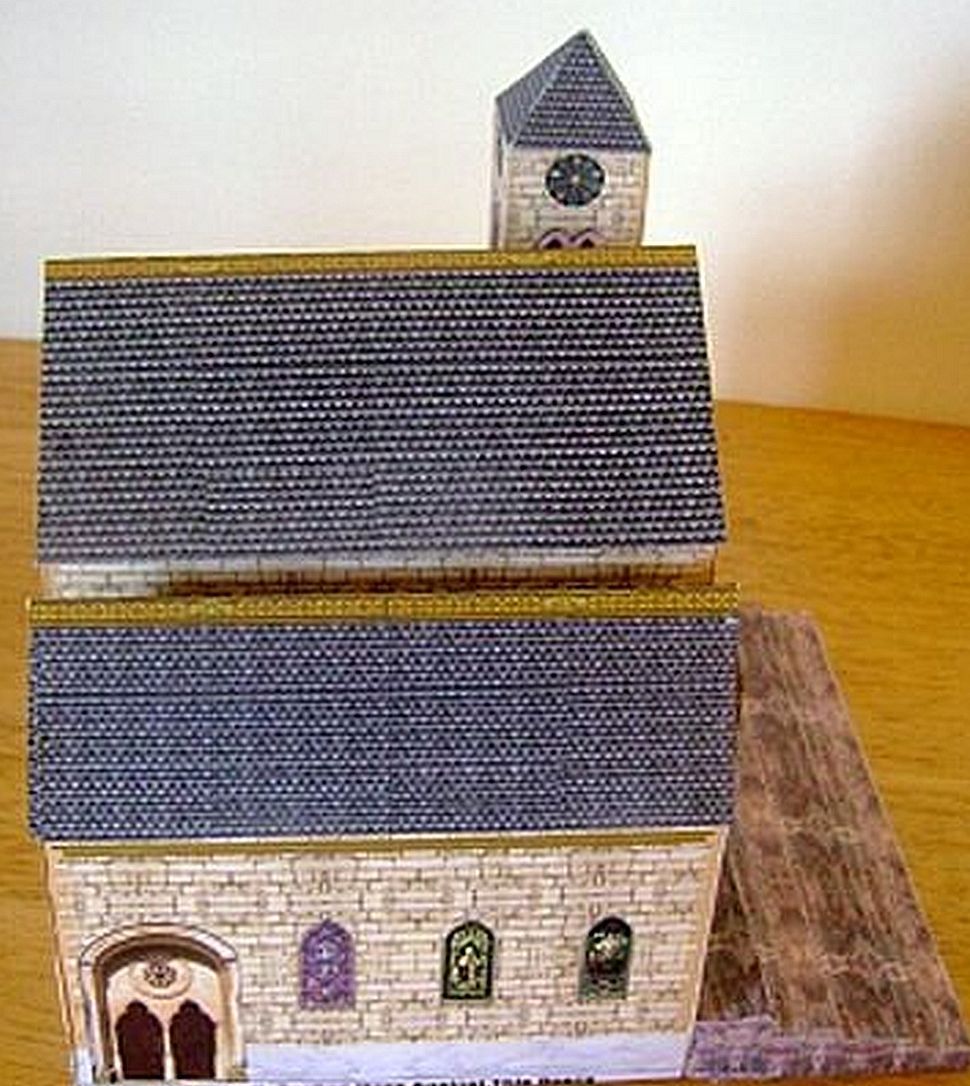 `

PDF File Format: $10.00
---
Block Section 12-- Mama Lagano's Italian Restaurant is here, the perfect place for a great last meal before seeing that someone else has his last meal. The upscale Barton Arms Apartments are a good place for the upwardly mobile hoodlum to hang his hat--or for an honest Police Detective, too. Of course every City needs its own Mission House/Soup Kitchen for those down-and-outers passing through--and for a public relations conscious Gang Leader conspicuously to support. And, given the number of derelicts on this side of the block, a Derelict Building for them to hang their hats... if they haven't already hocked them.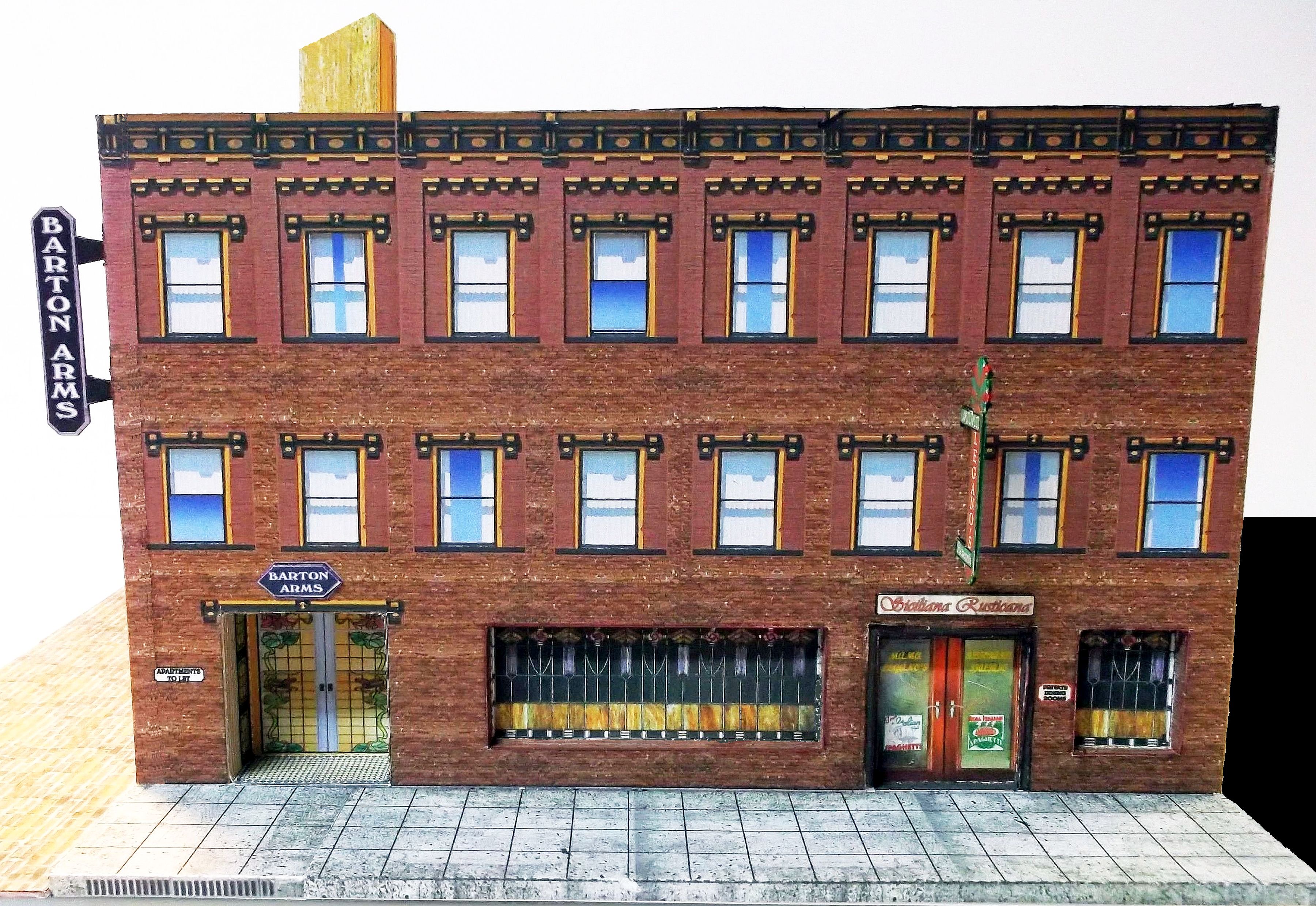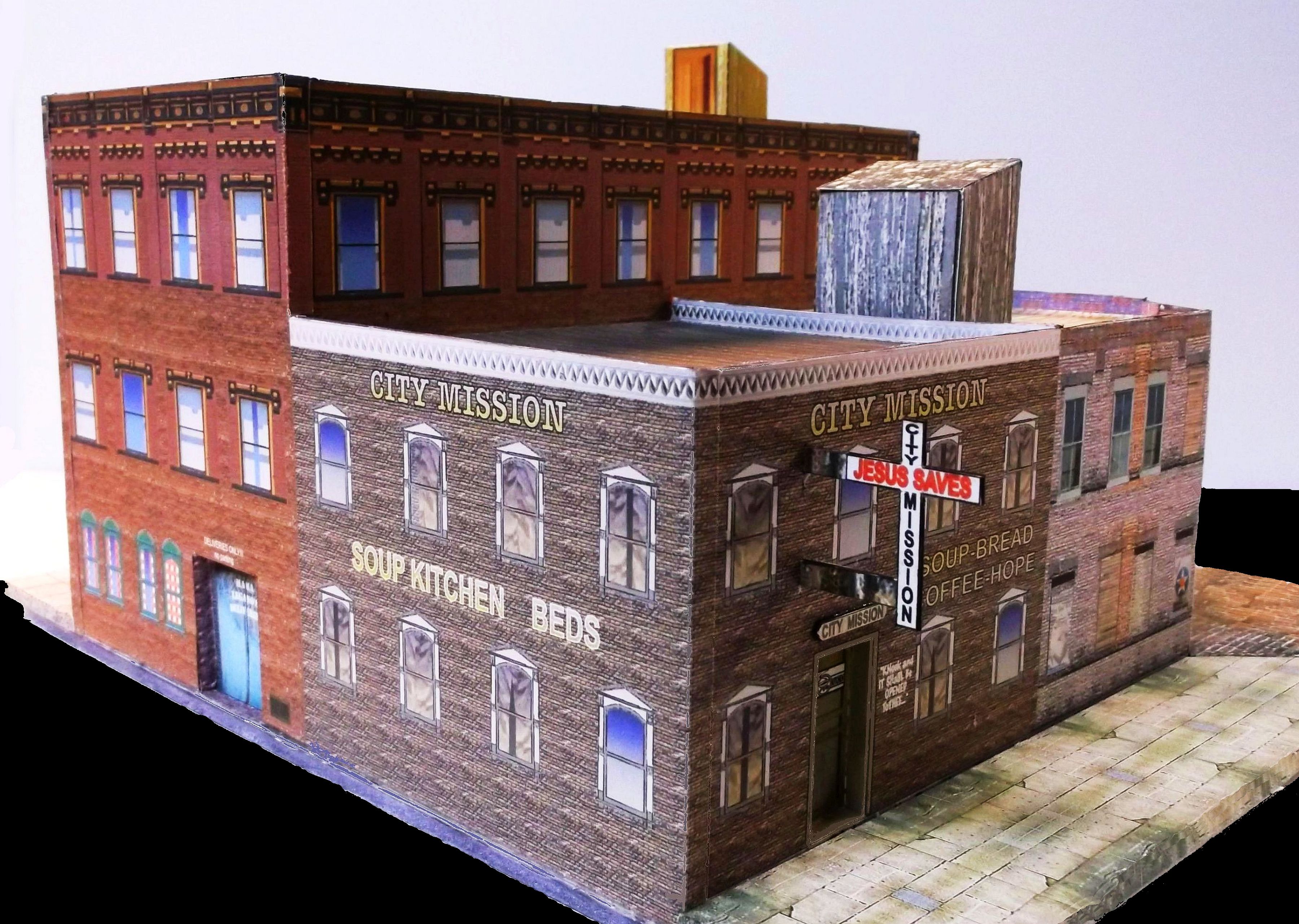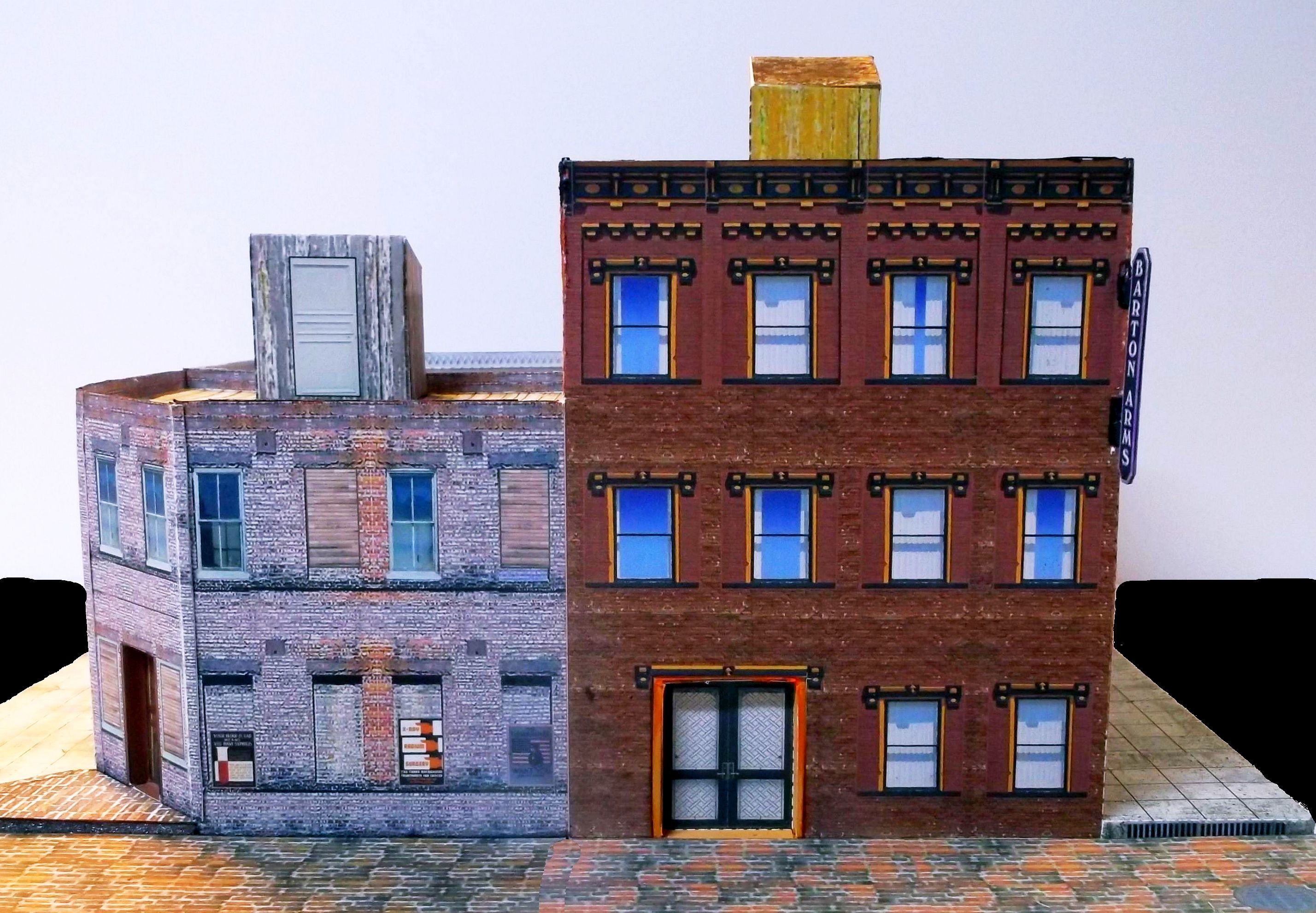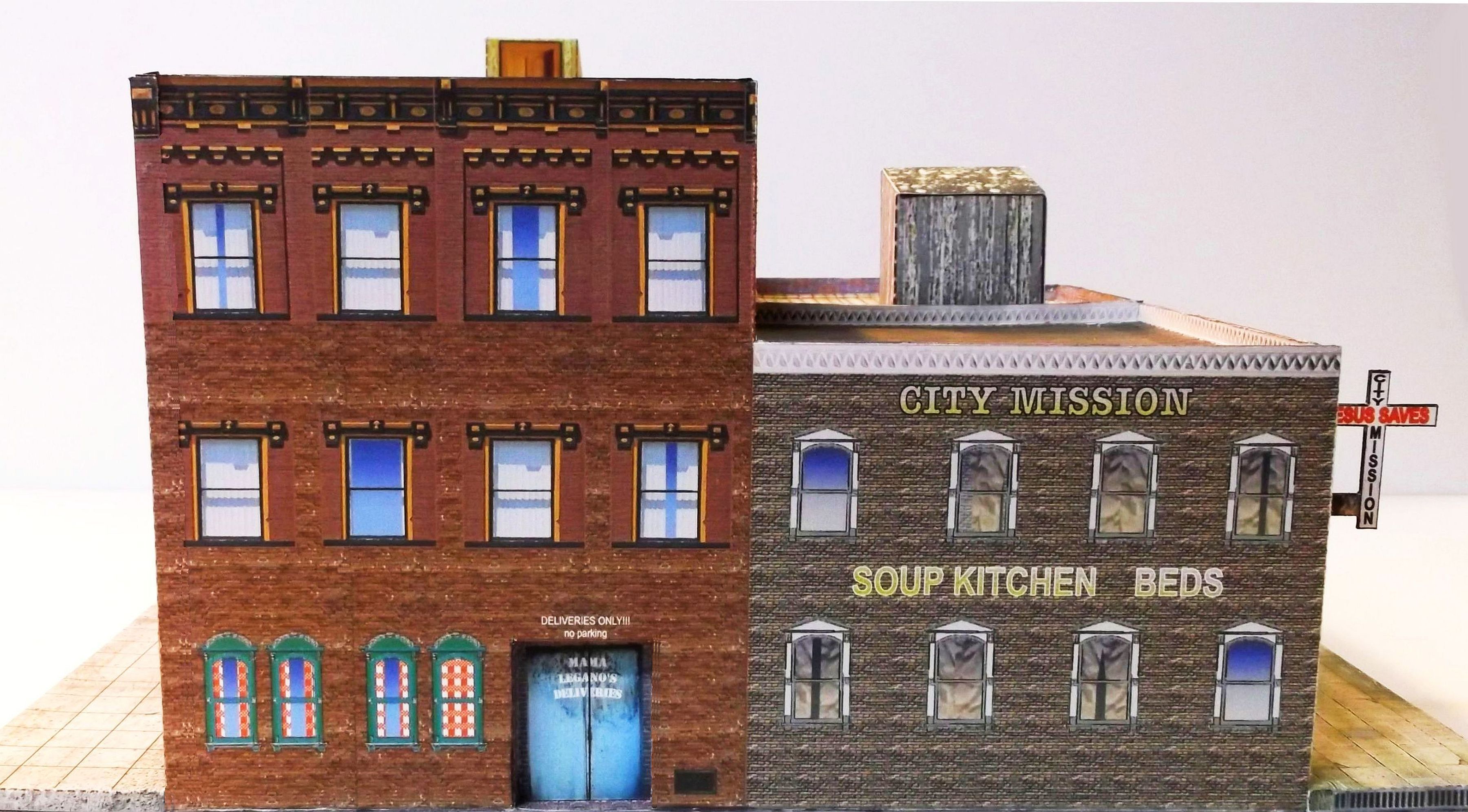 `
Display Model Constructed and Photographed by Brian Weathersby. PDF File Format: $10.00
---
Block Section 13--Central Park-- A peaceful island of grass, and even trees and shrubs, in a brick and concrete sea. Just the place to go for a walk after lunch, flirt with the young Nanny pushing the baby carriage, drop the ransom money in a bag under the big oak tree, or simply find the deceased in a garbage can with a canary in his mouth.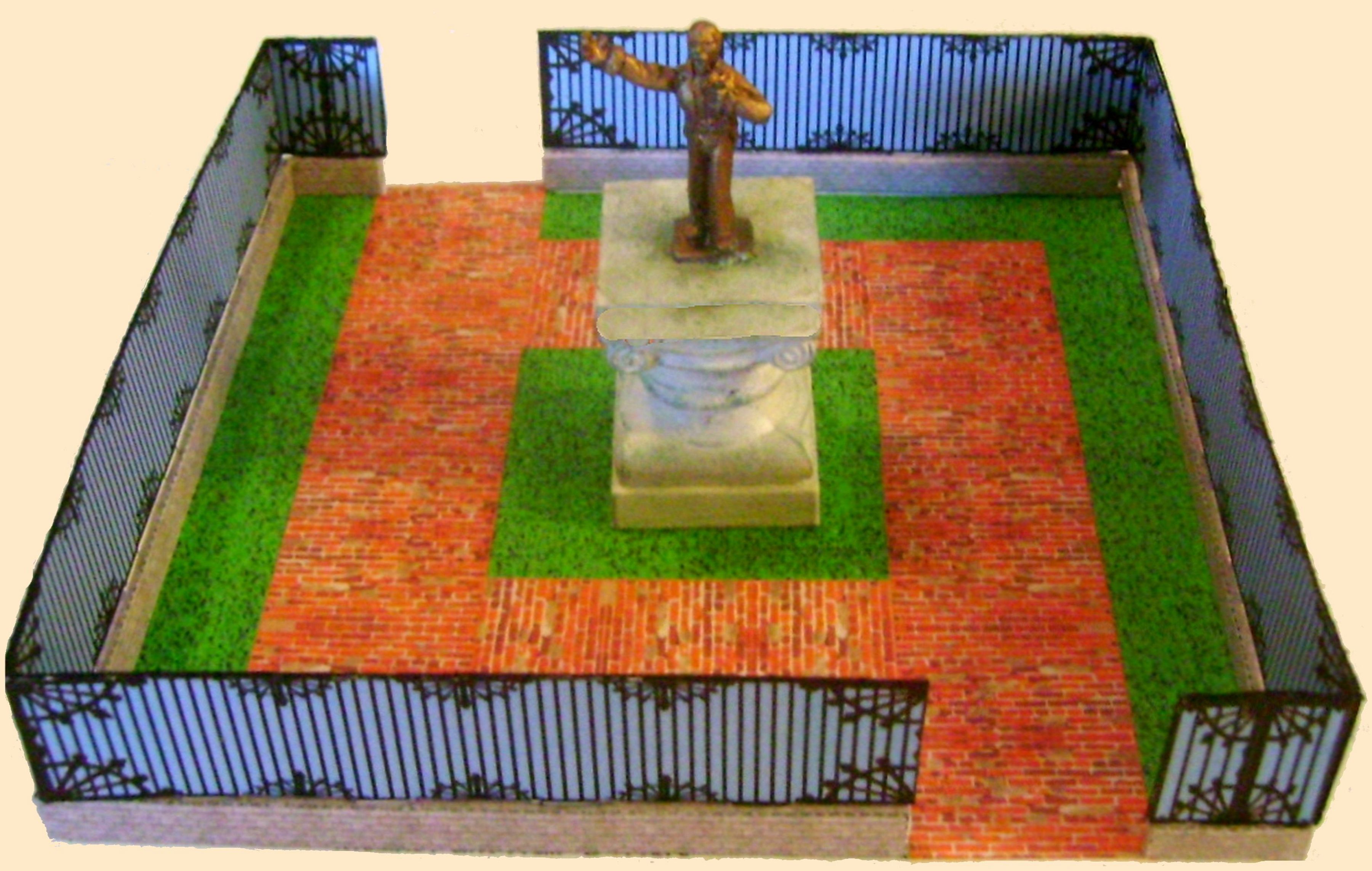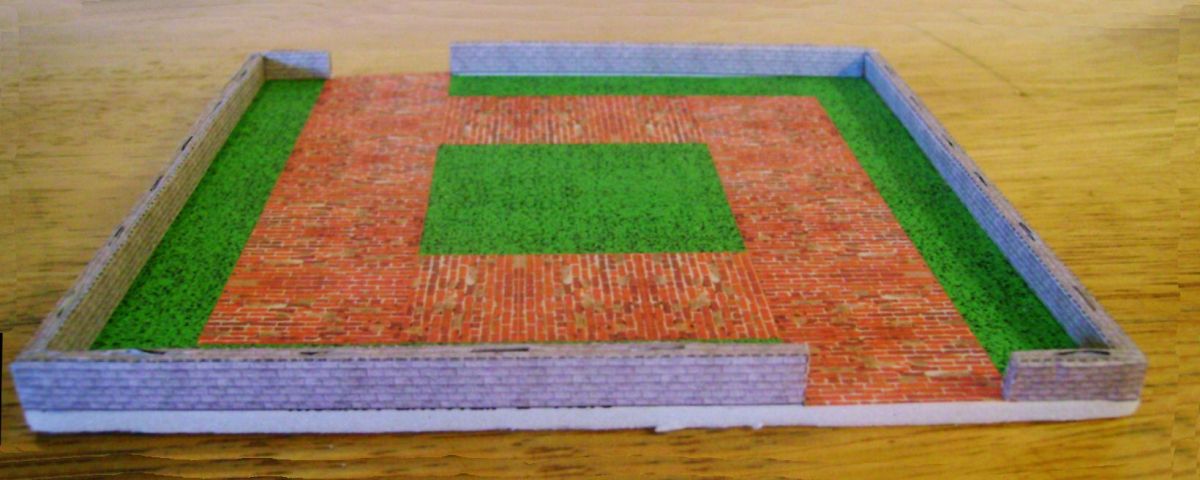 `
PDF File Format: $8.00
---
Block Section 14--The Court House-- When Cops on the "Pad" can't keep you out of the Law's reach, this is where you'll spend some quality time with your Lawyer. Lots of things can go wrong here as prisoners are moved back and forth from here to the City Jail. The architect has thoughtfully provided wide open steps for clear fields of fire.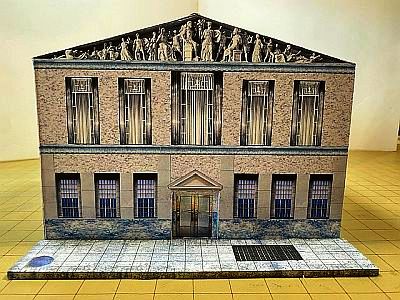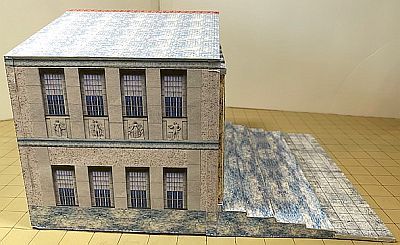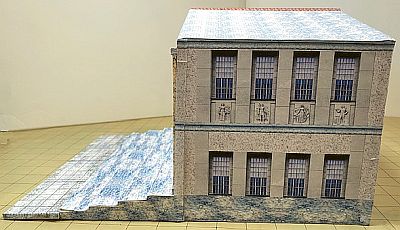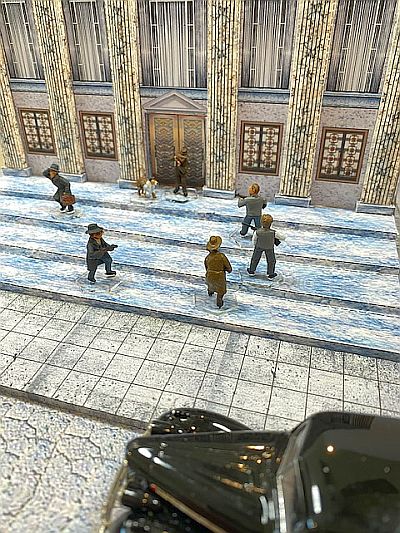 `
(Display Model Constructed and Photographed by Brian Weathersby.)
PDF File Format: $10.00
---
Block Section 15--THE NEW First National Bank Building-- Why did Willie "The Actor" Sutton rob banks? "Because that's where the money is!," he deftly observed. And now your layout has a prime target for your Bank Robbing Public Enemies.

But now "Mean Steets" has its first "Skyscraper!" Fully 26" tall on a standard 10" base, this Art Deco symbol of progress and prosperity represents some 12 stories in actual height, dominating the City Center. It has enough high-rent office space for any business, organization, and service the city would need--even space for lawyers and P.I.'s to hang their shingles.

And next time Carl Denham brings another "Wonder of the World" to town, it has a convenient place hang out until the Goshawk fighter planes come round to entertain all parties involved!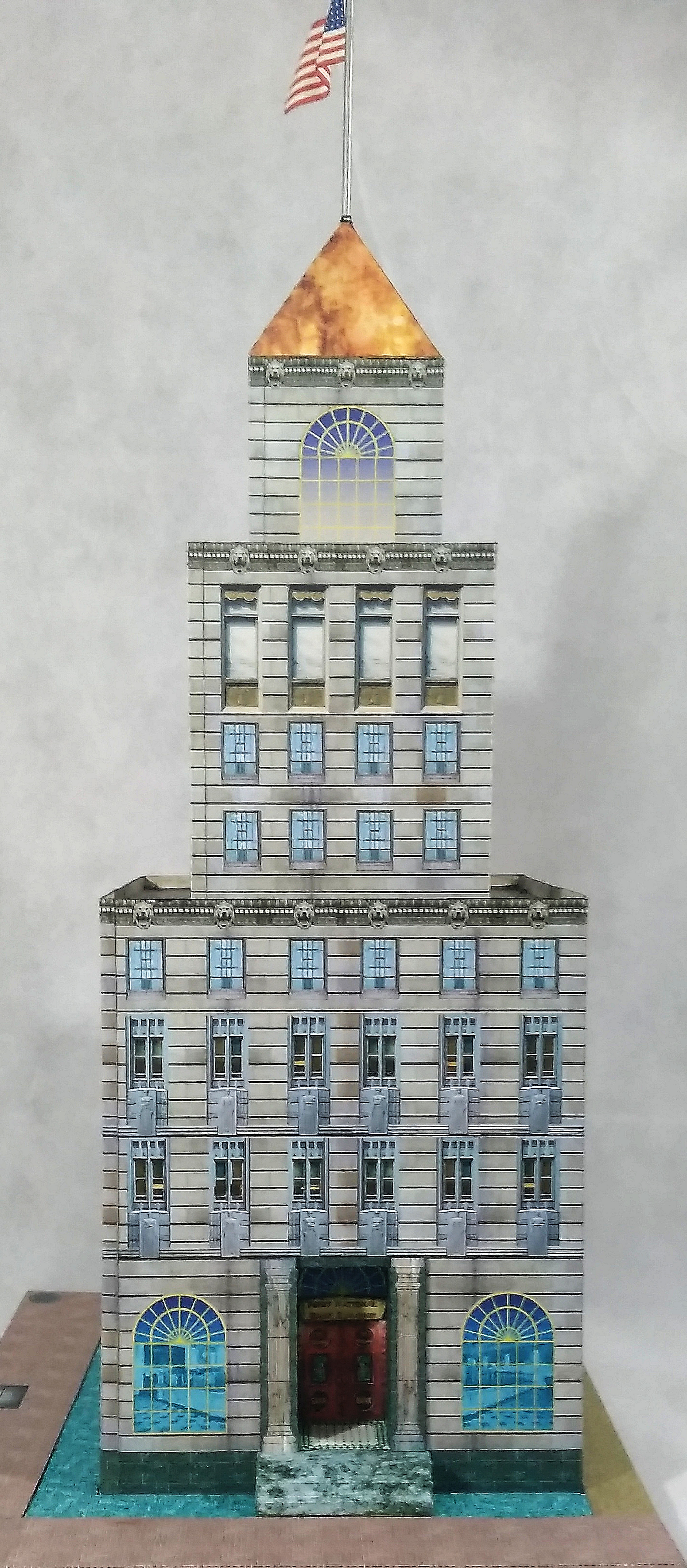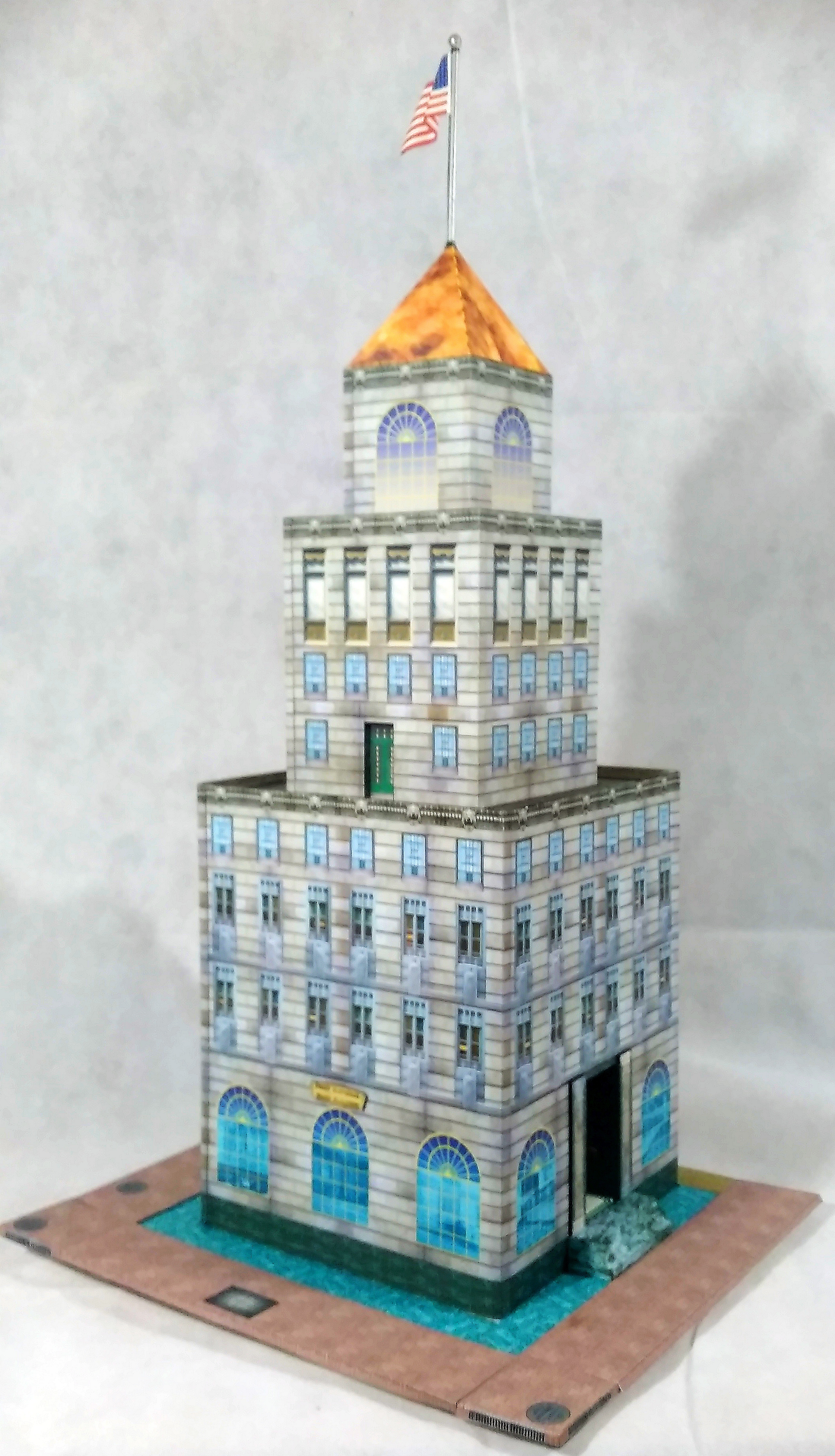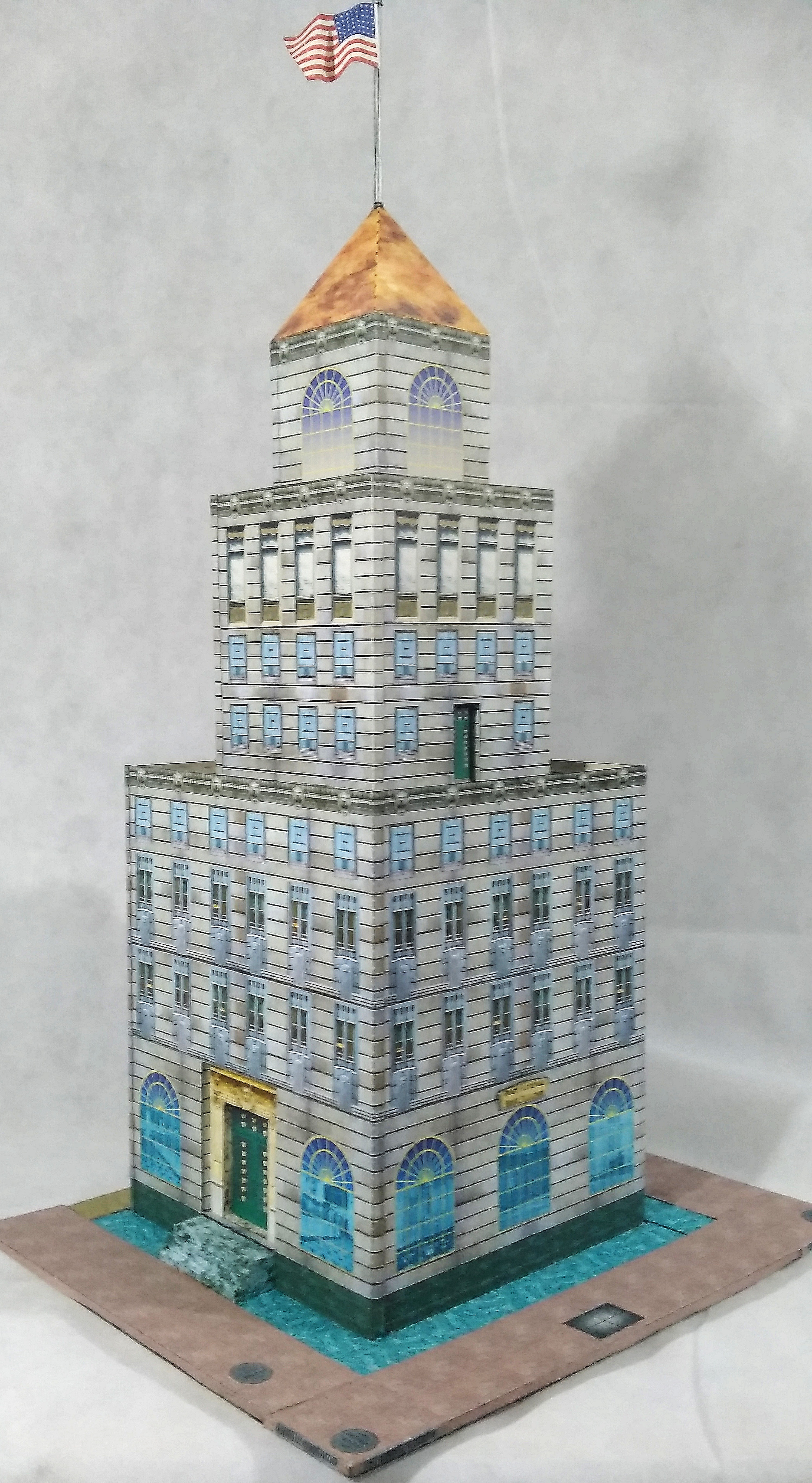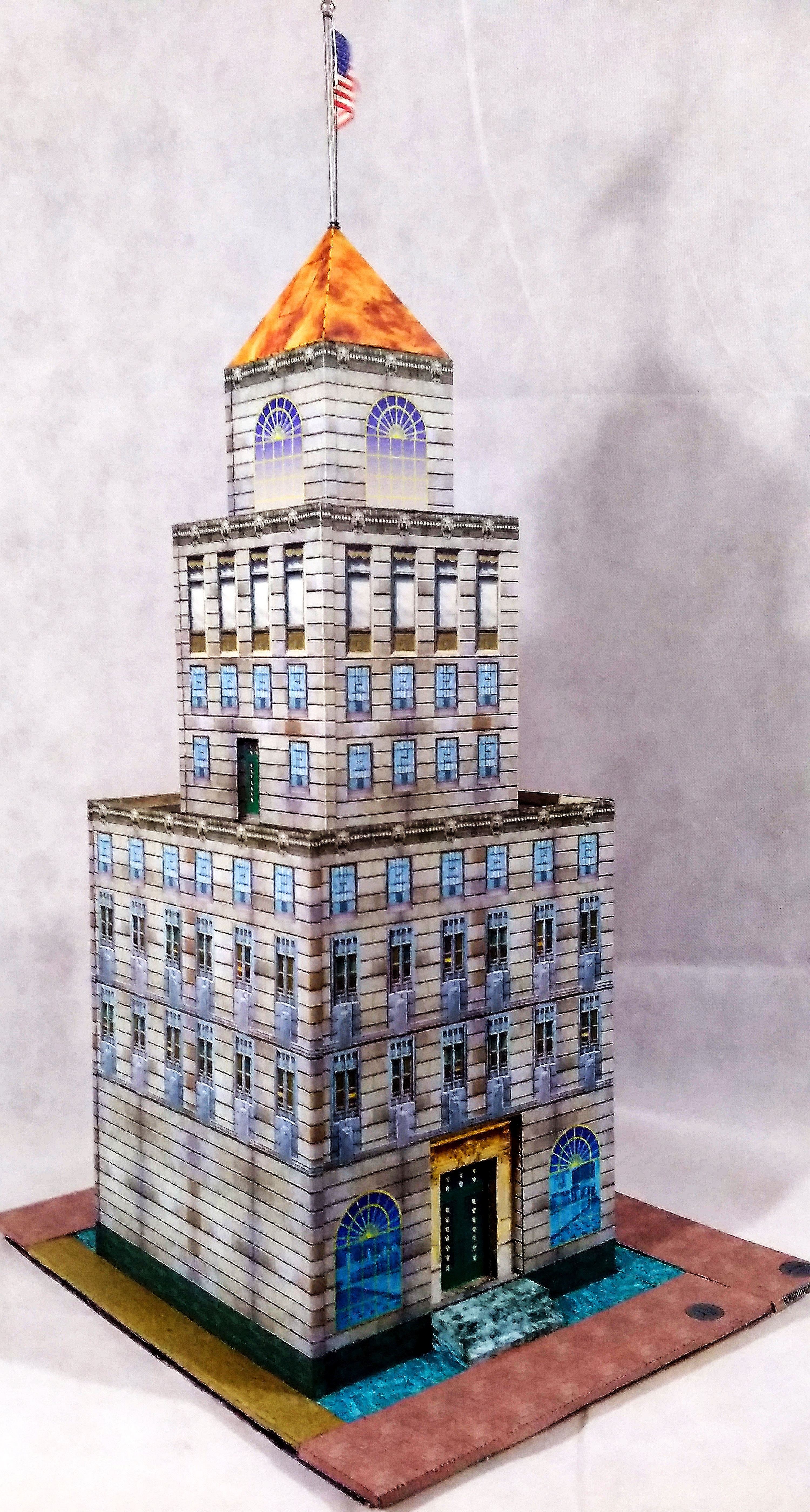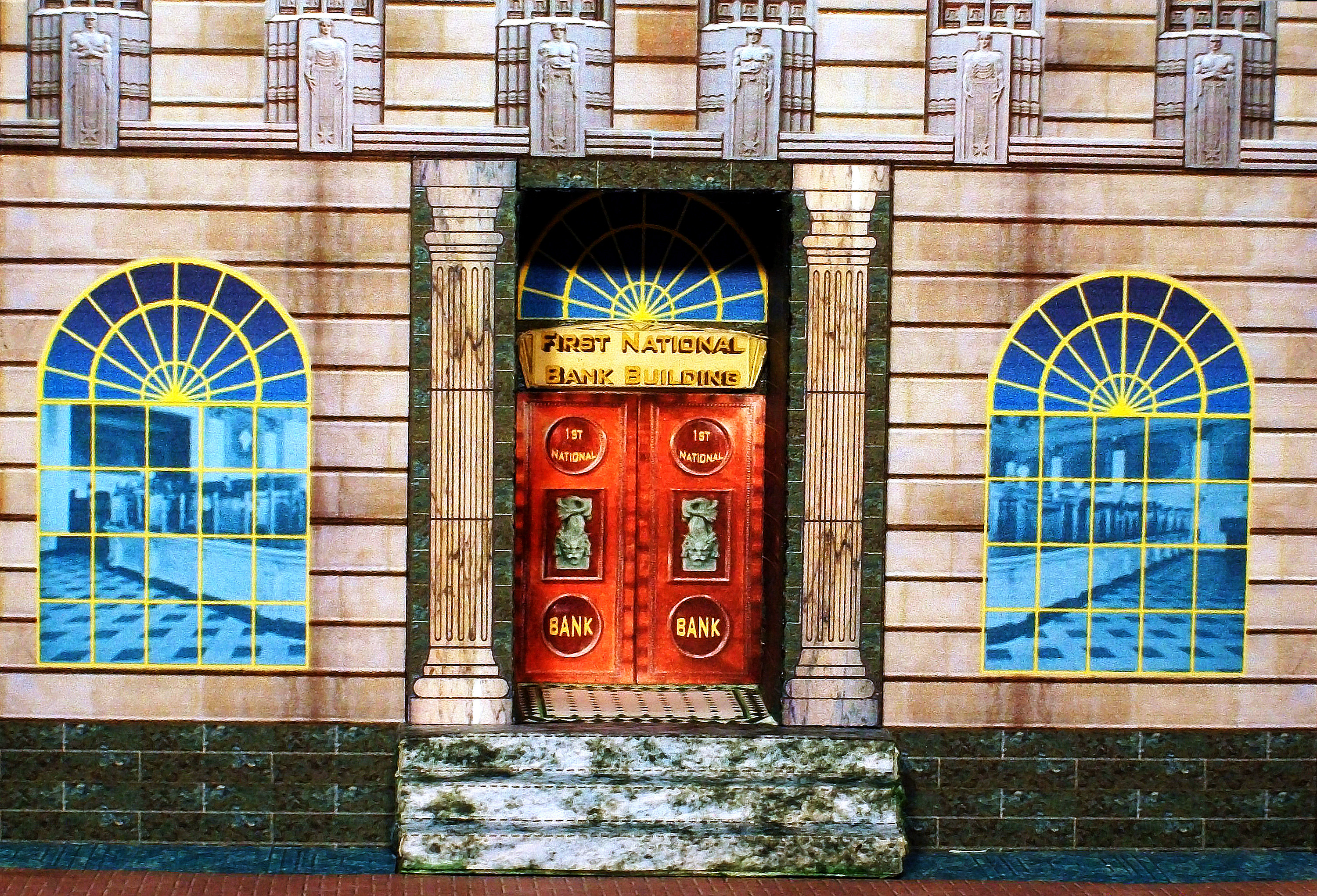 `
(Display Model Constructed and Photographed by Brian Weathersby.)
PDF File Format: $10.00


---
Block Section 16--Hotel Metropole-- The "swankiest" place in town to keep important guests to appear before the Grand Jury. There's an eatery in there that's the cat's pyjamas--if that's your idea of a good meal. Top Floor Penthouses are just the ticket for your Gang Bosses' Home away from Home. One of the best views of the city from up on that roof....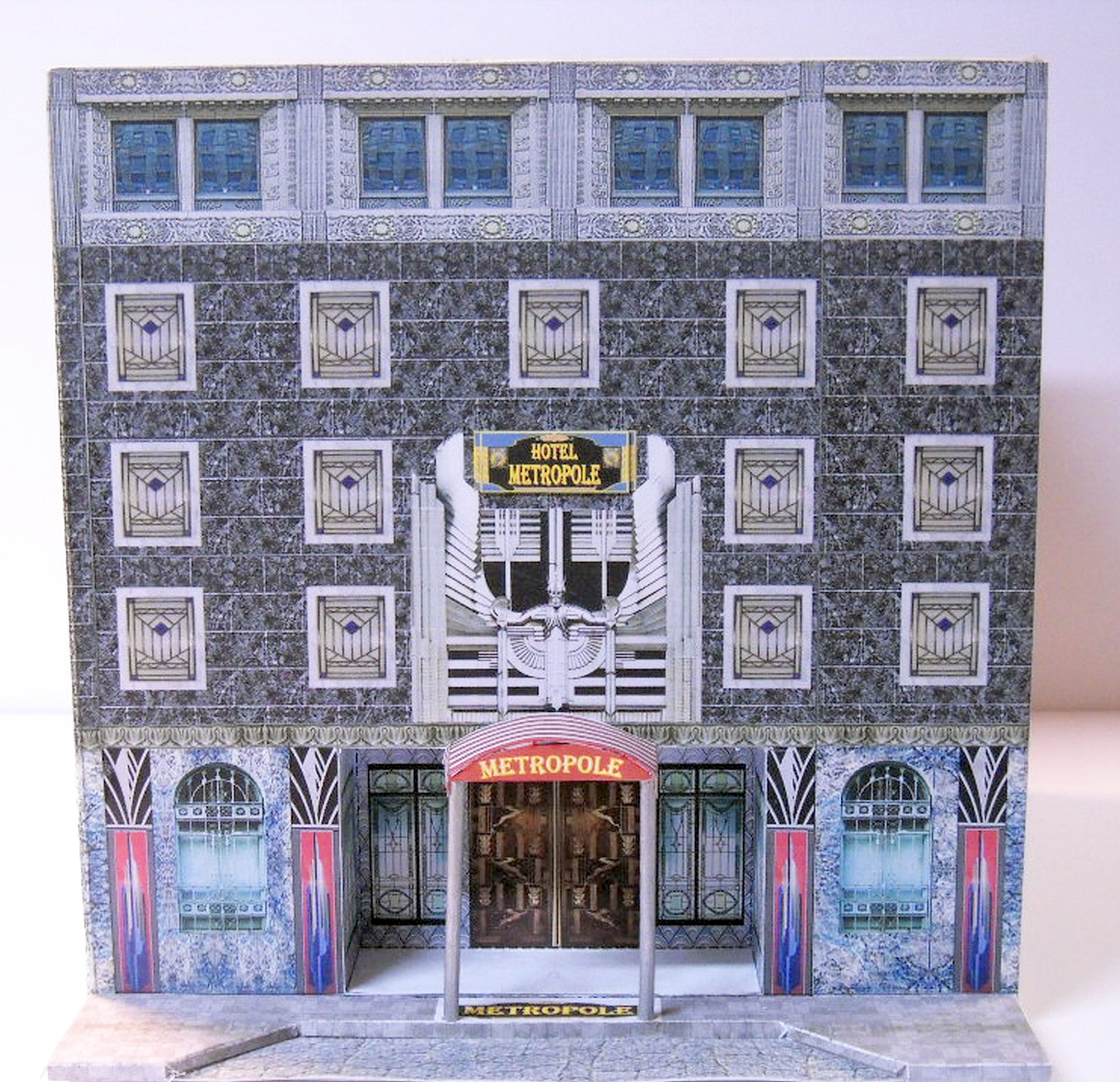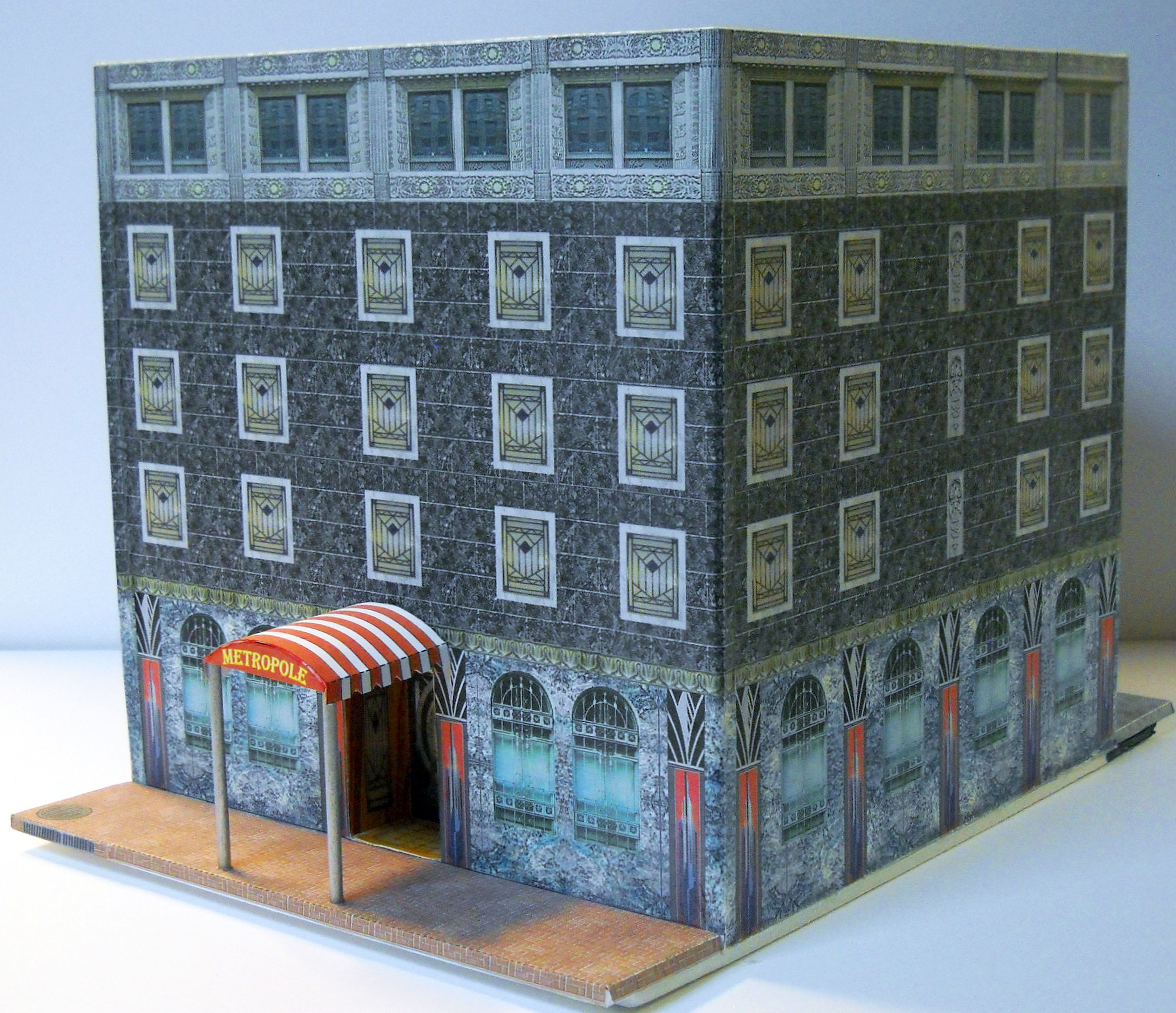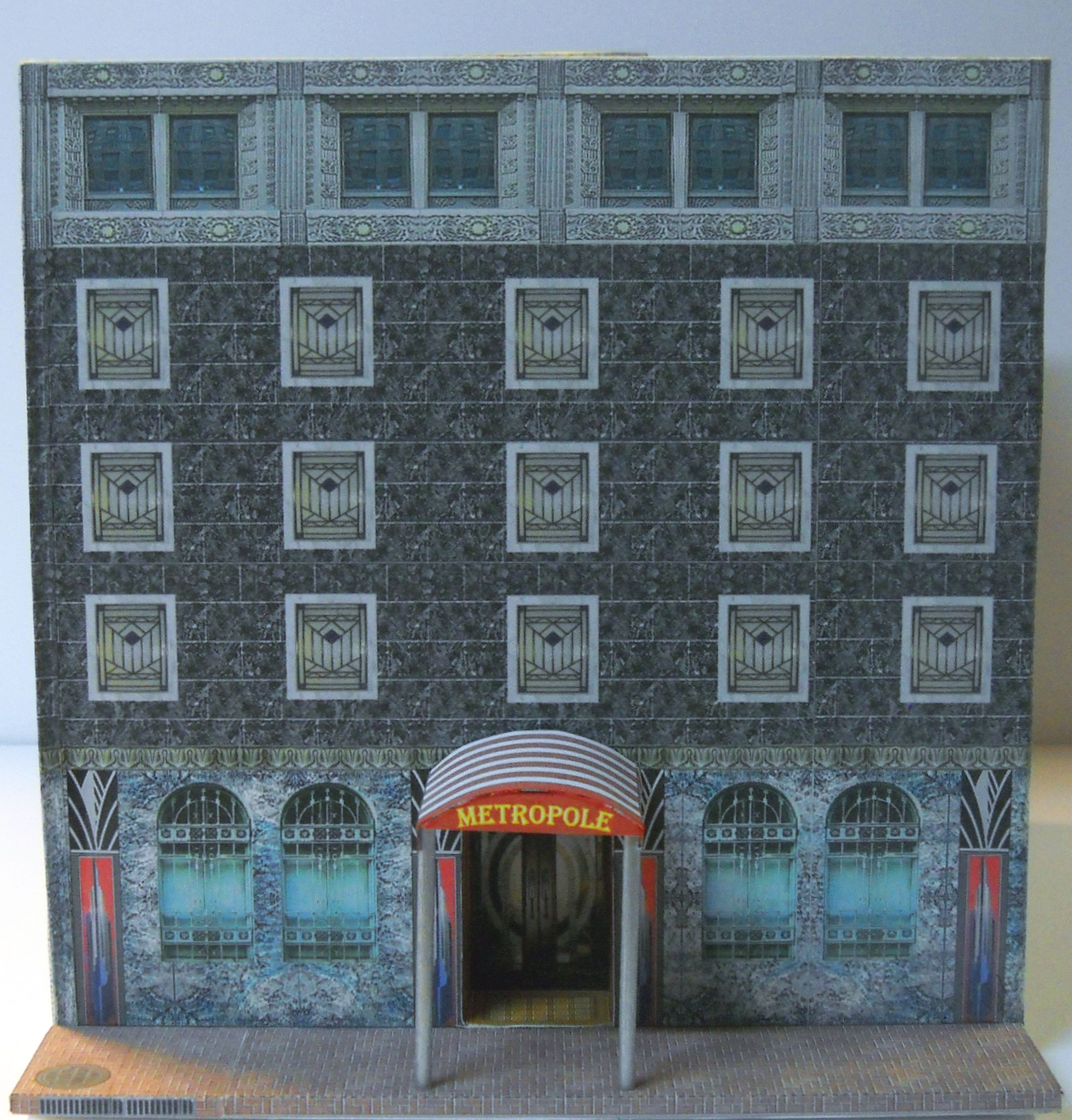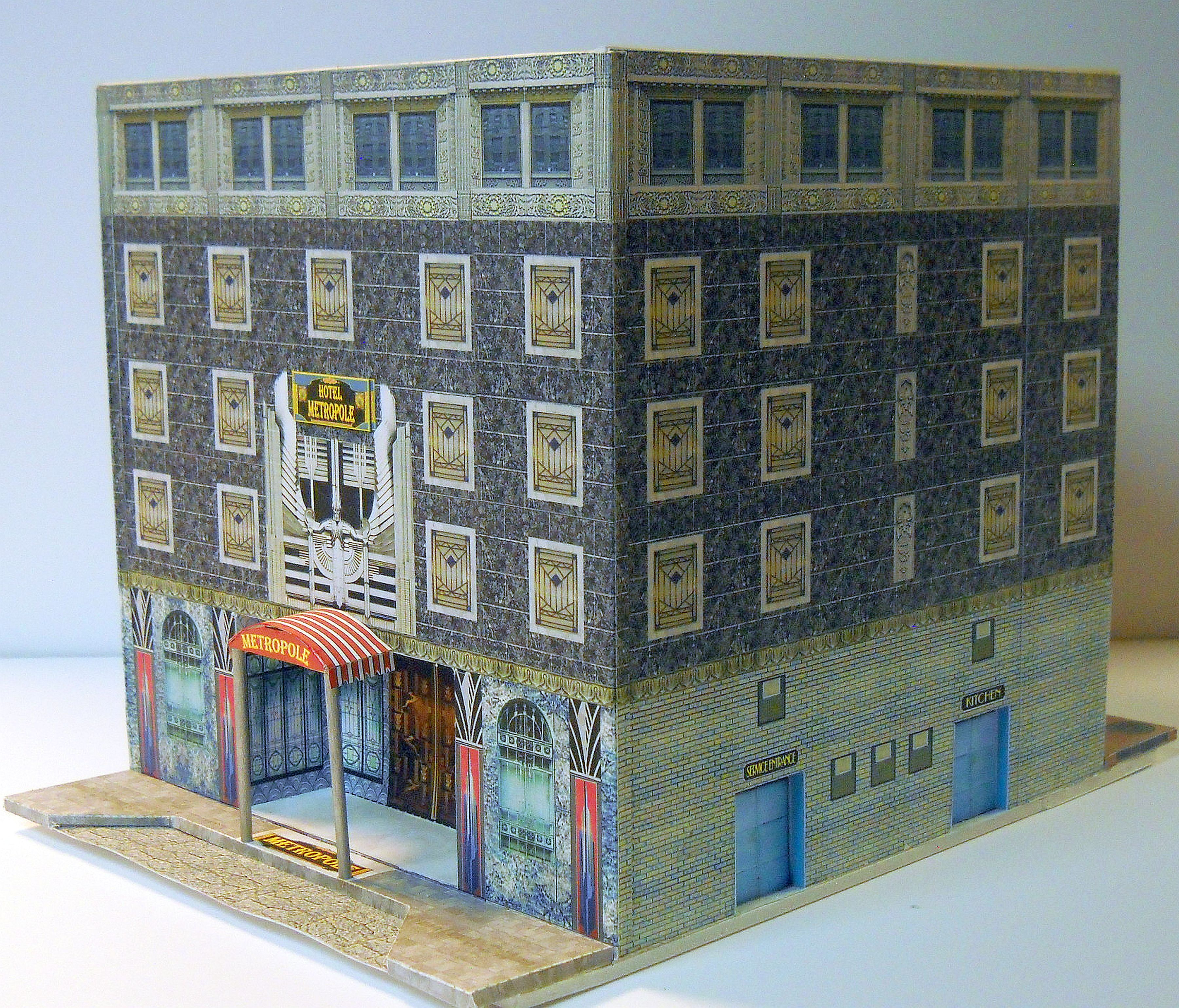 (Display Model Constructed and Photographed by Brian Weathersby.)
PDF File Format: $10.00



---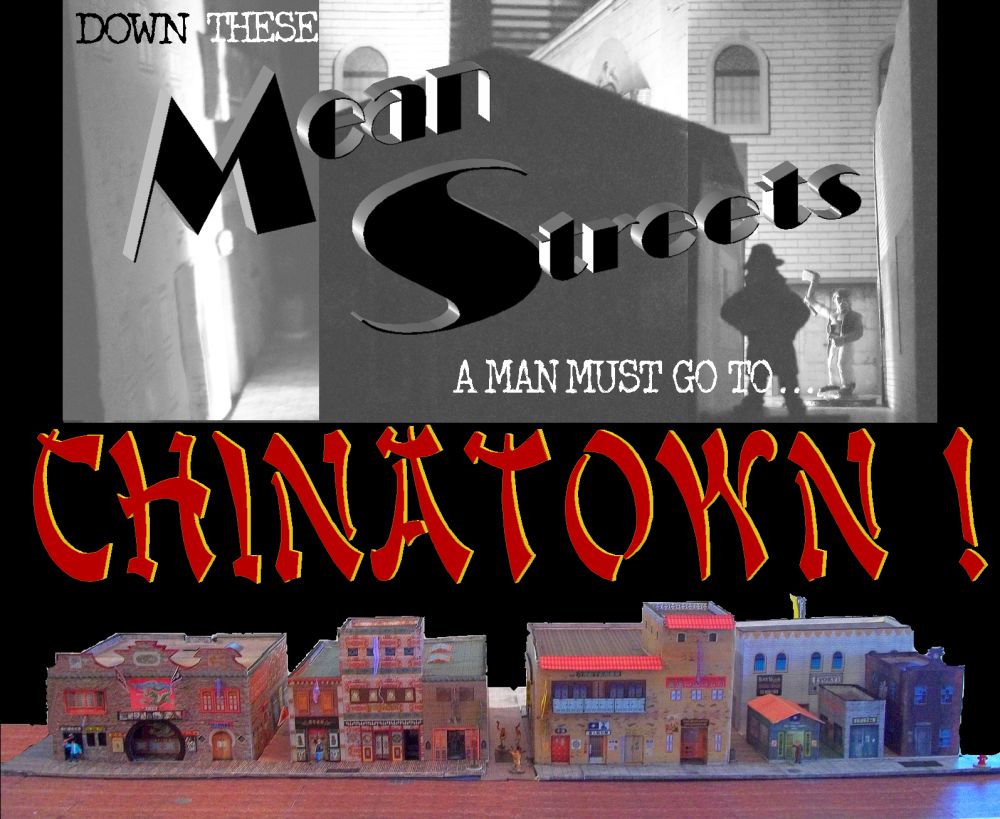 CHINATOWN! Is there a more mysterious, even alien, neighborhood in any City? Go from the Irish, to the Italian, to the Jewish, the German, the Greek, or any other part of town, and you'll get by in business, crime, and police work about the same. But enter Chinatown and all bets are off! Here, the different family Tongs ("associations") take care of their members and affiliates, supporting them and their enterprises--legal or not. Your enemy is the Tong's enemy, and keeping order and control of their own is done quietly--whenever possible--and always quickly. Anything can happen here, and you'd never know if it was about to happen to you until too late.
There is much to do and see here, most of it legal. But if crime and vice are your business, opium dens, houses of ill fame, smuggling, human trafficking, protection rackets, and even darker enterprises, are all grist for your mill.
All the Block Sections of Chinatown come with authentic Mandarin signage for the various businesses, as well as advertising posters for a wide range of Asian products, and hanging flags and banners with more information for the discriminating shopper. All have many fully 3D features, including inset doorways, and even partial interiors to be viewed from outside. Each Block contains authentic features found in a wide variety of "Chinatowns," both social and architectural. There is a total of 60 linear inches of Chinese shops/spaces available along the front and sides of all four Block Sections, enough to keep your town hopping and mysterious for years.
Take the tour any day--but go after dark, and you're on your own!
---
Block Section 17-- The first block side of the district containing the "Very Clean Laundry" which does wonderful work removing stains--of all kinds!--and even some great fabric repairs, cuts and small holes their specialty. Next door is the "Happy Dragon Movie Theater," which shows the latest in Asian Cinema, with room upstairs for... other entertainments. Then comes the "Celestial Good Food" Restaurant where you can get Cantonese, Szechuan, beaten, and garrotted. Wow! These cooks can make a great soup out of anything!

Note that the Laundry is designed to permit a view inside, and the Theater Lobby is large with a detailed view of the Lobby. The Gables above each building are authentic Chinese Architectural "Earth Elemental" designs.

Just around the corner, you can find "Greenbaum & Meyer, Harberdashers" where you can get all kinds fabric, expert tailoring, and a great nosh with tea while your suit is being perfectly fitted (concealed shoulder-holsters require expertly cut cloth). Next door are the Law Offices of "Silberman, Gertz, Levy, & O'Doul." Here they share the professional ethics of their practice, meaning they are devoted to knowing the law, collecting the facts, all while waiting for your check to clear. And, almost hidden between them, and up a short flight of steps, are the Medical Offices of Dr. Baruch Goldman. While a "GP," he has a way with gunshots, knife wounds, cracked heads, and prickly heat. He even makes alley calls! After dark, just the ring the bell for service....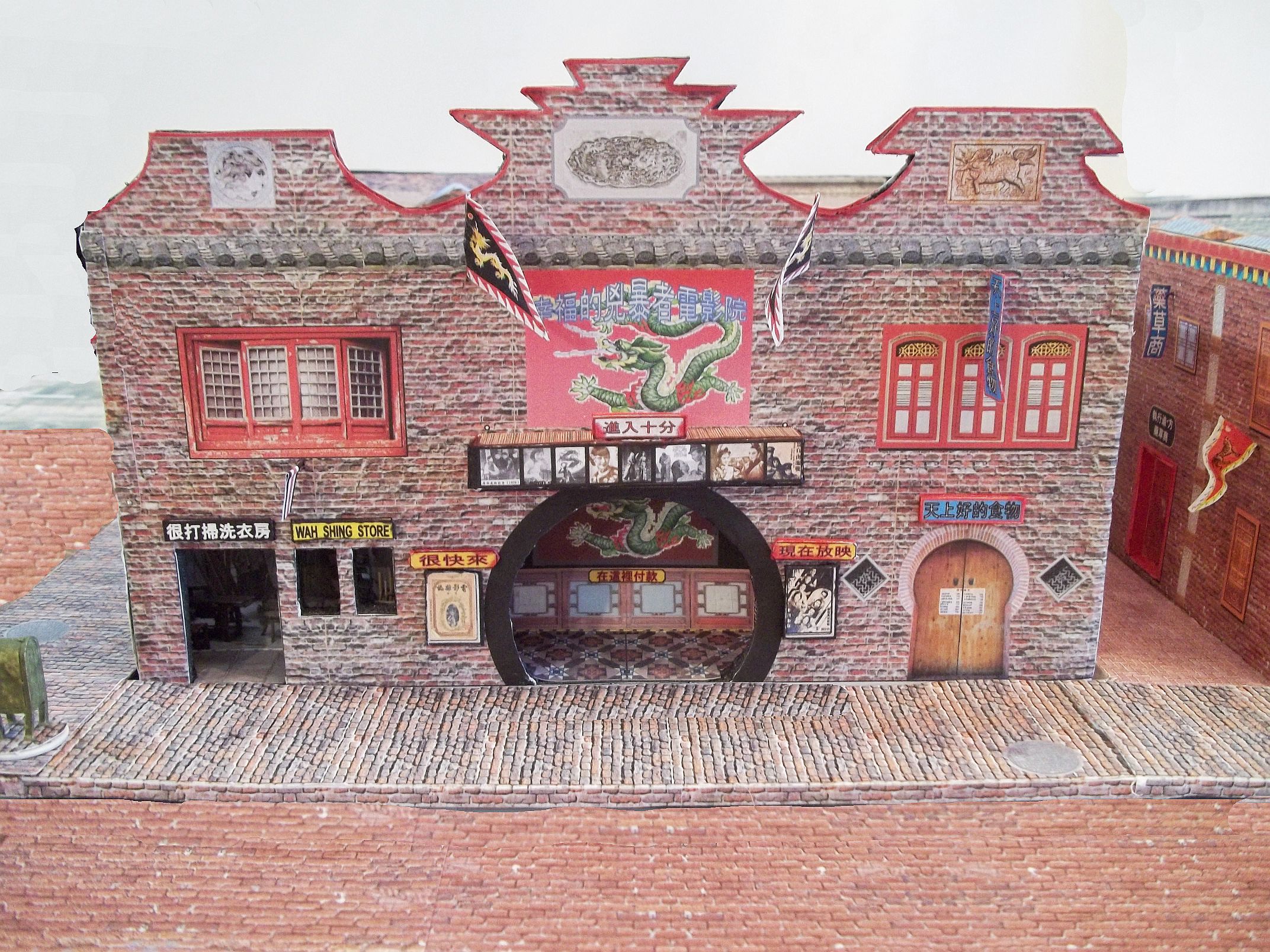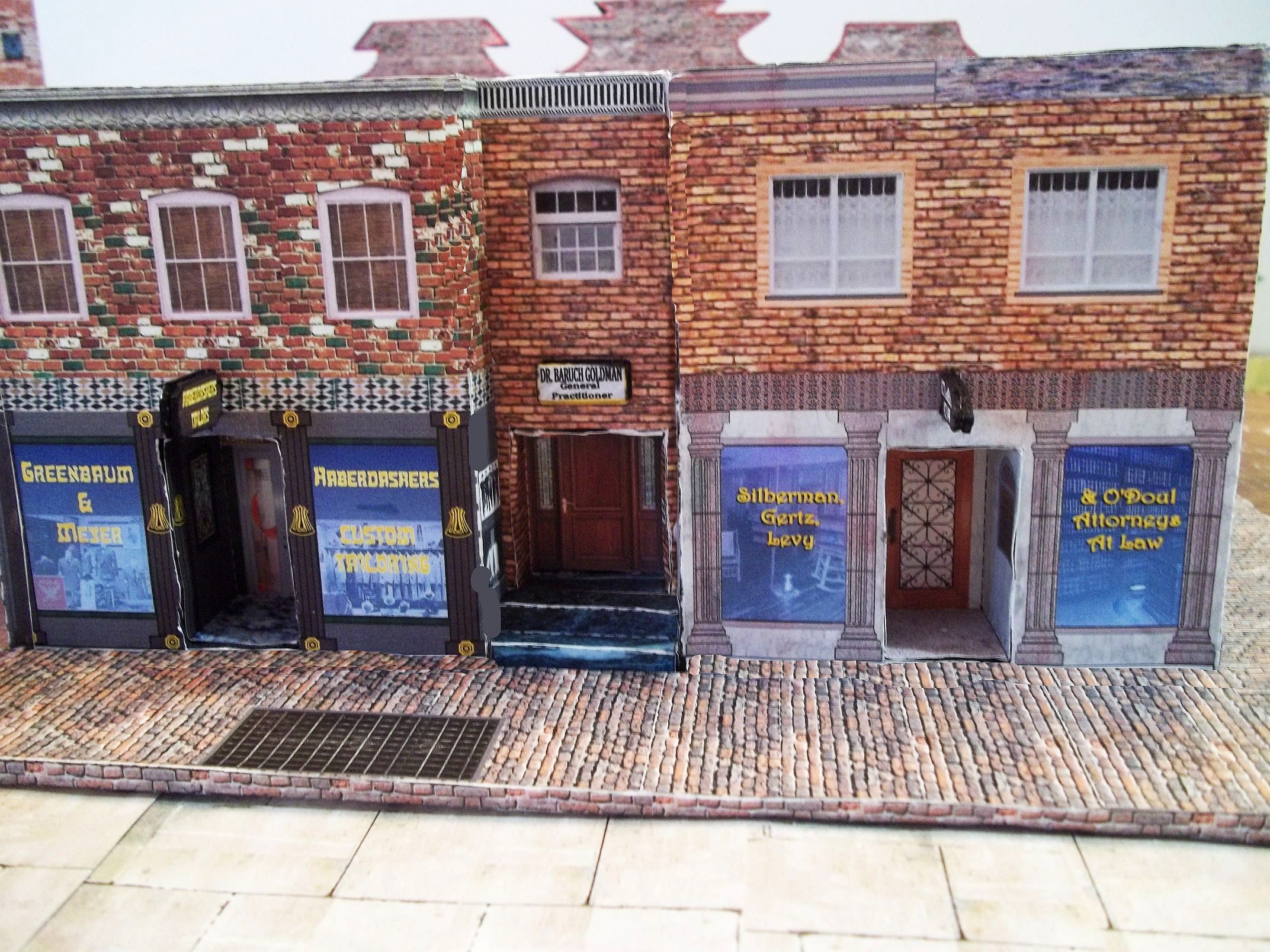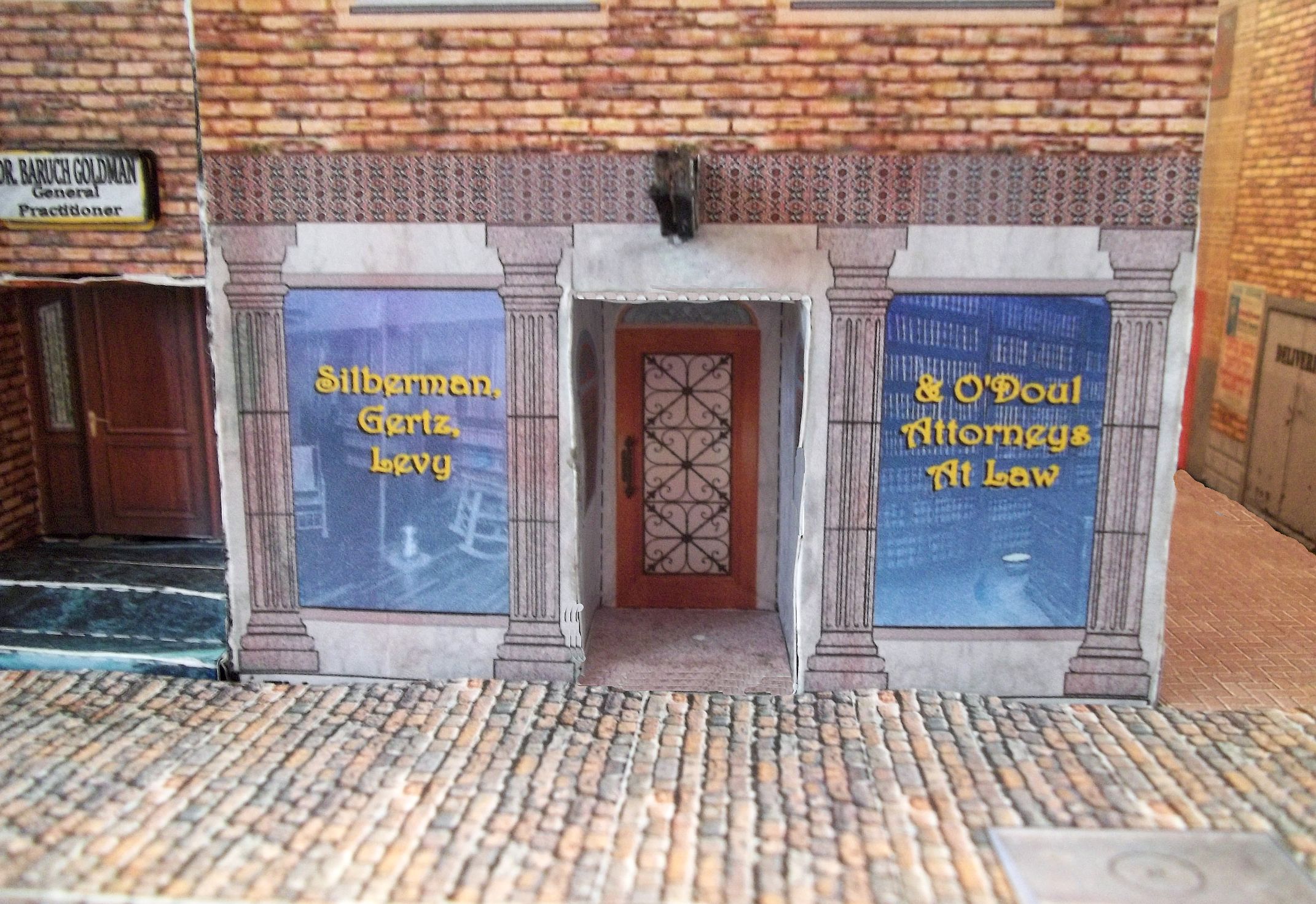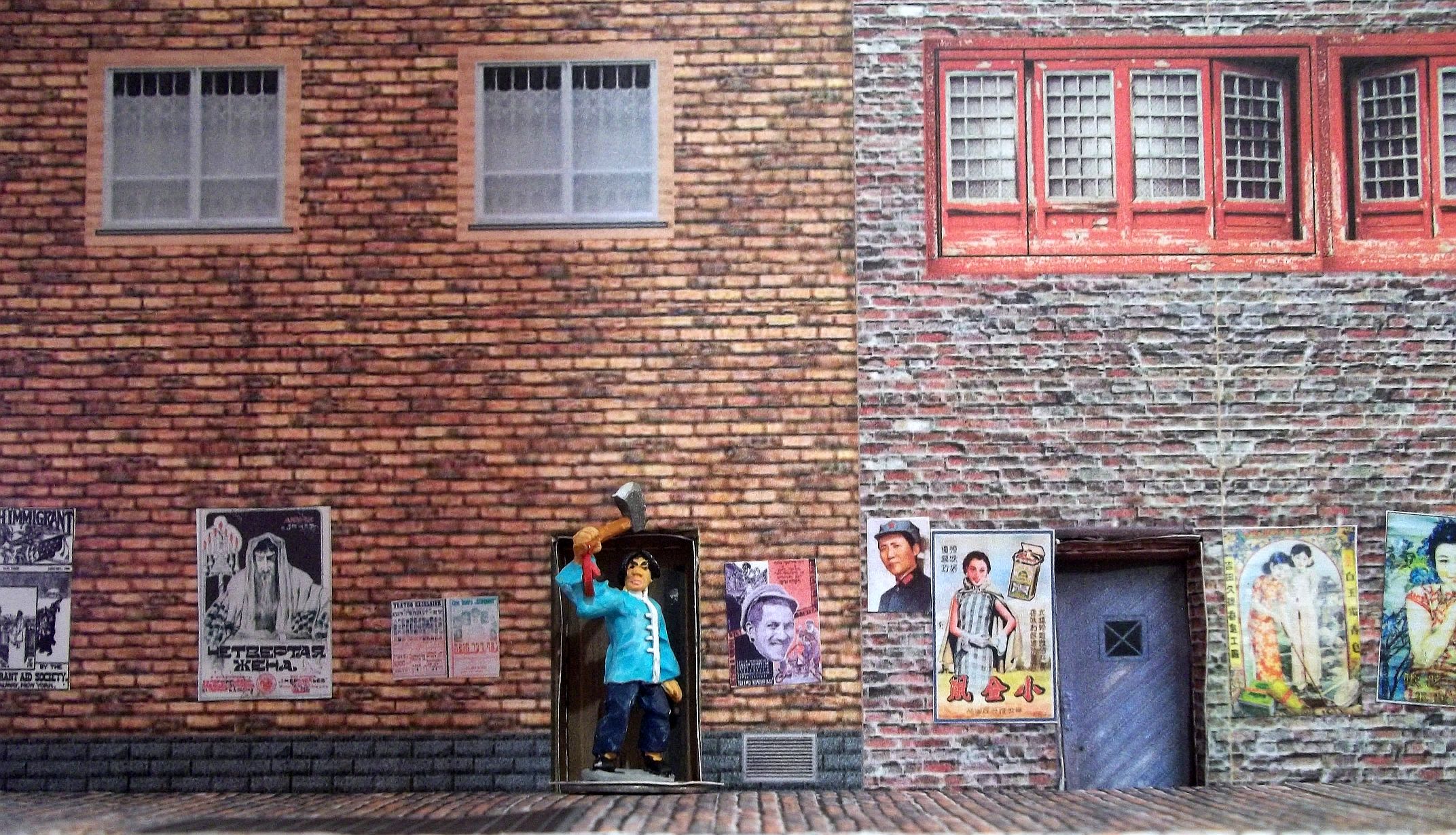 PDF File Format: $10.00
---
Block Section 18--Chinatown 2, Ethnic Businesses 2--The second Chinese Block face has three other staples for its inhabitants. A Joss House (a place of worship without any regular priest or "staff," open to the public at any time for prayers and even brief lodging), a block of apartments, and a Grocery. You'll notice that the Apartment stairway is open, and it is possible to look into the Grocery and see the friendly staff! Around the far corner, there is a traditional Chinese Herbalist with the most remarkable medicines and other... "feel good" nostrums. The locals swear by them. Even the dead ones, if you get the chance to ask.

Around the corner on the other side of the block you can find "Goldberg's Kosher Delicatessen" where any good Jewish Mobster can get a proper Gefilte Fish, and the Two-Cents-Plain. And when you don't have the price of a good nosh, you can always go around the corner to "Lipschitz Pawn & Loan" and trade in your old Railroad Watch for a buck. Need a quick change of clothes? Have some "ice" you need out of your hands? Need a nice "cold" roscoe to replace your old "hot" one? You name the deal, and Lipschitz will make you an offer. Take it or leave it....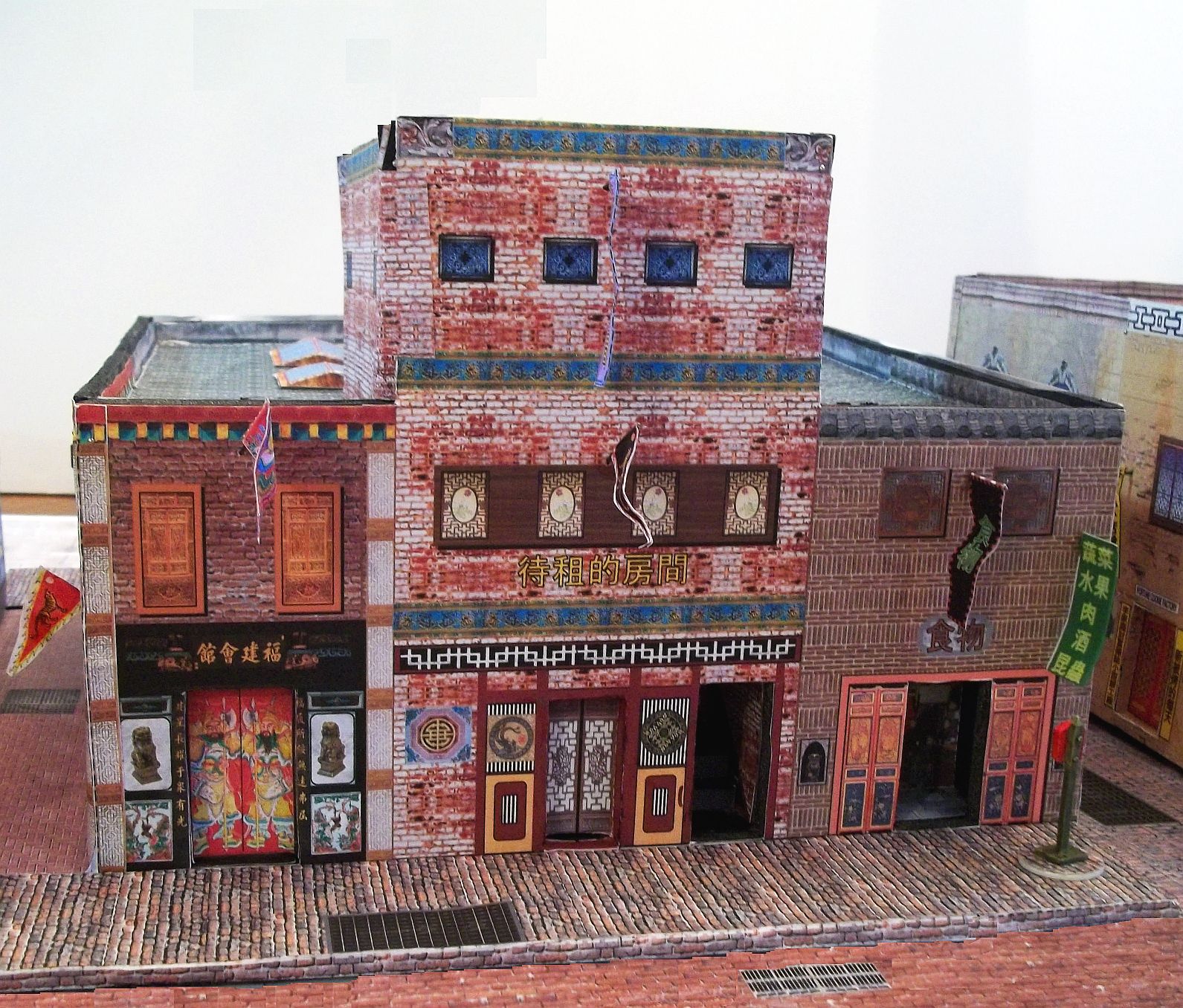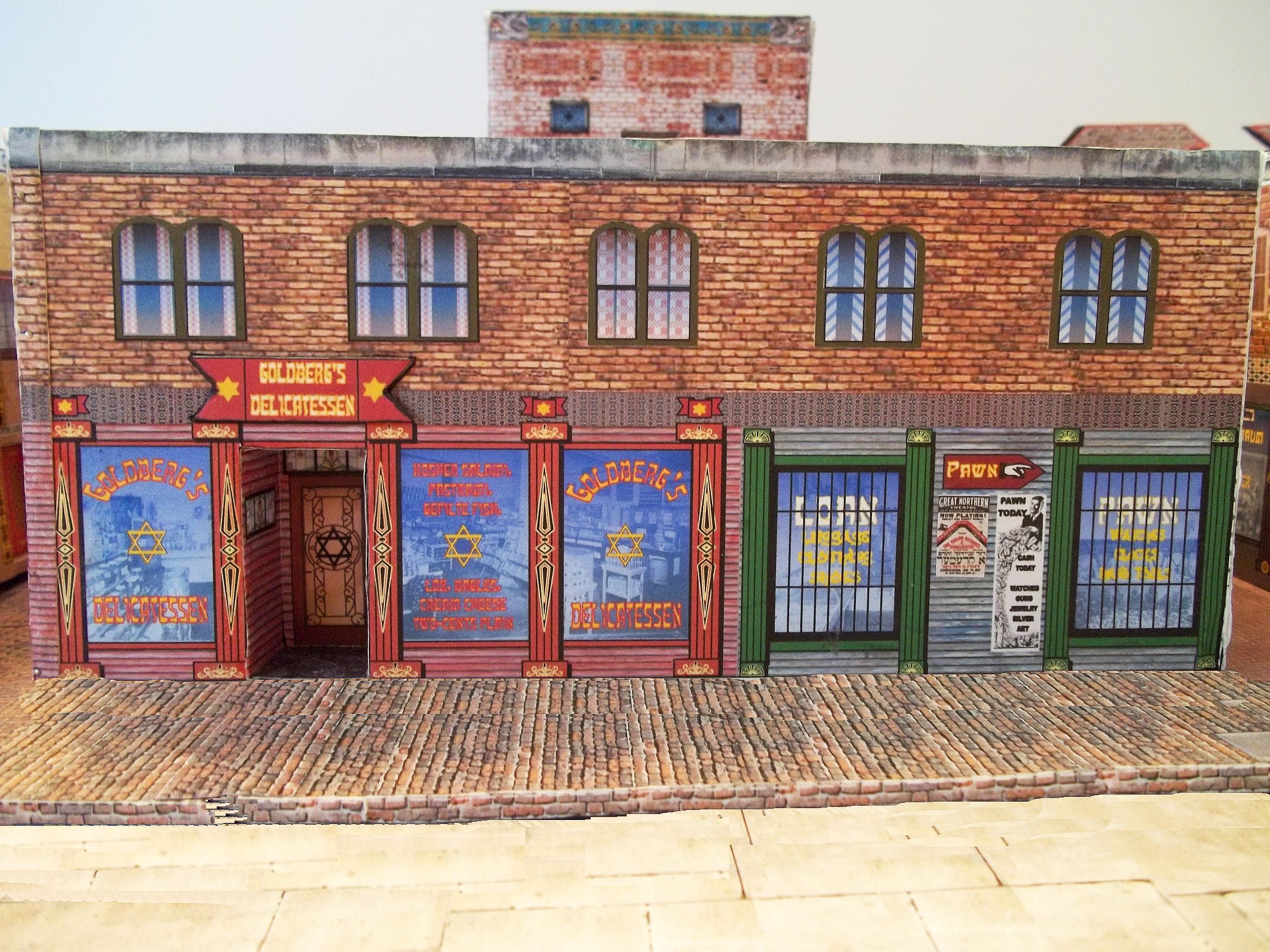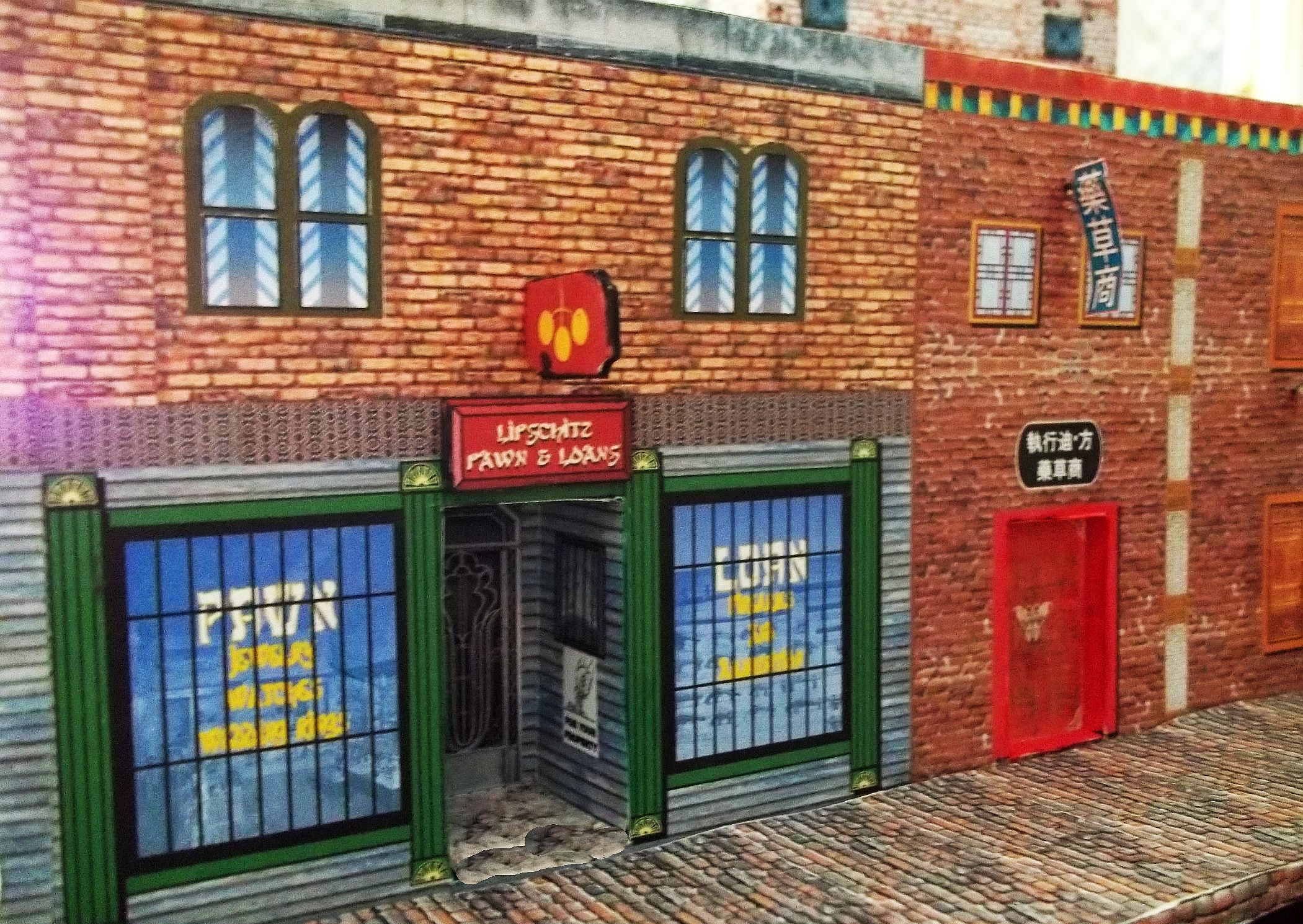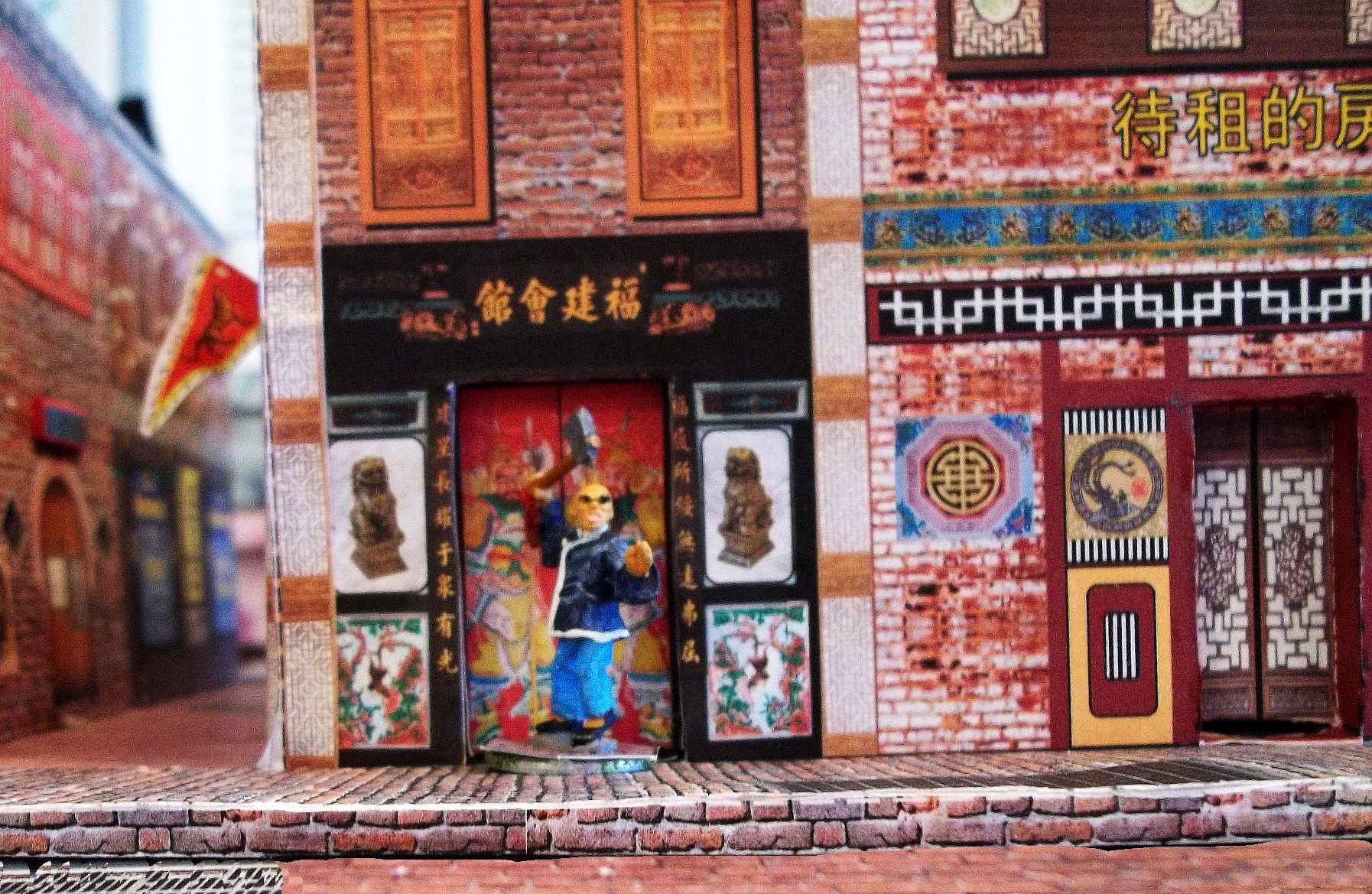 PDF File Format: $10.00
---
Block Section 19--Chinatown 3, The Cotton Club-- Next in Chinatown is a particularly crowded block! On the Chinese side, you'll find the shop of "Dr. Liu Wang Cheung, Chinese Medicine." Accupuncture, Zodiacal Diagnoses, and specialist treatments of all kinds can be gotten here. A good man to know after the Tong's having been romping with each other! Next door is the office of the local "Chinatown Daily News," that keeps the neighborhood players straight from day to day, and prints news from the Mainland with its government contacts. On the side, they can print just about anything you might need, from new wedding invitations, to ID papers or a convincing fake treasure map. Of importance to many with contacts back in China, the "China Light Methodist Missionary Service" can help arrange getting people into the U.S.--and some others back home. Gosh, it seems they have some remarkable contacts everywhere! Then comes the largest building in Chinatown, the offices and warehouse space of the "Fung Import-Export Business." Three stories of space for some of the most valuable items to come in and out of the City. And what a neat top floor! You can't see in, and just about anything could be going on up there. The Fung Family has done well, and operates a particularly active Tong. Its Headquarters occupy the second floor of the building with a nice balcony for watching what goes on in the streets below. And, finally, around the far corner is the "Li Family Fortune Cookie Factory," if for no other reason than you can finally have a scenario that starts with a message reading, "Help! I'm being held prisoner in a Fortune Cookie Factory!"

Enough Chinatown fun for years in just one block section! But wait! There's MORE to THIS block!

On the other side is, at last, The Cotton Club. Painstakingly modeled on the actual night club of history and legend, this is one spot where your Gangsters, P.I.'s, Cops and G-men can go for the best Jazz talent anywhere, anytime! As you can see from the photos, the rest of this block side has the actual businesses that bracketed the Club. Authentic large signs with some of the actual acts and attractions flank the meticulously modeled Cotton Club marquee. For sheer period feel and another touch of history, this Block Section is a must for any size layout.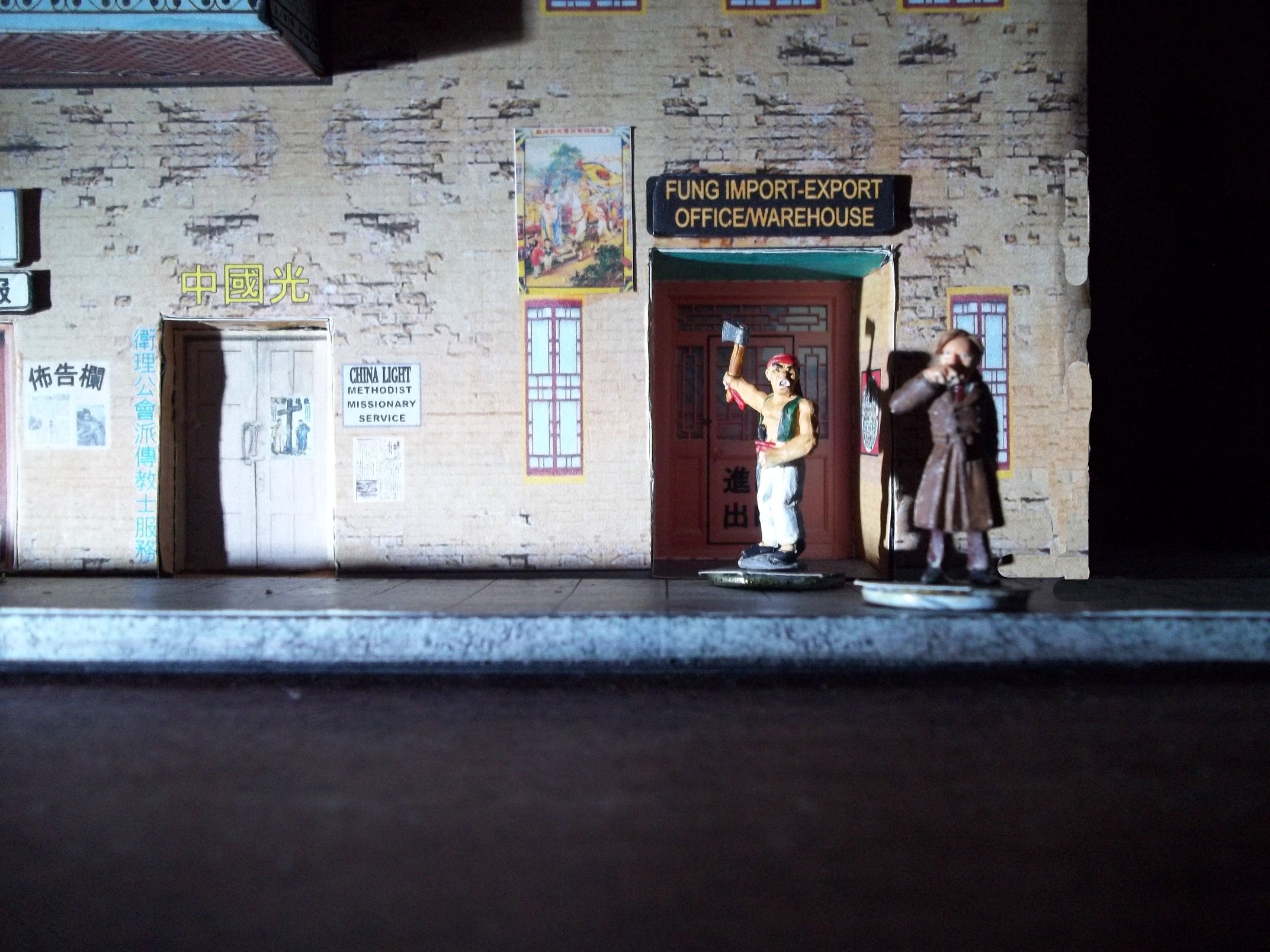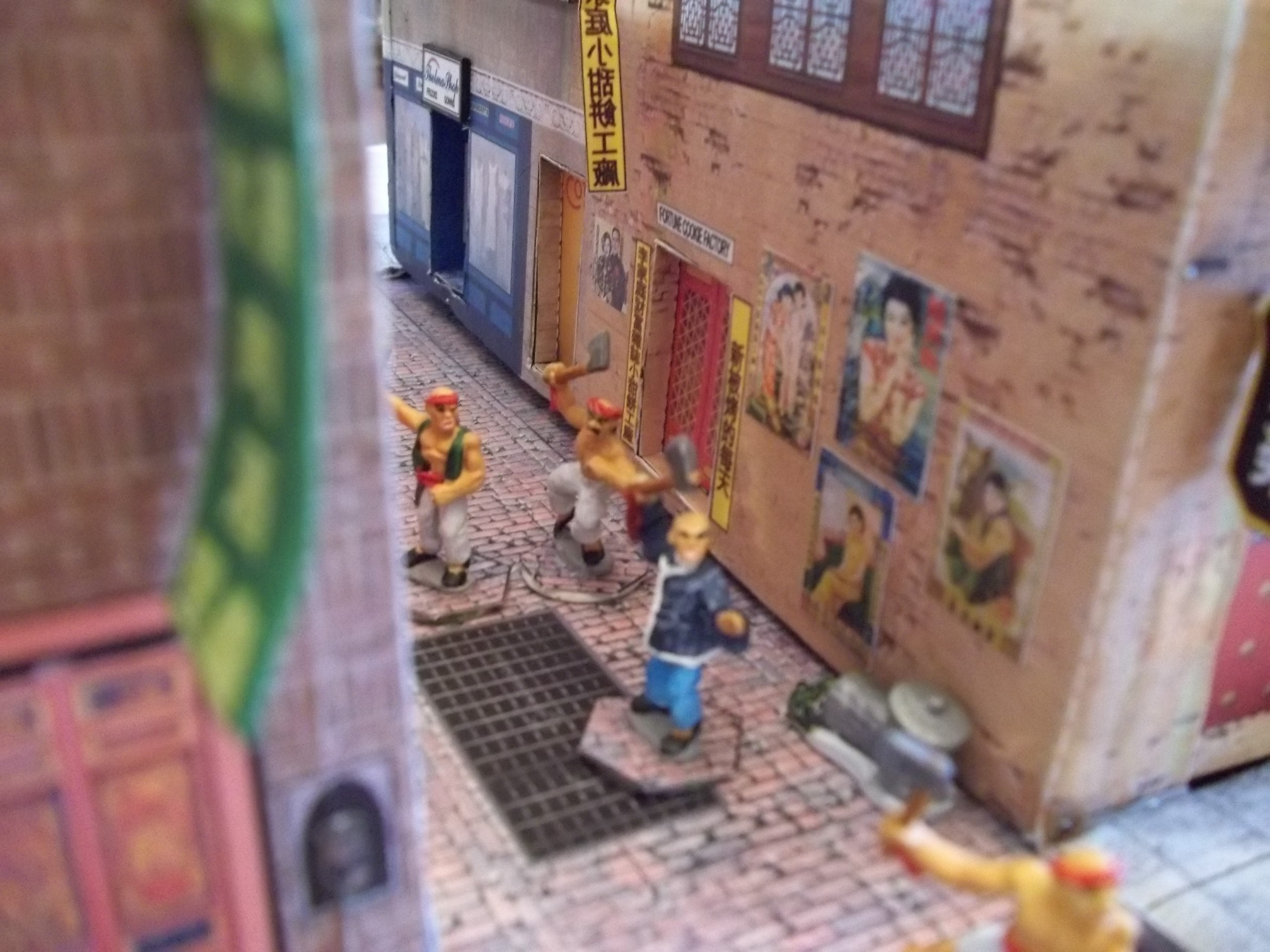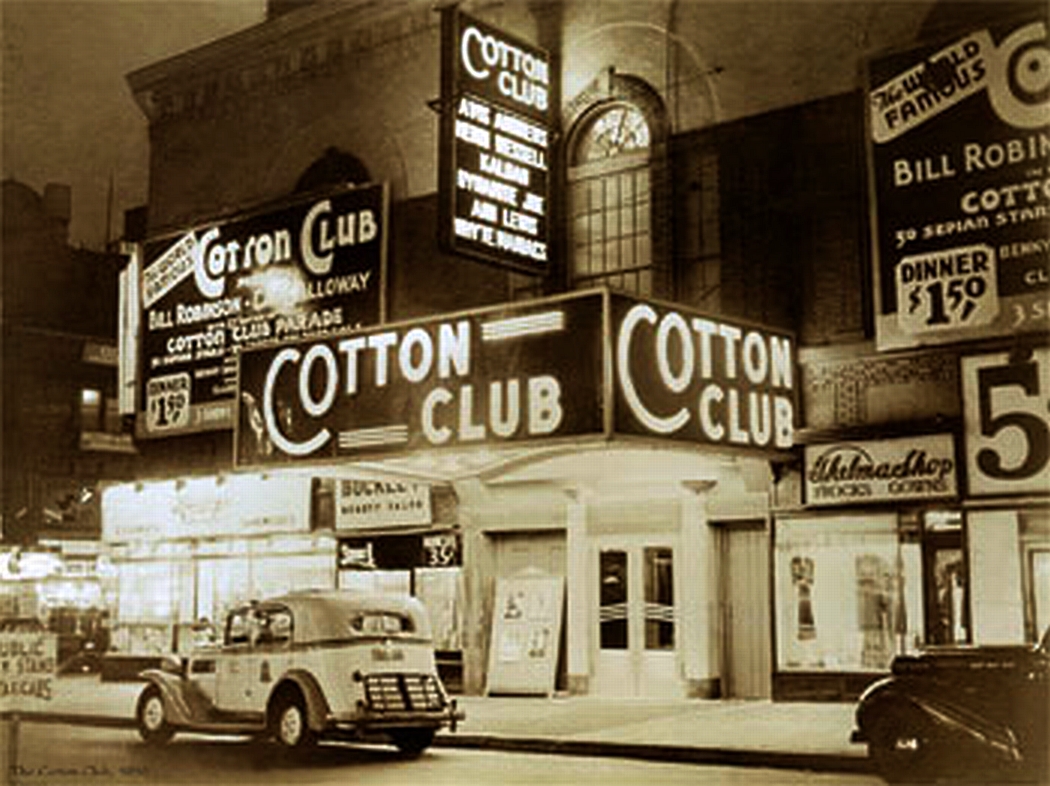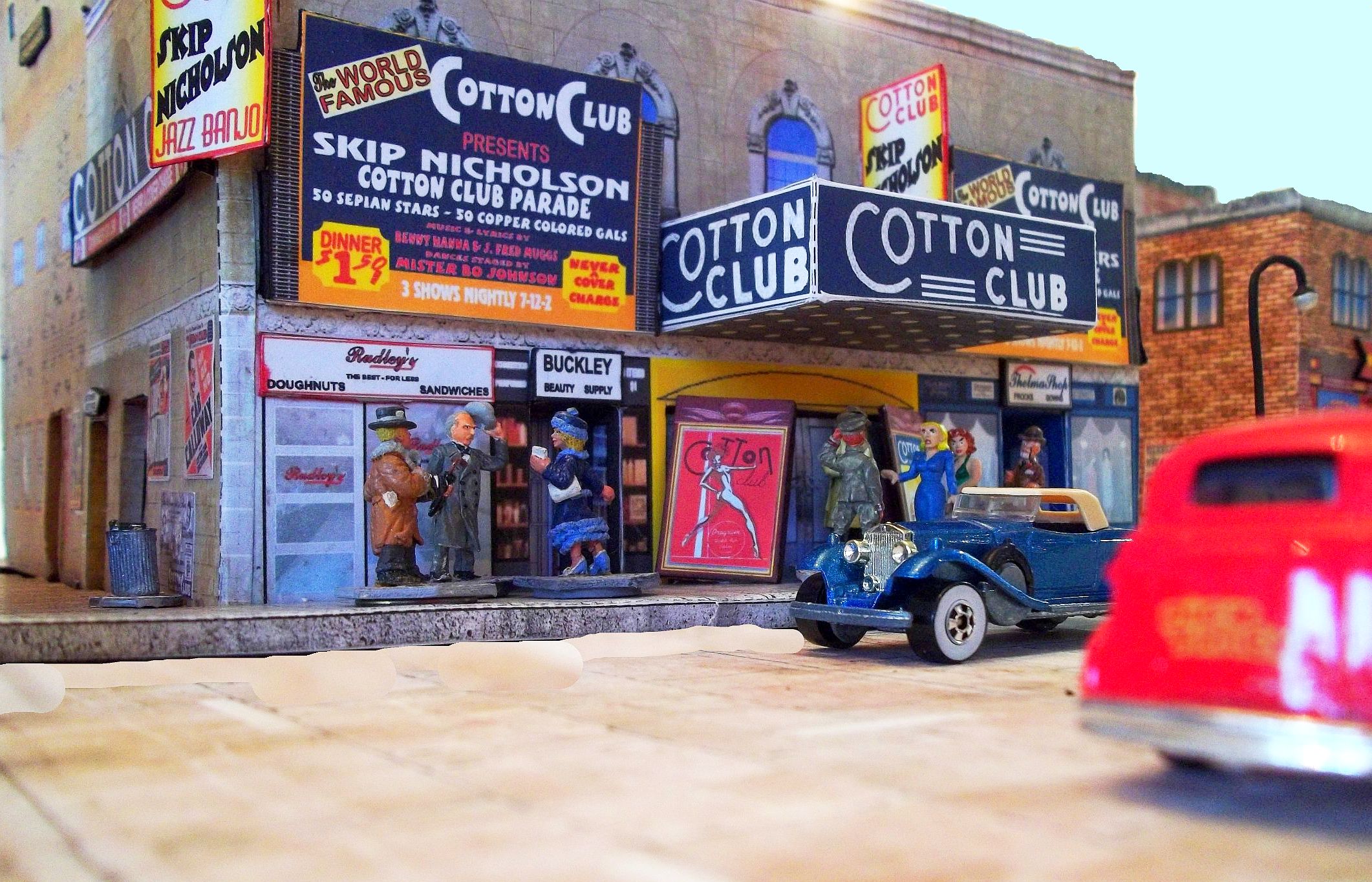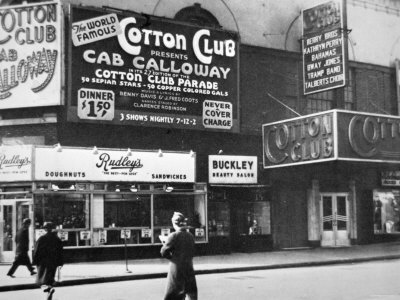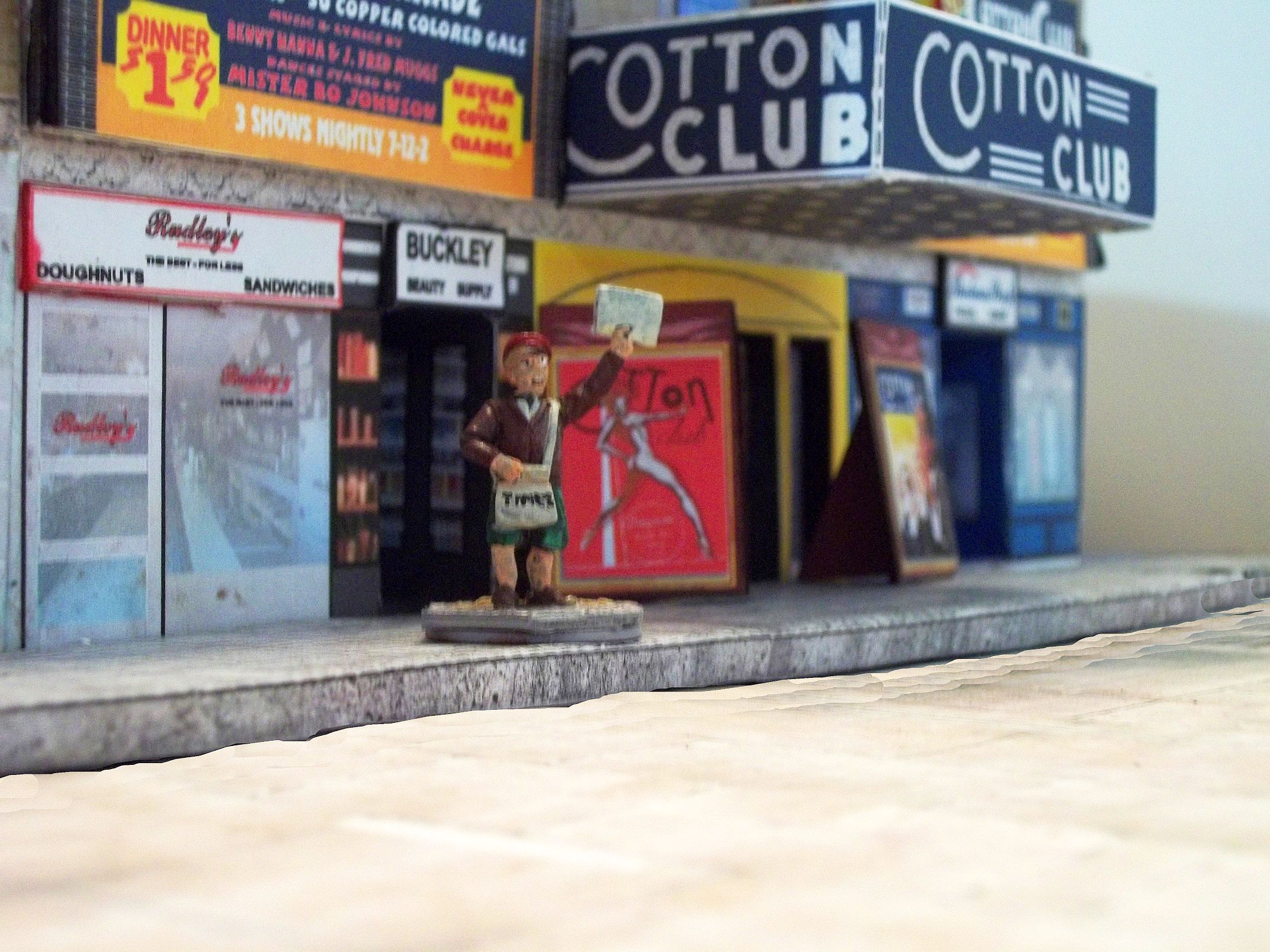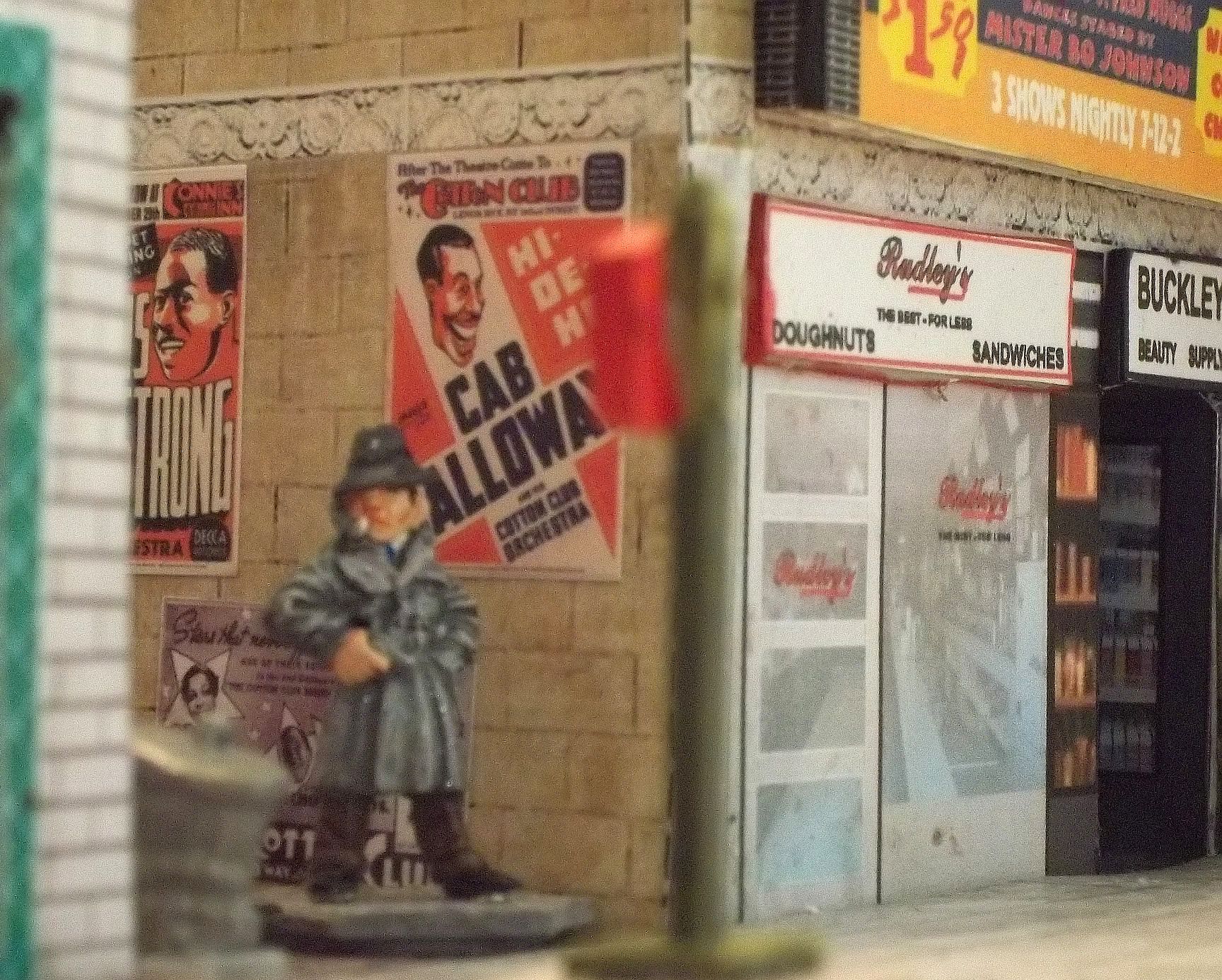 PDF File Format: $10.00
---
Block Section 20--Chinatown 4, Dreamland-- The last (?) Block Section of Chinatown contains several local businesses in a nest of separate buildings, with enough back alley space to hide a war in. From left to right, the "Chinese Fresh Seafood Shop" has all manner of interesting ... things in tanks for your dining pleasure. "Patrick's Rice Paper Factory" is a useful industry in Chinatown, if not as entertaining as the now derelict "Happy Lucky Firecracker Factory" that blew-up under mysterious circumstances not long ago. Note the authentic--if too appropriate--"Fire Elemental" gable at the front.

But on the opposite side of the block is another night time hotspot, "Dreamland," the town's premier Ball Room. A live orchestra in an Art Deco building is the home of the best "Ten Cents A Dance" girls in town. Couples show up here every night, but the weekends are really jumpin'! Conveniently enough, the same building provides space for "Bookers Tobacco Shop" and "Ruby's Flowers," both of which see good business from folks coming in and out of "Dreamland."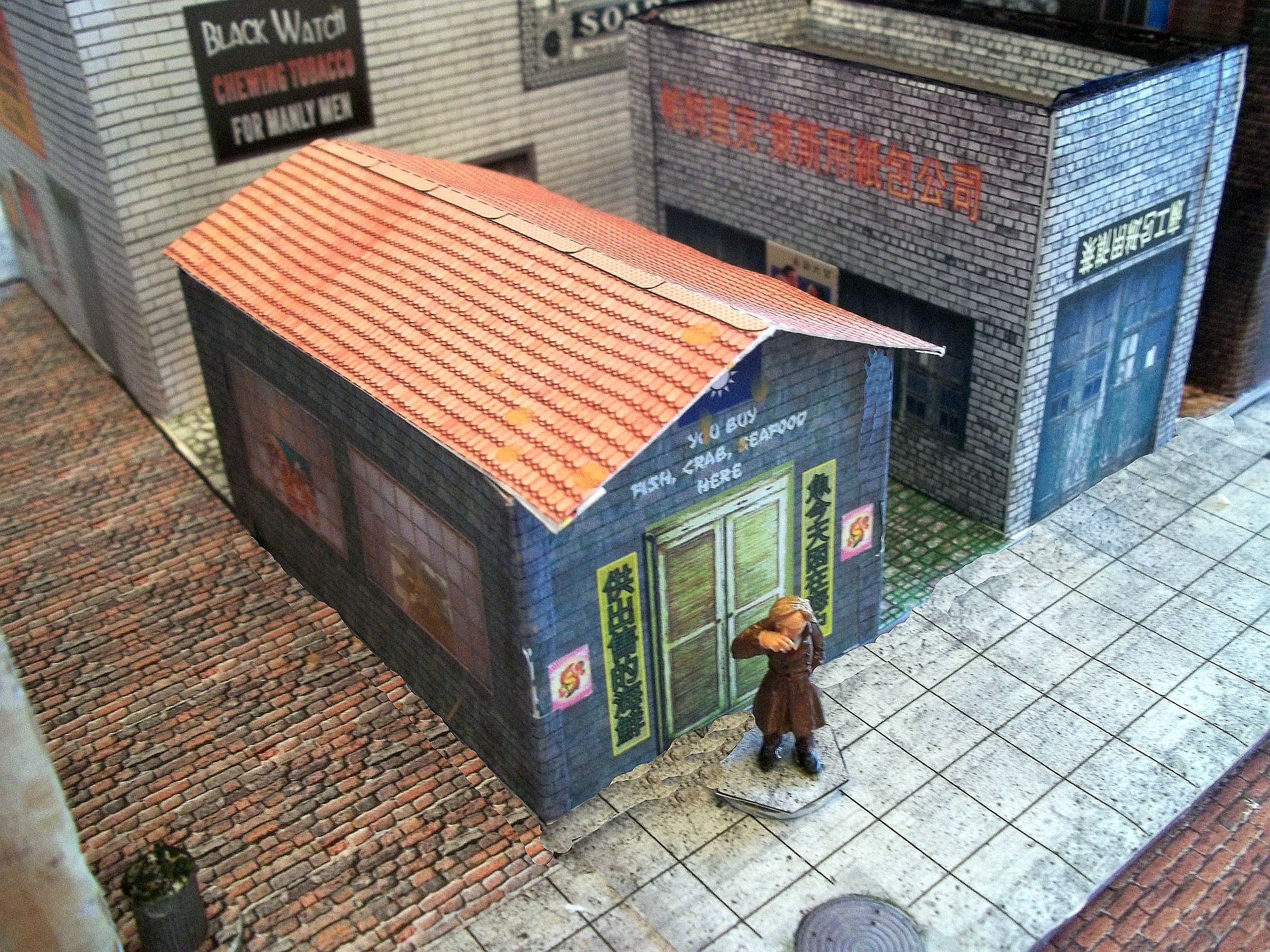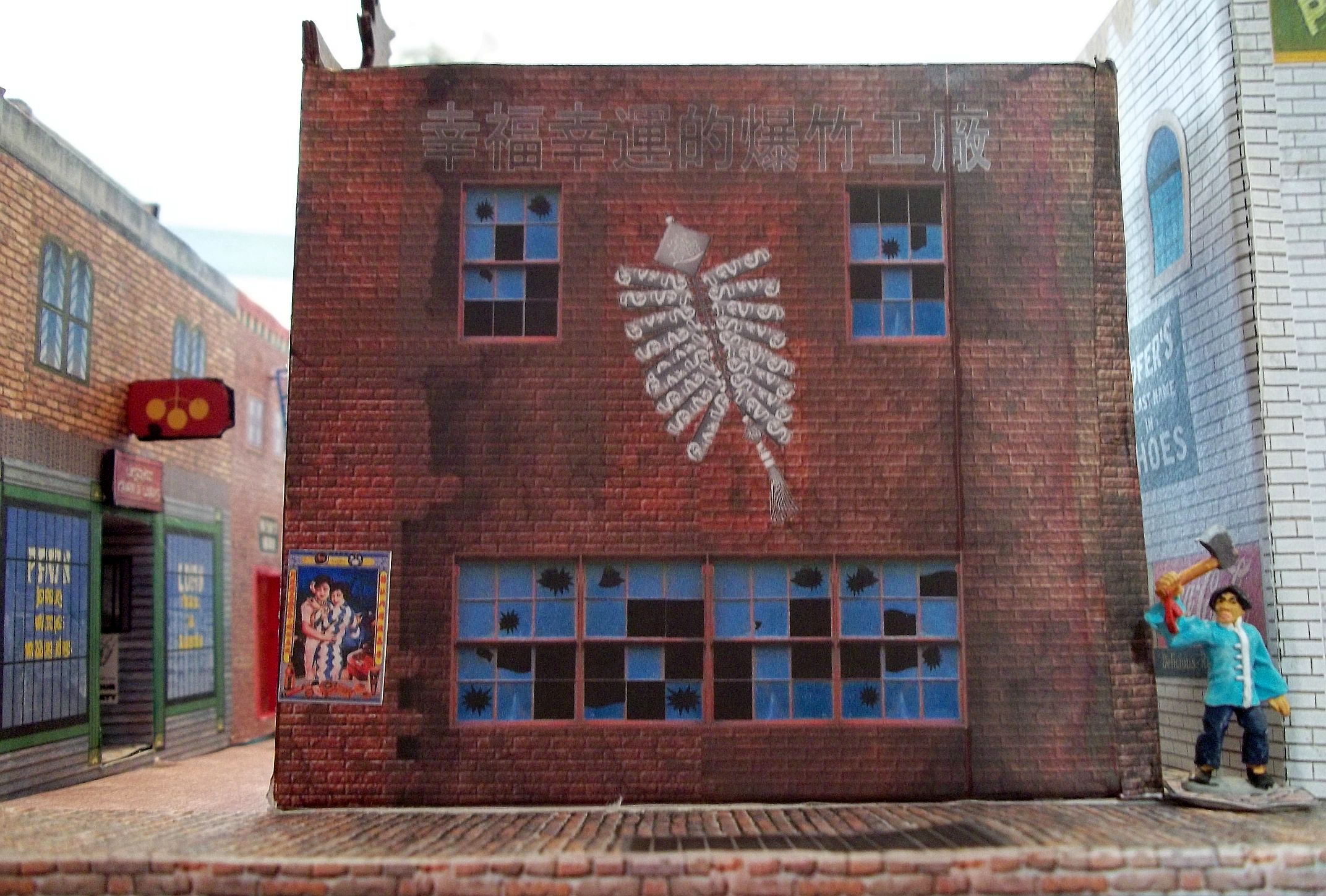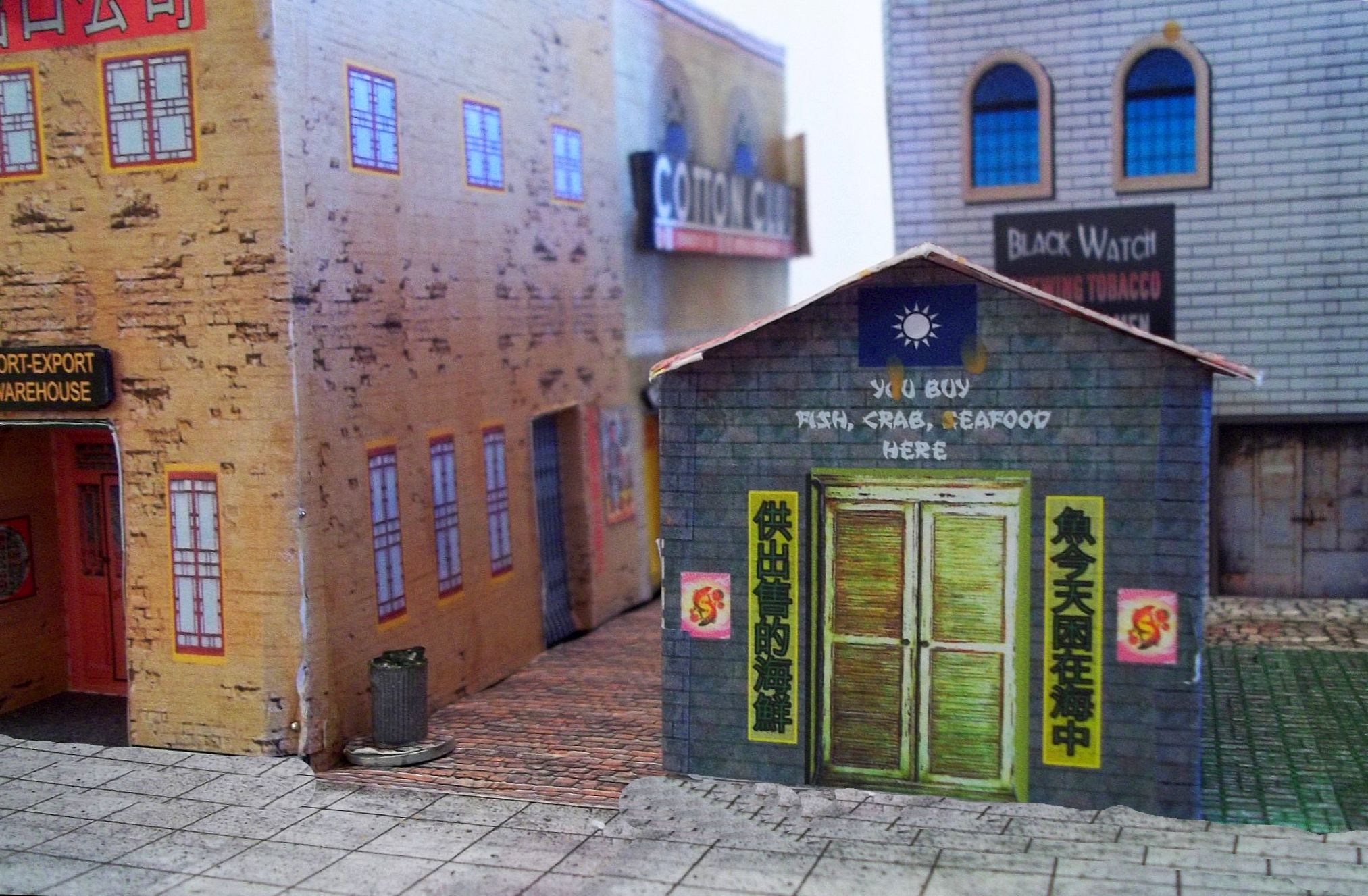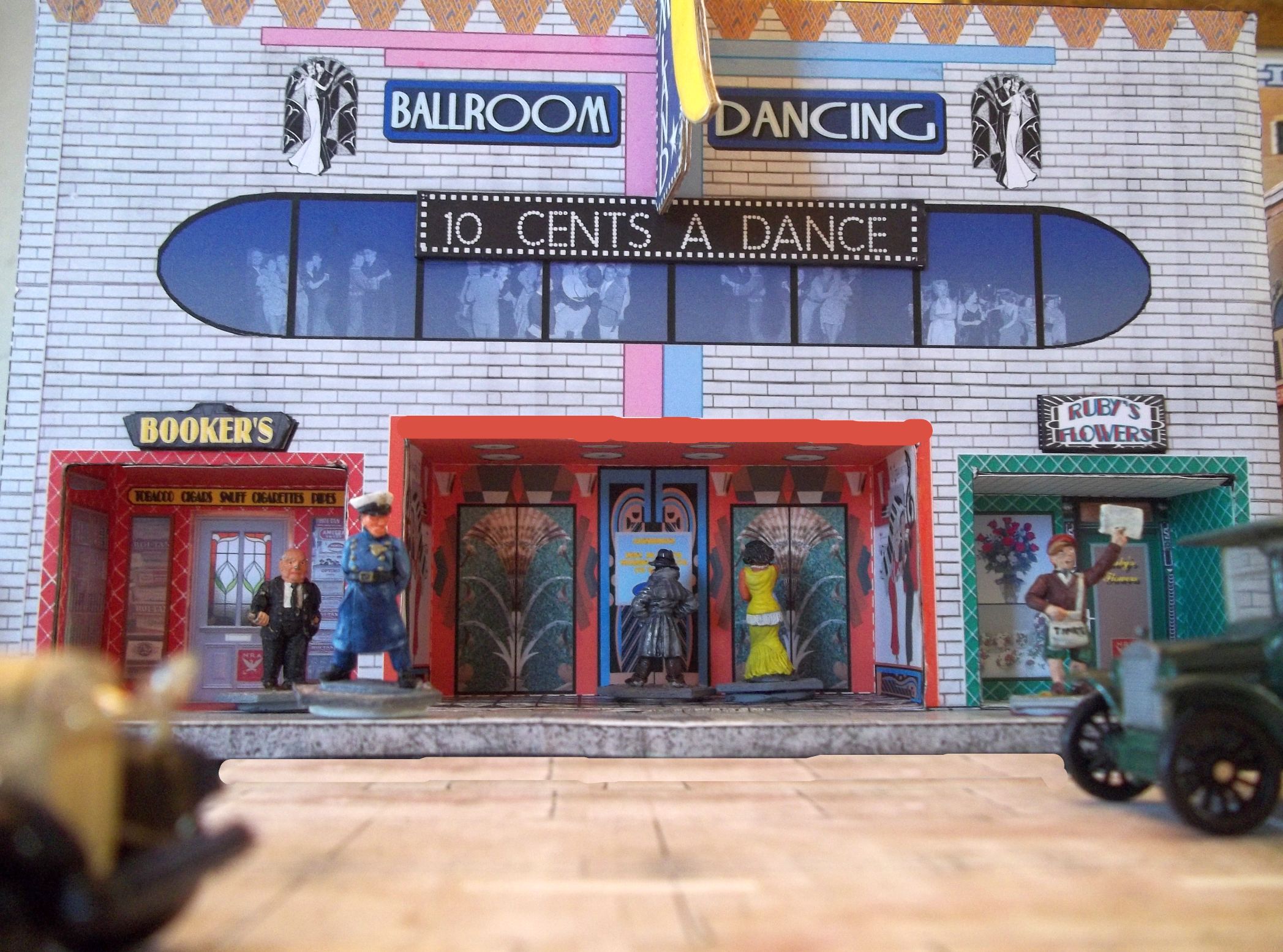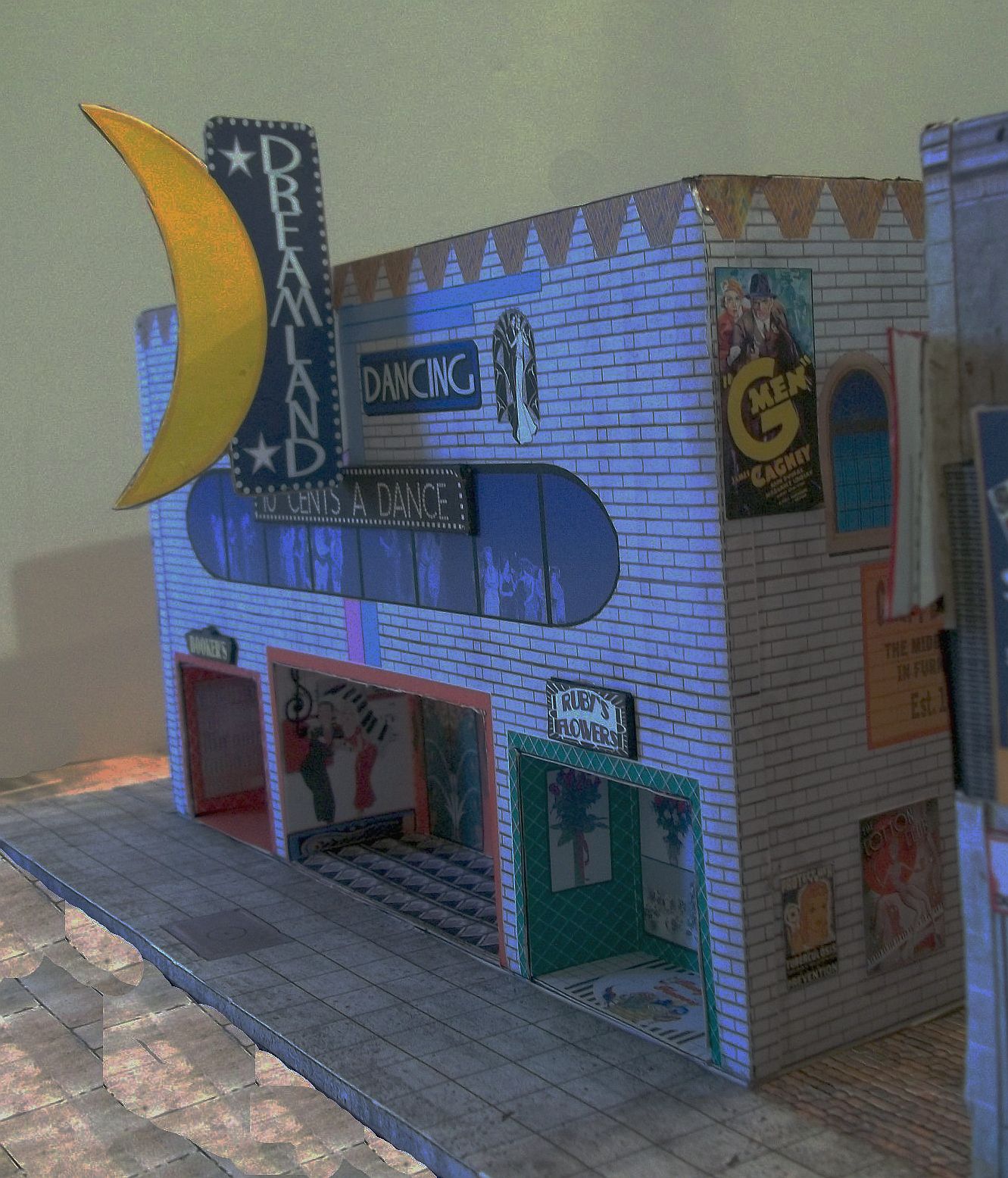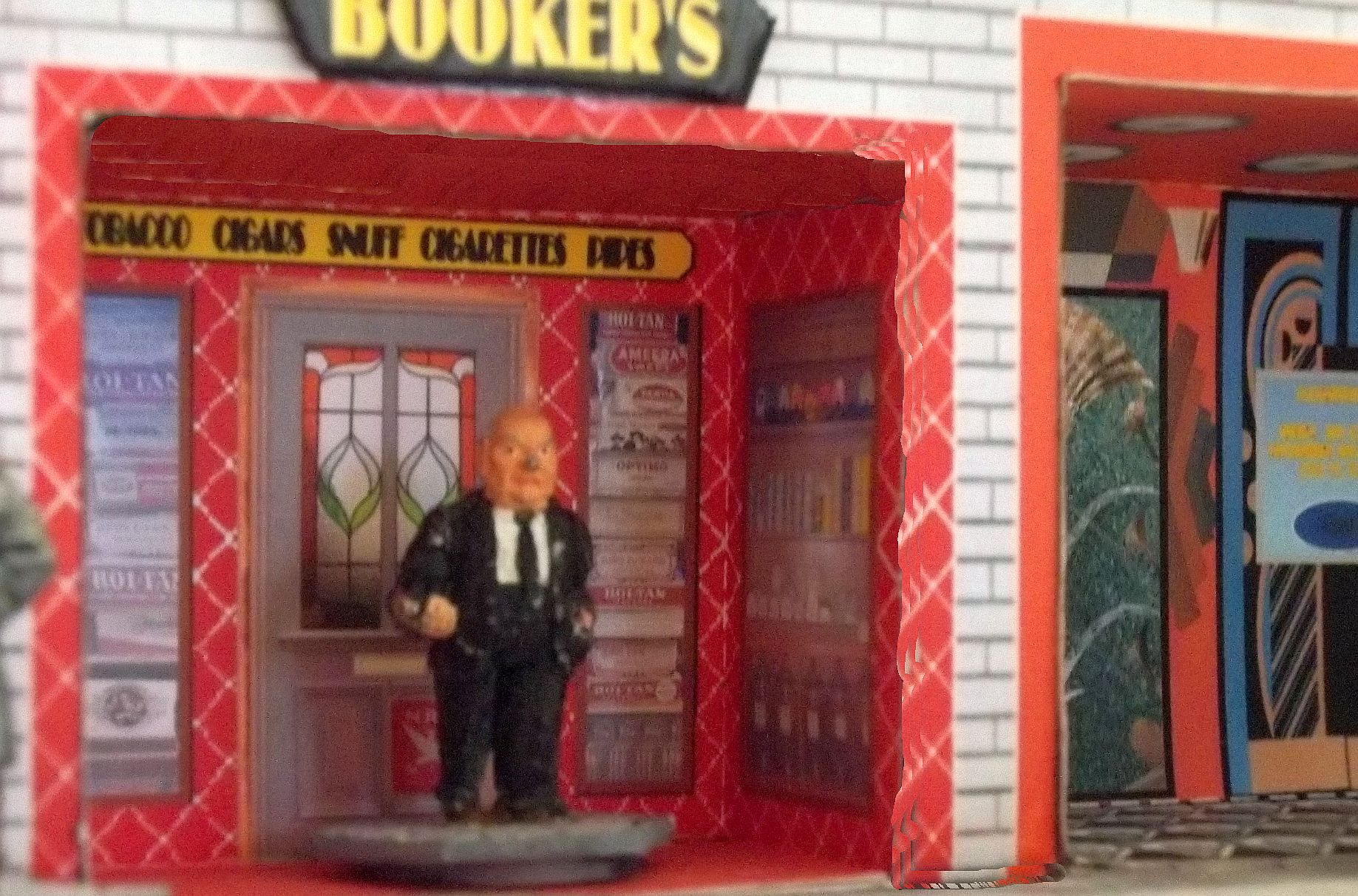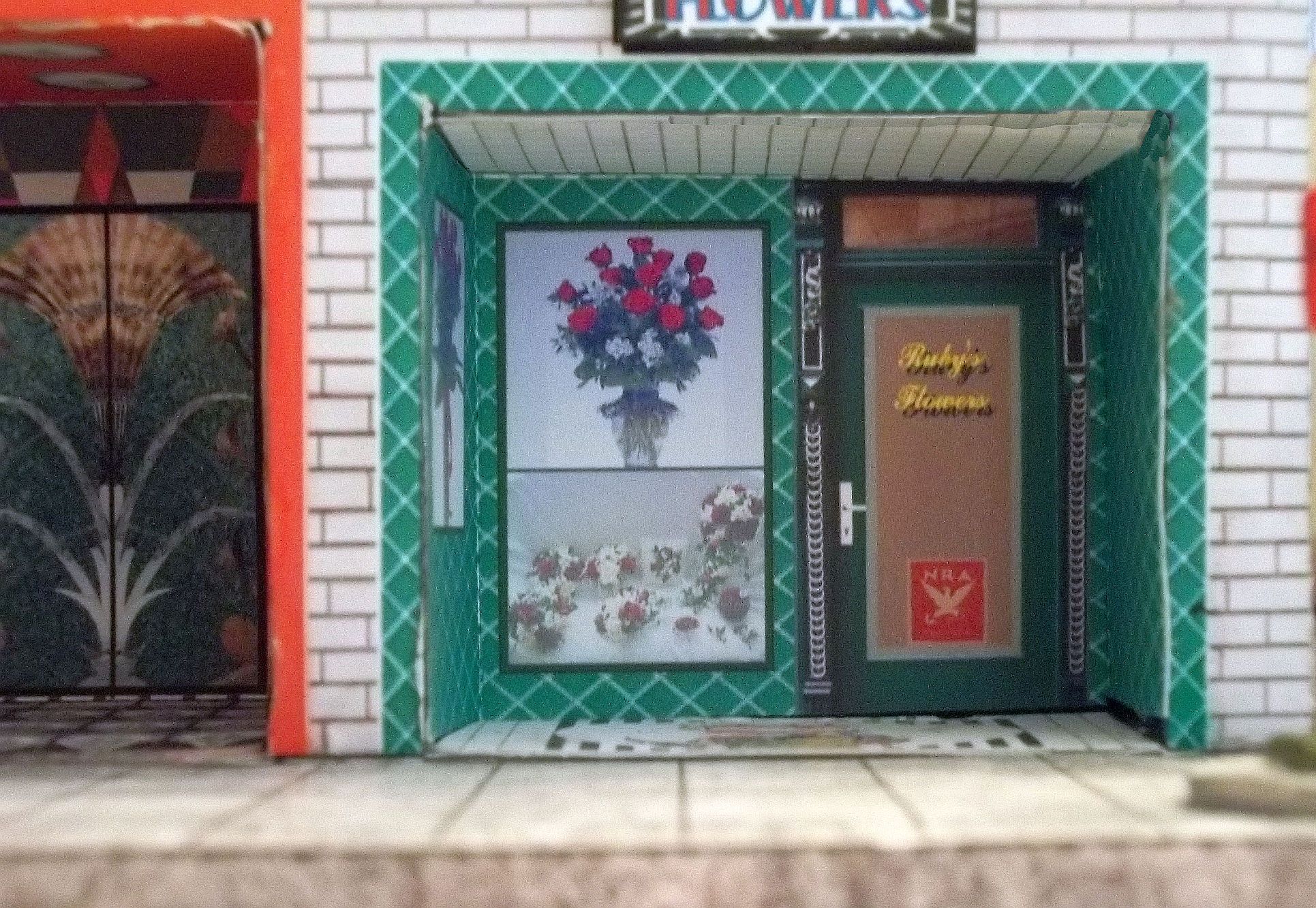 PDF File Format: $10.00
---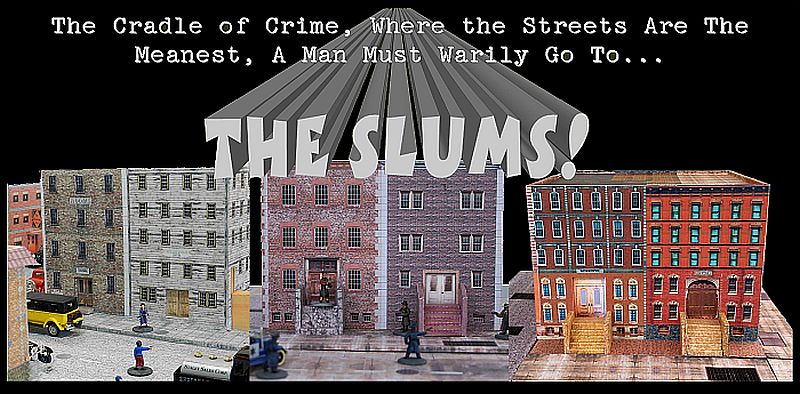 THE SLUMS! The hatcheries of generations of petty criminals and future gang lords, no city of the era was without them. Rows of crumbling tenements and abandoned properties, with litter strewn alleys and cold stoops in front of overcrowded rooms where domestic violence and poverty bred rage and envy. Once decent, middle-class neighborhoods, their fortunes faded as the waves of immigrants from the farms and foreign lands came for industrial employment in the City, only to find those jobs were filled. Families and individuals were trapped in ever decaying tenements that became warehouses of despair.
For many, the easiest way out was through crime. Gangs of children became students of theft, violence and murder in the class room of the streets. Most would never graduate to anything more, but the truly talented would become the Capone's, Lepke's, and Lansky's to rule cities and syndicates, with police and politicians on their payrolls.
This is the neighborhood where beat cops might never walk and detectives visit only in search of witnesses and suspects of the most recent outrage. But here the P.I.'s can meet contacts and hear the latest about who pulled off the heist, kidnapping, or killing that the police have given up on. If there is going to be crime to confront or mysteries to be solved, the heart of darkness will be in...THE SLUMS!
---
Block Section 21-- The first in this collection of four blocks which can be clustered around an intersection or laid out in one long or two parallel rows, providing a set large enough to be the scene for most any action your scenario permits. Two adjoining tenements are set back from the sidewalk to accommodate the characteristic "stoops" they featured. They are the front face of the block while two abandoned factory spaces are to their rear. Empty and decaying, they can hide almost anyone--or thing--behind the dead eyes of their empty windows.



Model by Alan Lockhart and Photos by Ms. Sarah Lockhart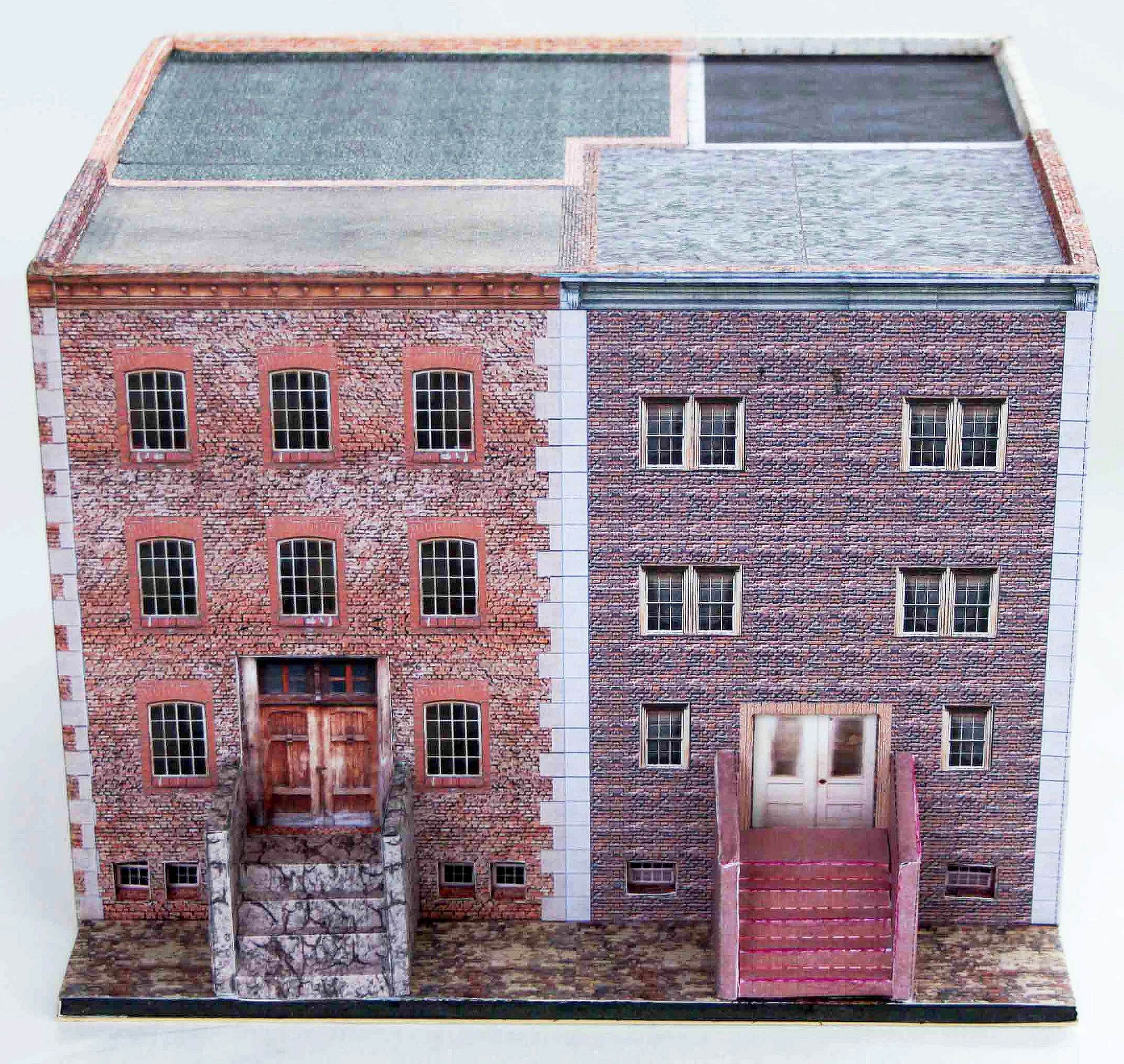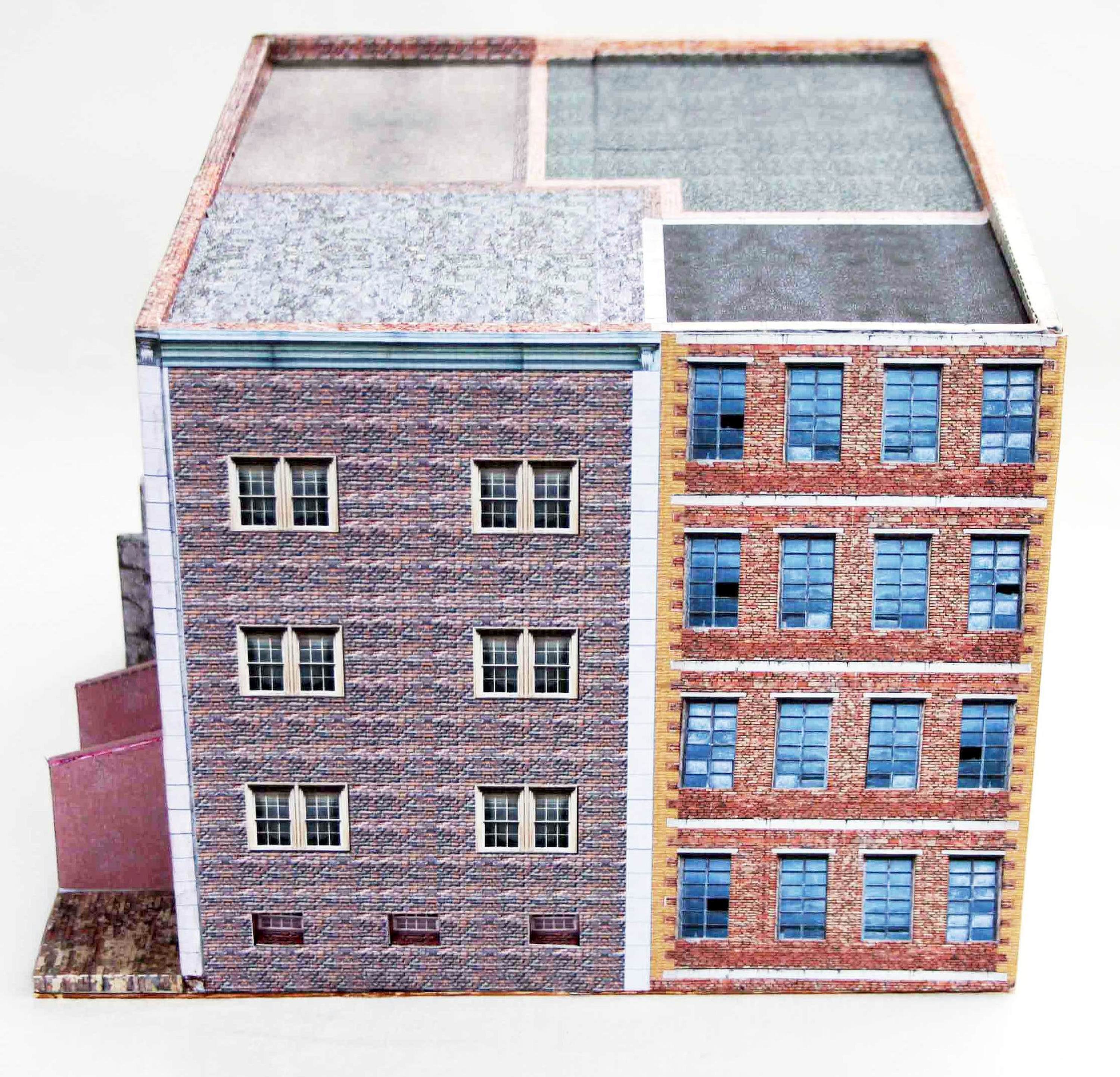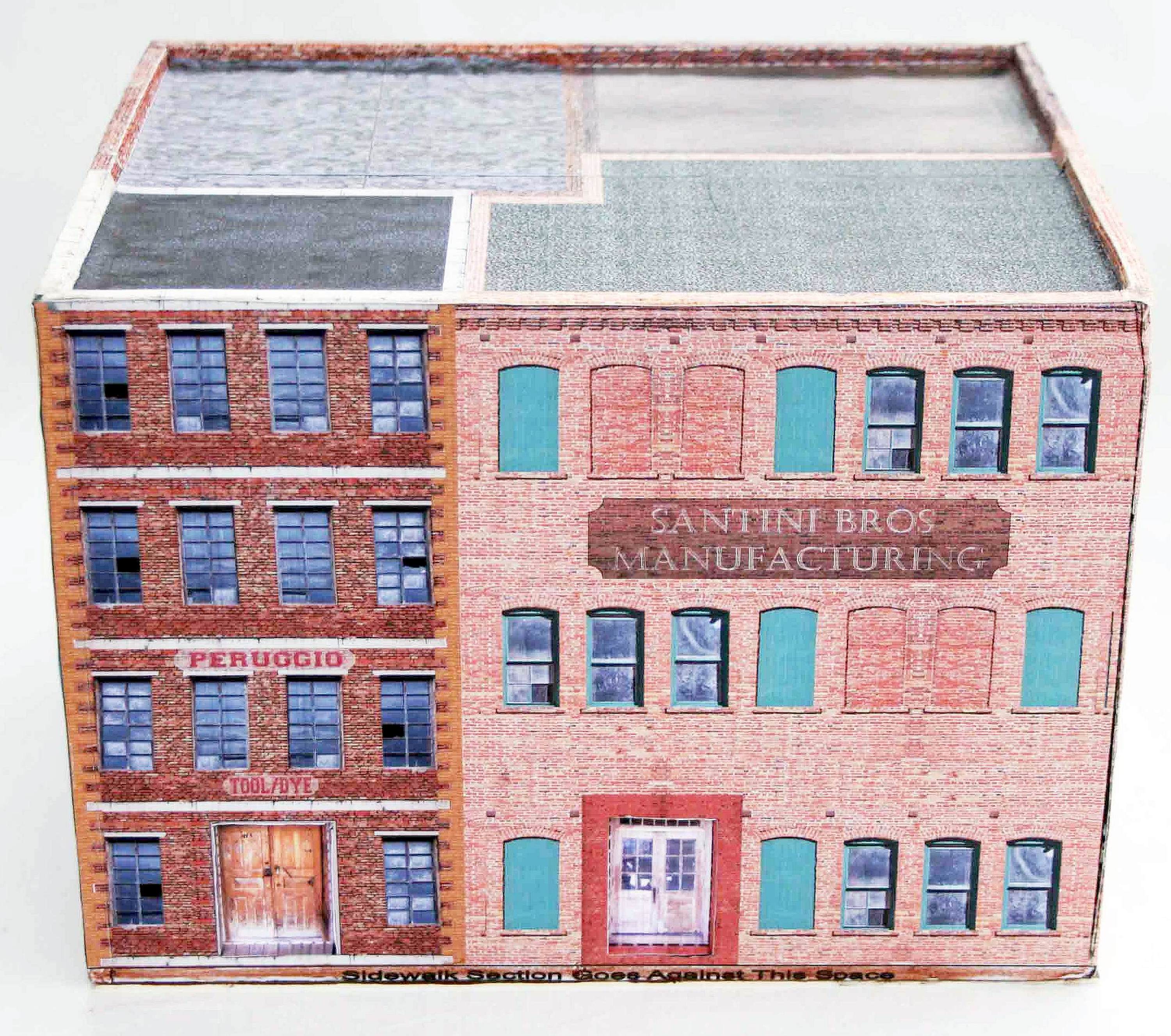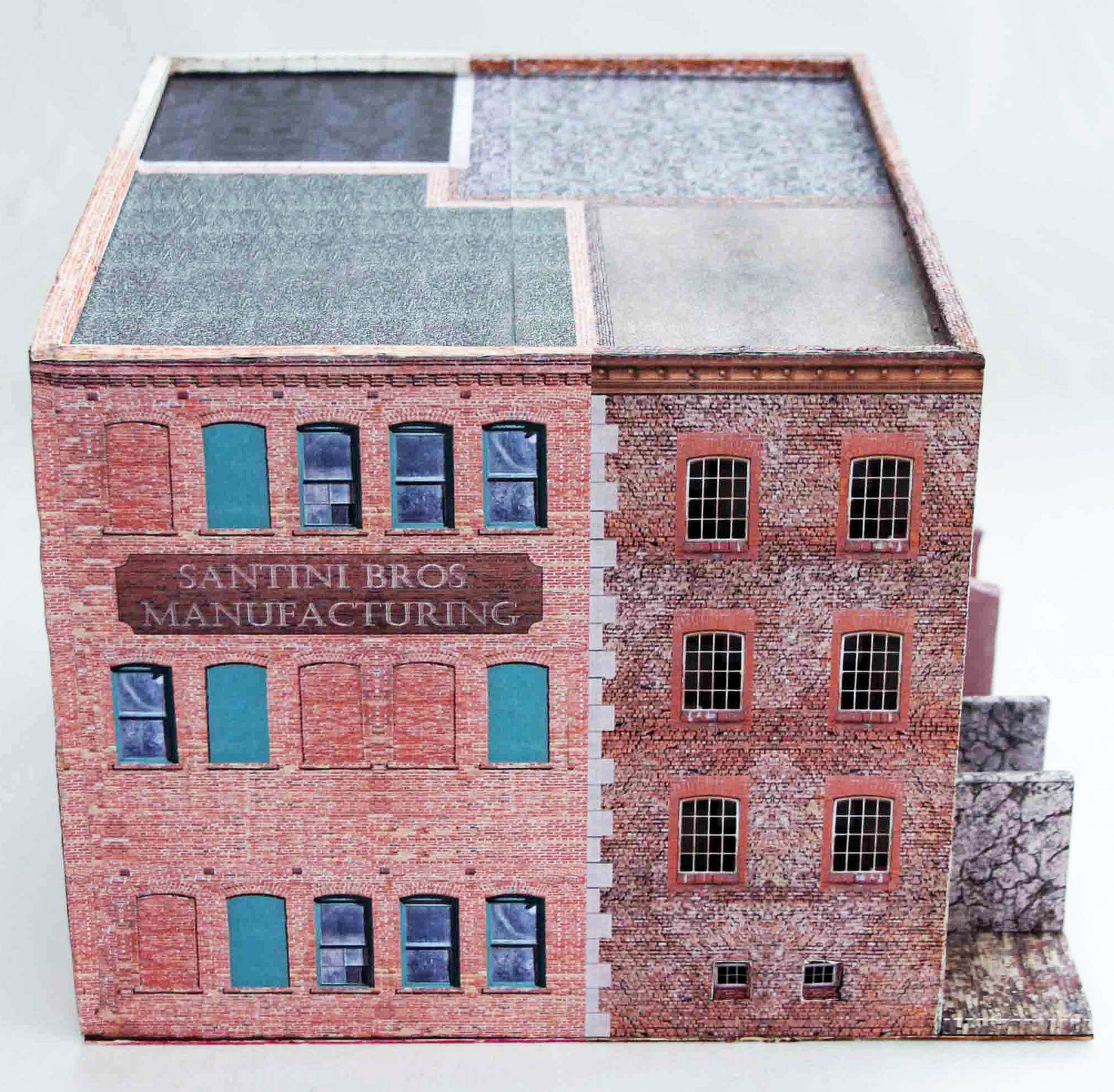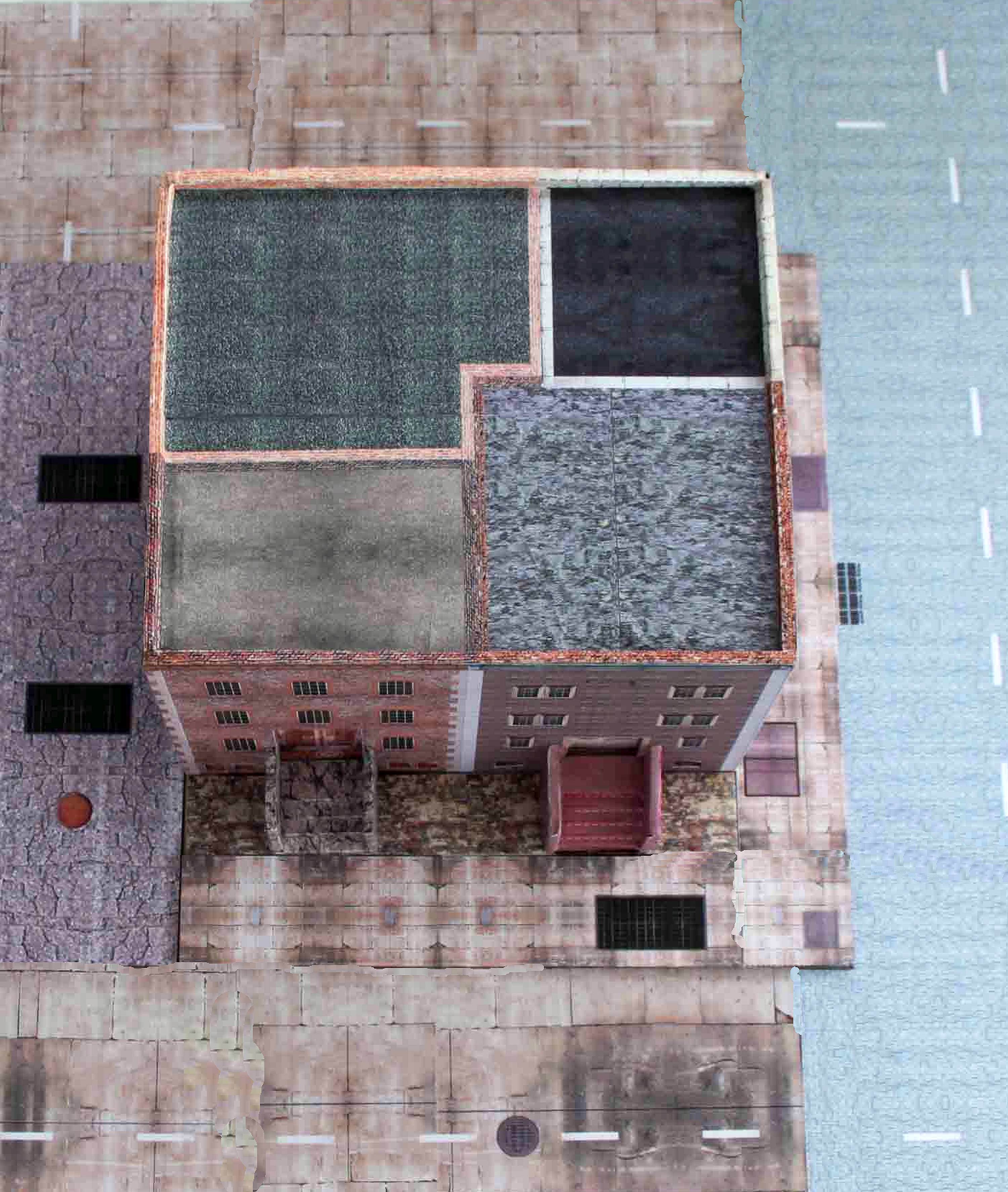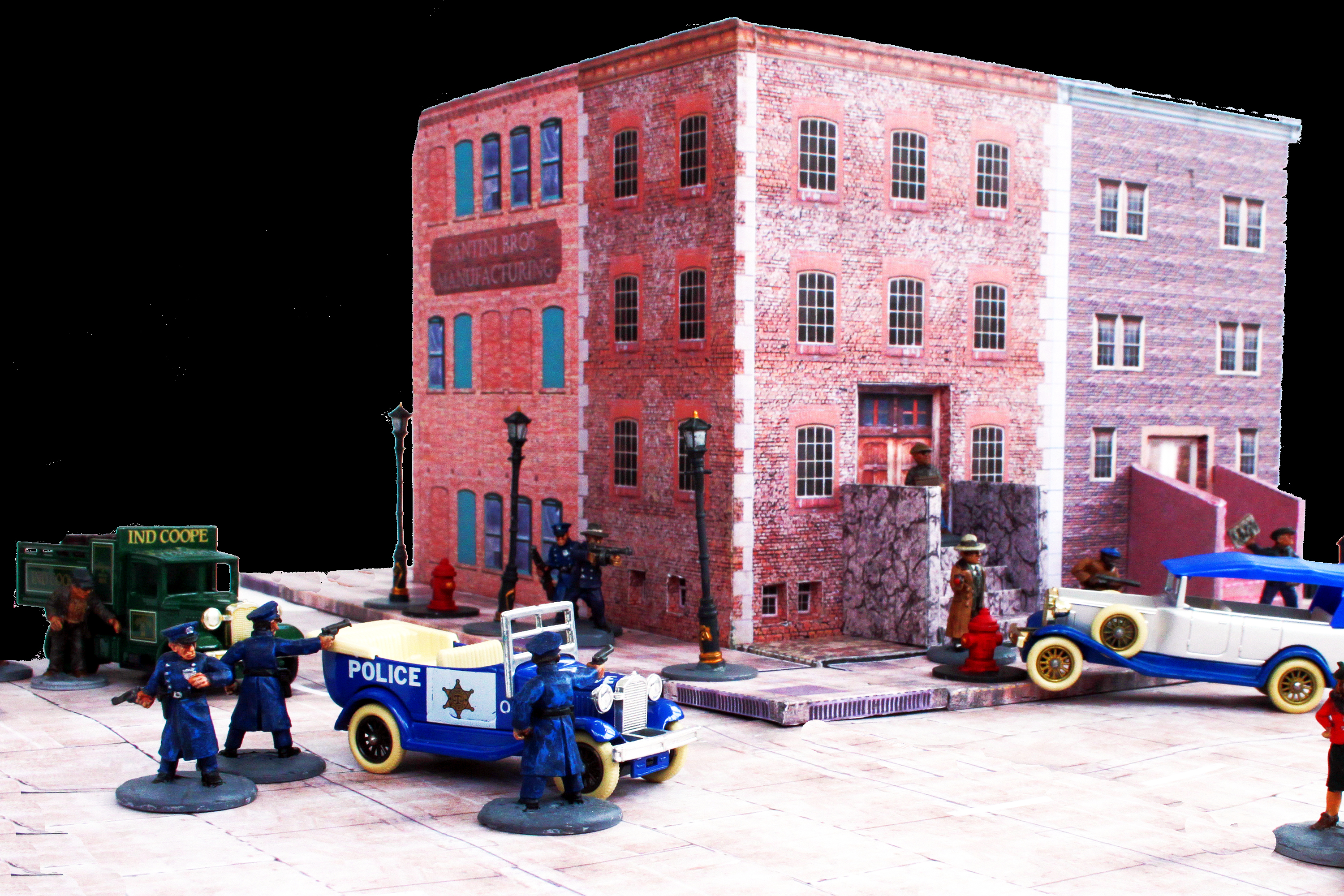 PDF File Format: $10.00
---
Block Section 22--Two more Tenements, the "Morrison" and the "Savoia," relics from the 1880's, with the obligatory "stoops" set back from the sidewalk. On the rear side are some businesses befitting the neighborhood: "Clancy's Pool Parlor," "The Blue Note," a Bar where the only music played is--not surprisingly--the Blues, and "O'Malley-Green Grocer" whose fruits and vegetables have GOT to be fresher than his building.

Model and Photos courtesy of Alan Lockhart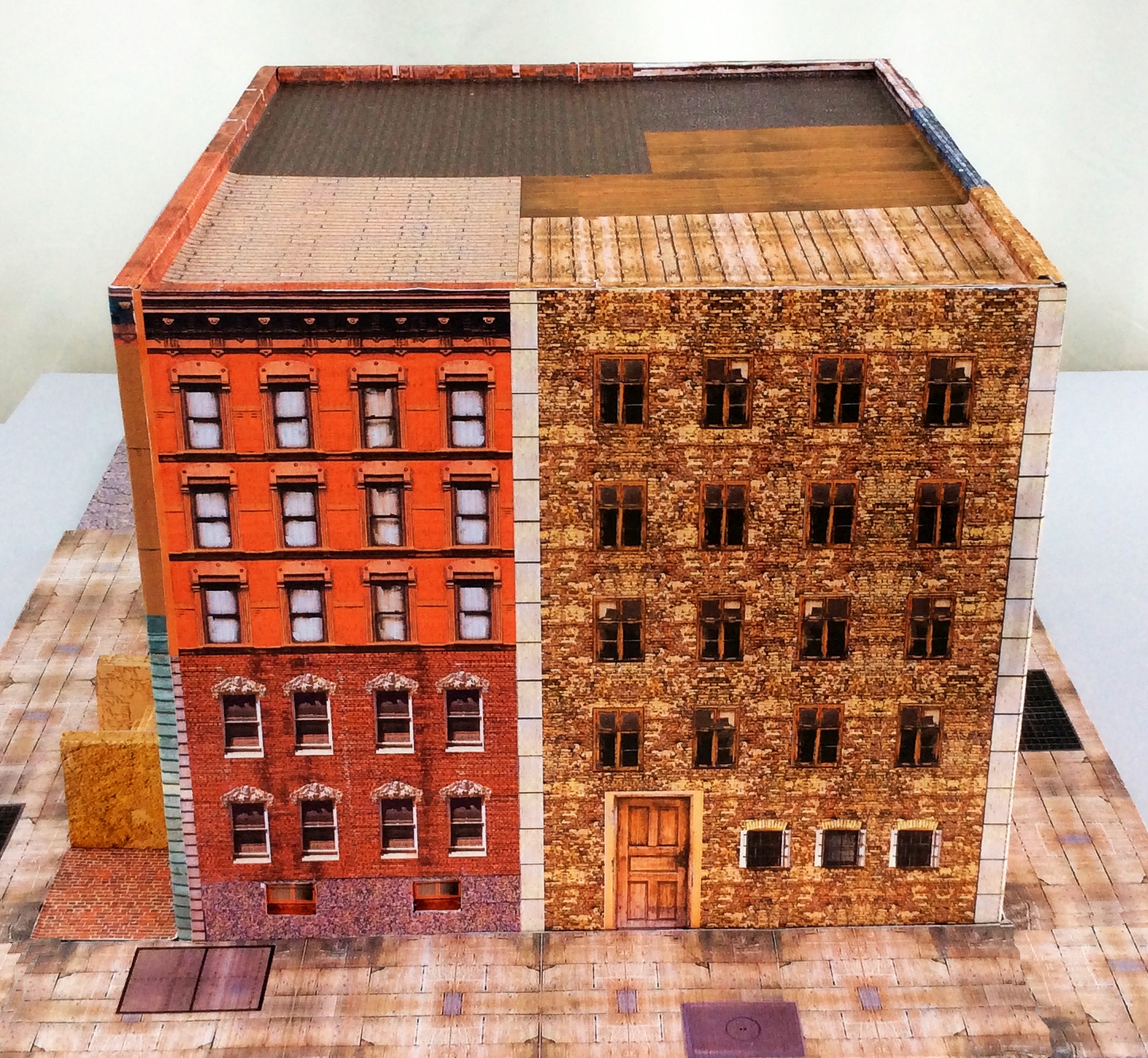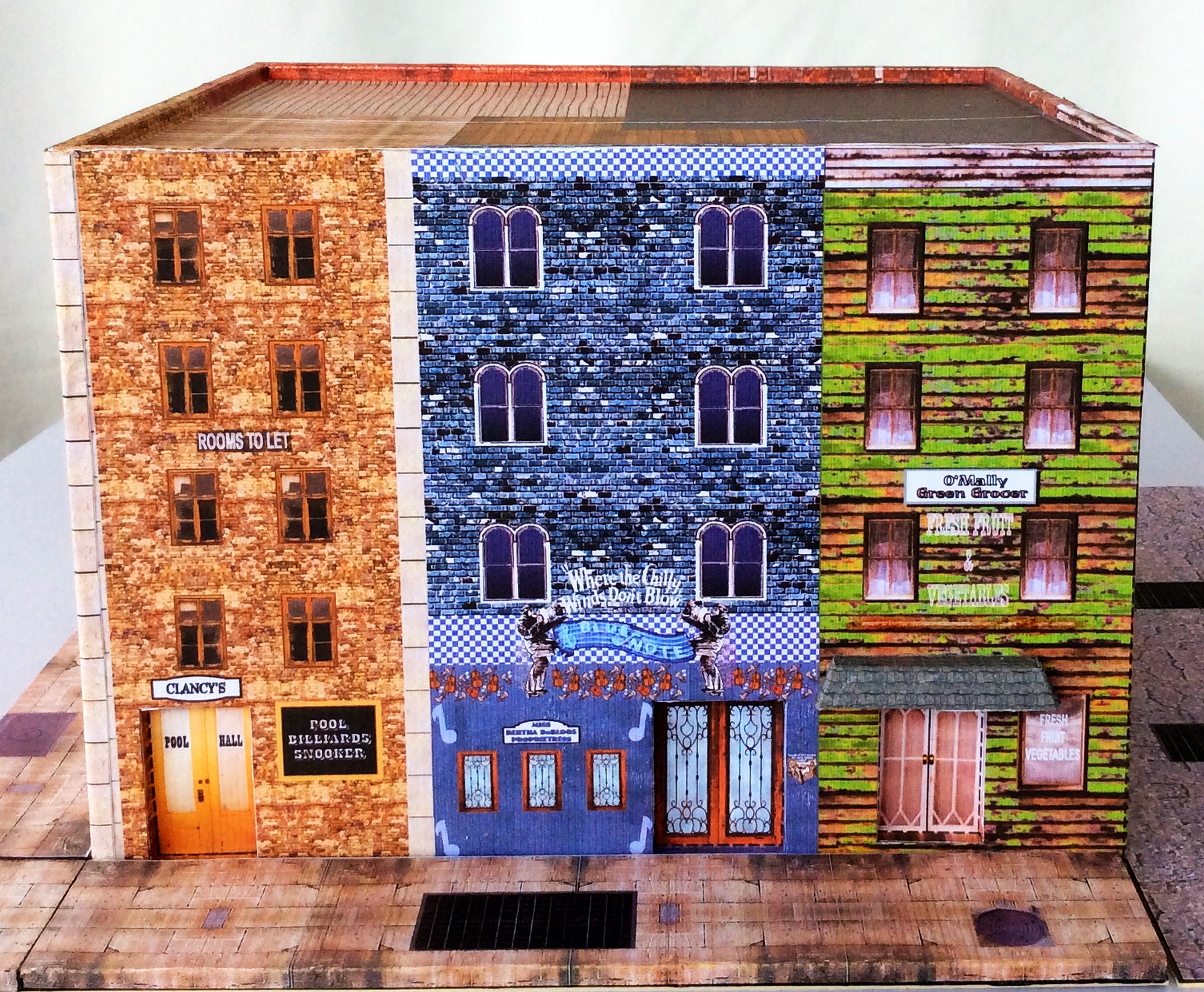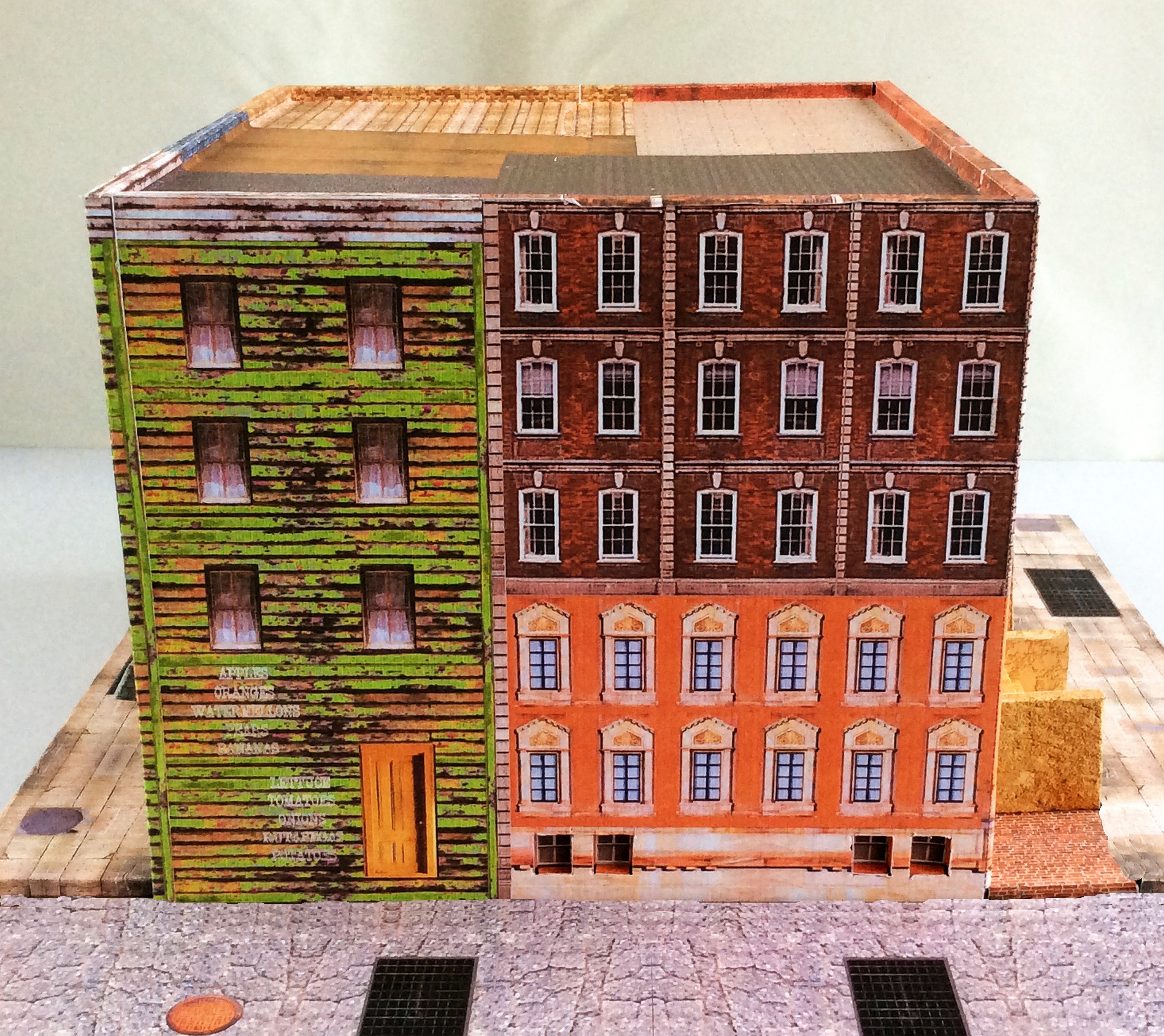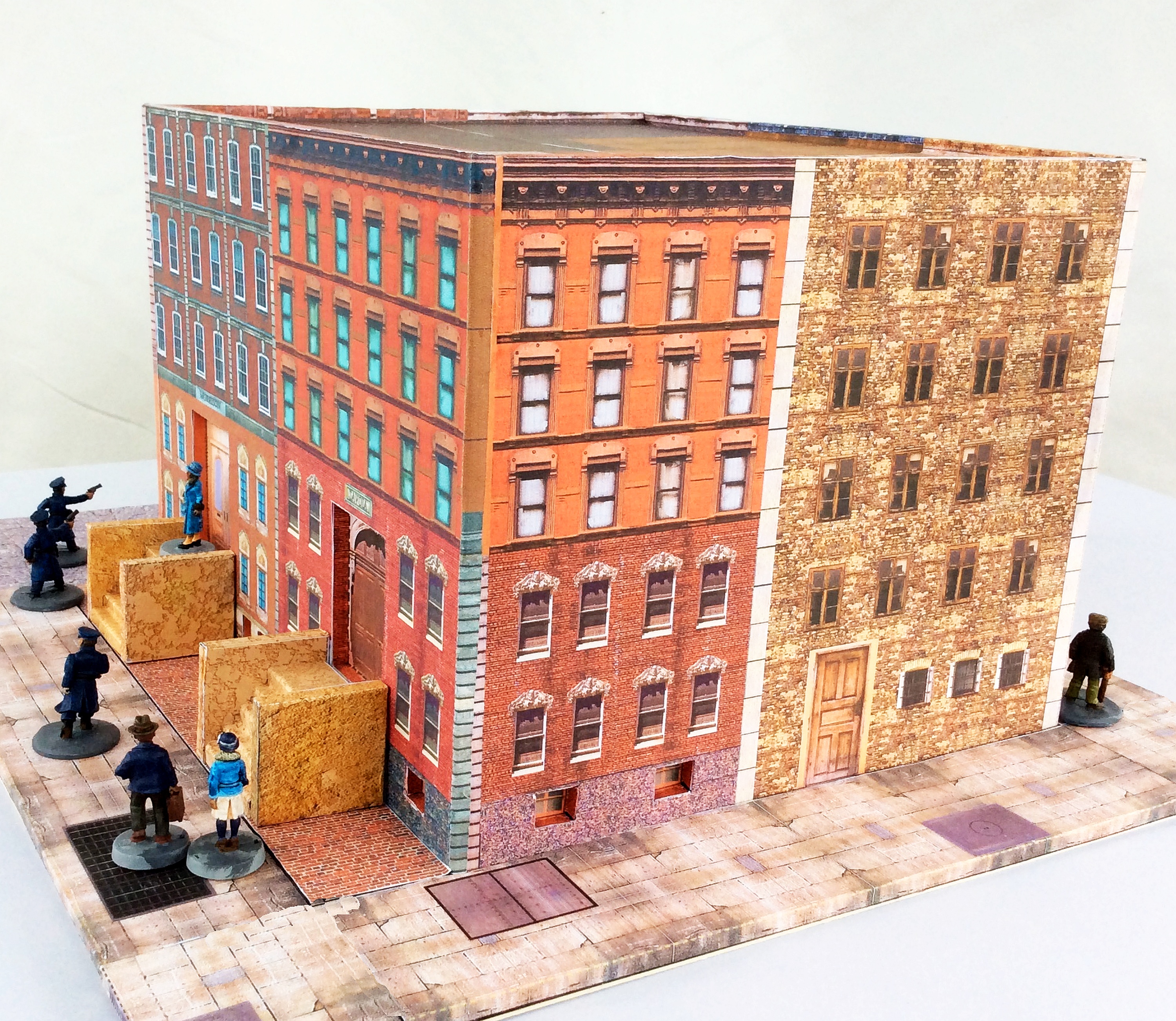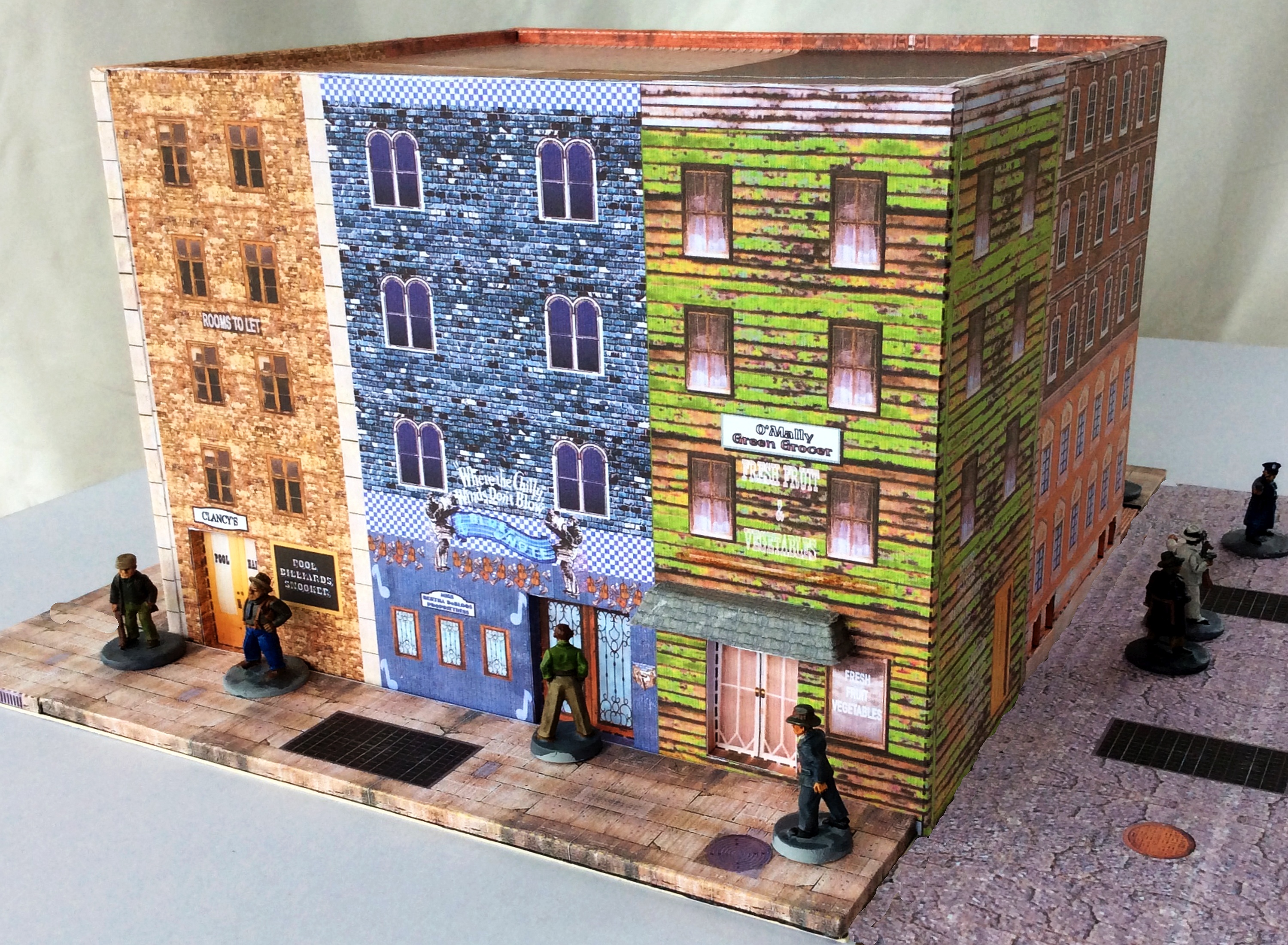 PDF File Format: $10.00


---
Block Section 23-- An even older block with three Tenements, the "Hamilton," "Arcadia," and "Weathersby," each predating the "stoop," and already old enough to catch fire, fall over, and then sink in the swamp. On the rear face is older still "Columbia" rooming house, and the "General Ben Butler Hotel," with a basement bar] that probably still sells its Civil War Era "fire water."



Model and Photos courtesy of Glen Allison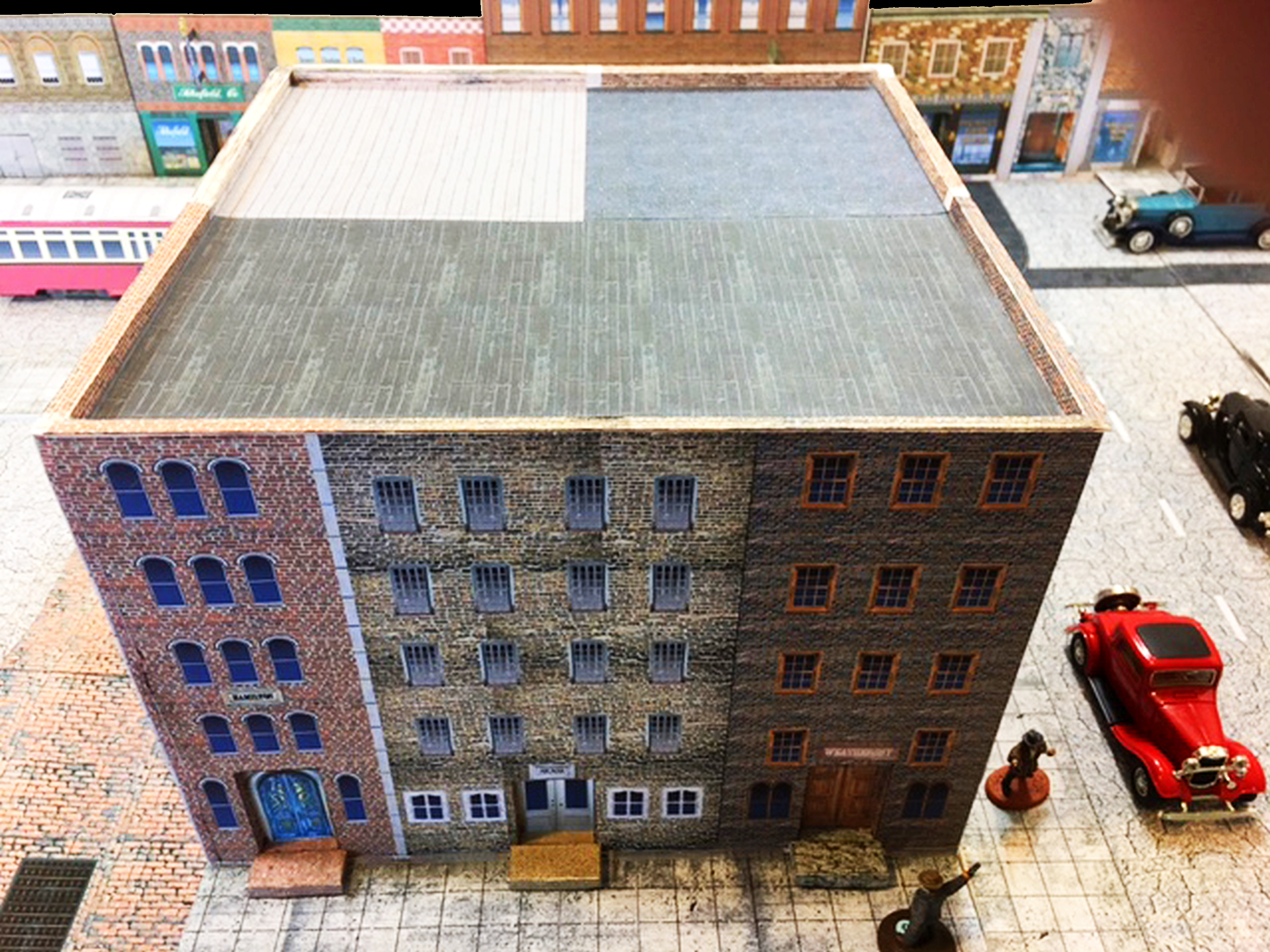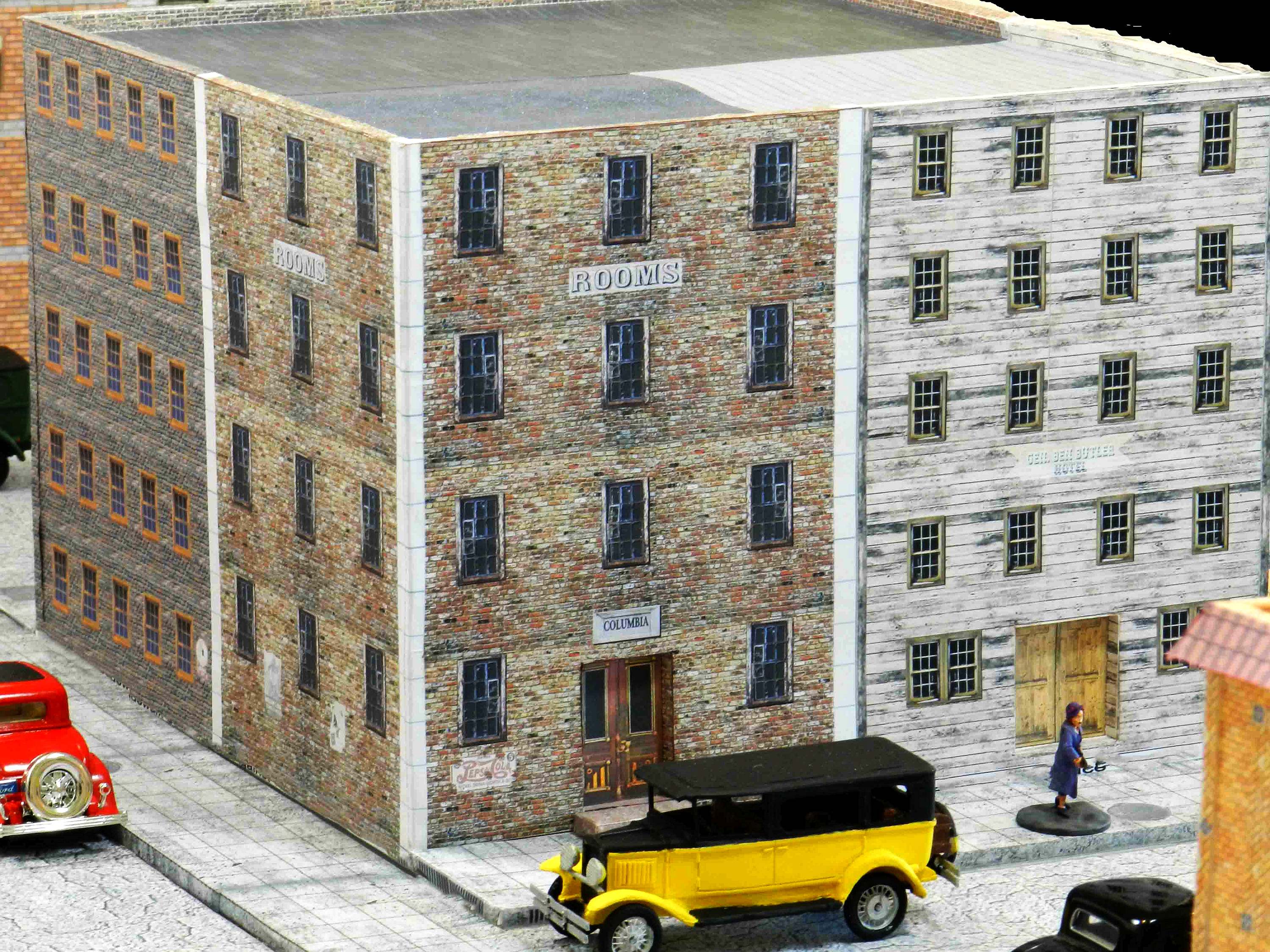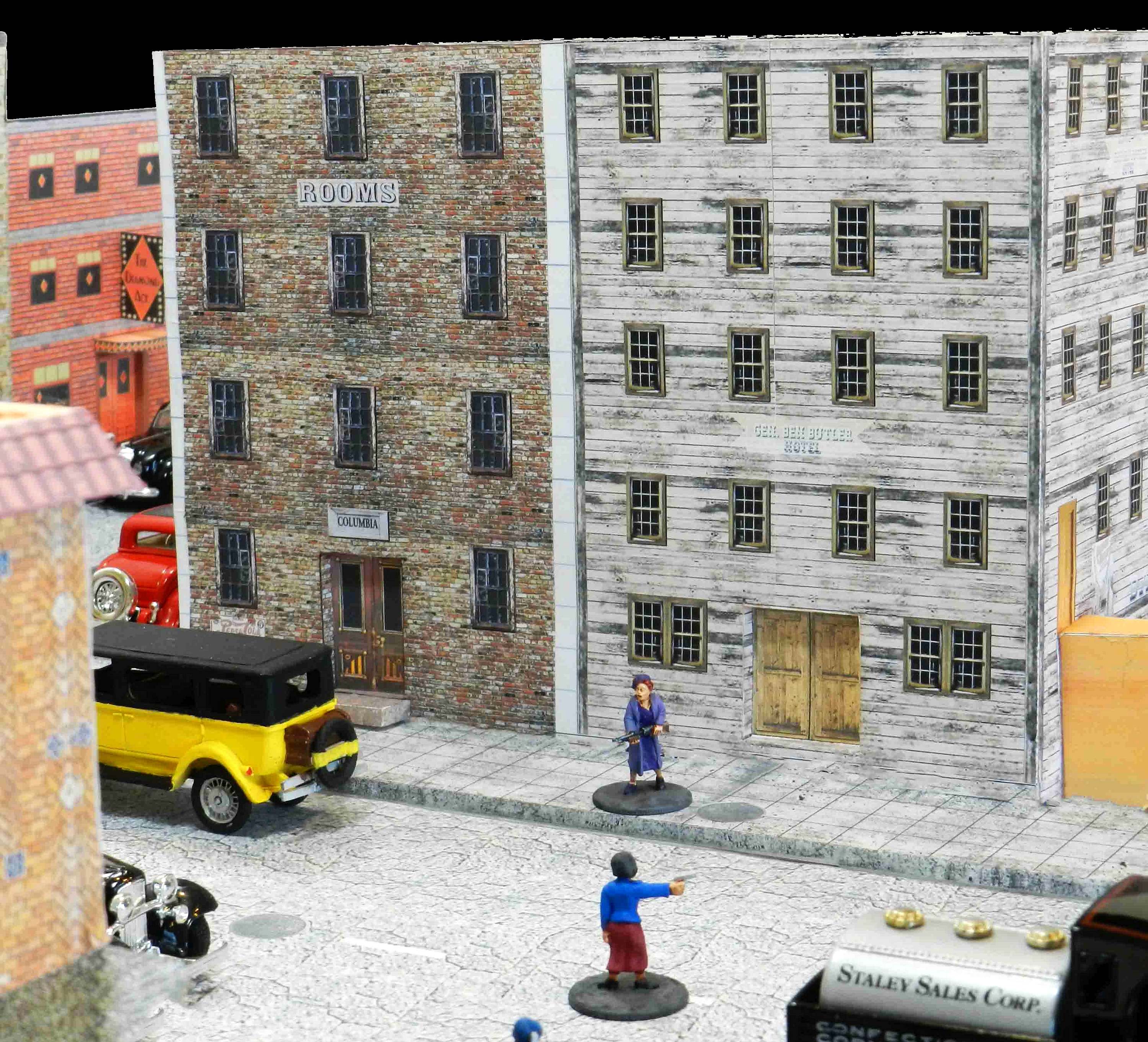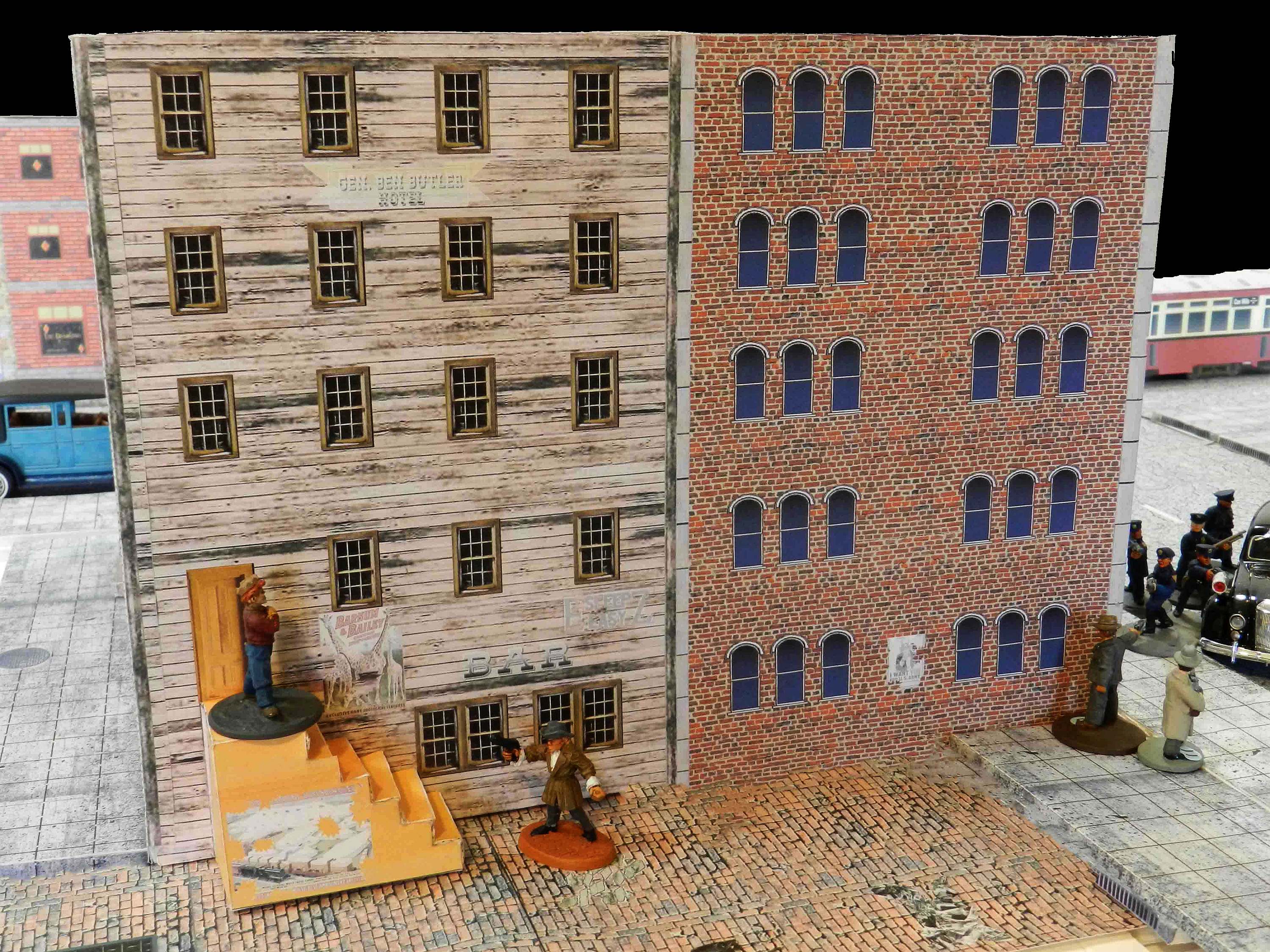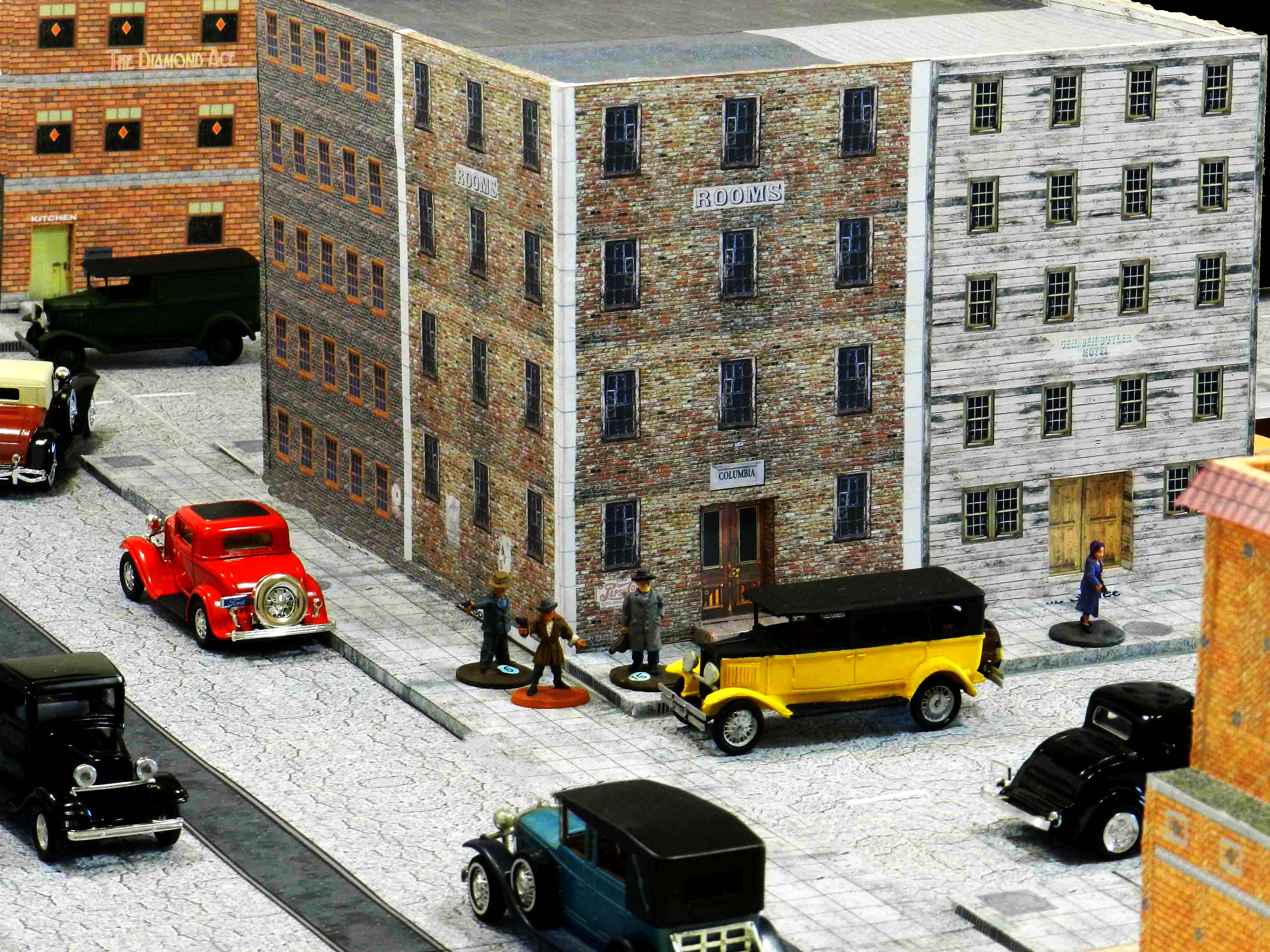 PDF File Format: $10.00

---
Block Section 24--Four separate buildings housing three small industries (one derelict), and a greasy spoon diner, "The Workers' Hash House," which may give you an idea of the cook's politics!



Model and Photos courtesy of Glen Allison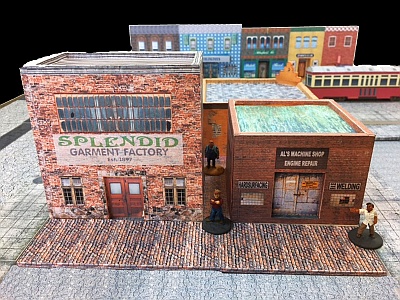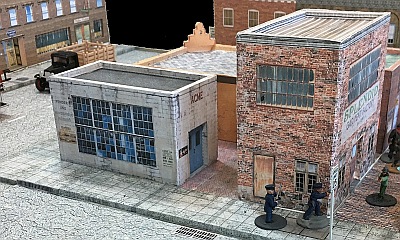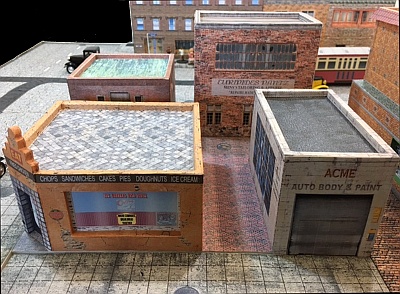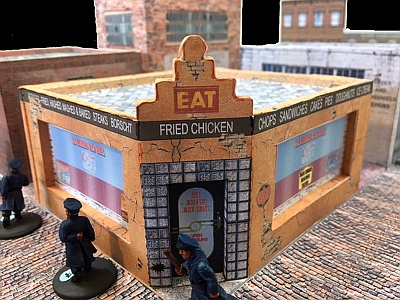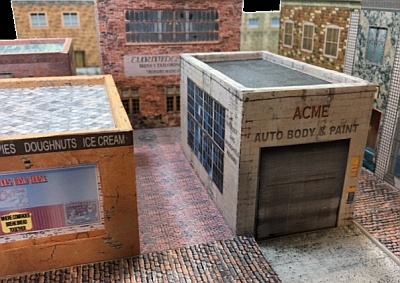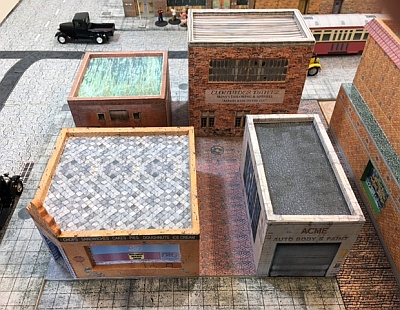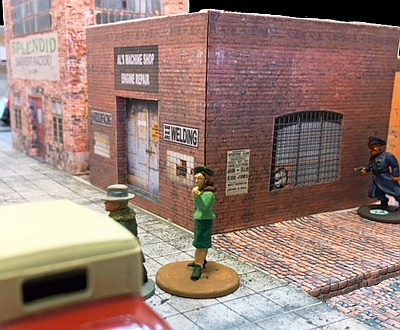 PDF File Format: $10.00

---
Block Section 25--The Hawthorne Hotel/Inn, the site of the most spectacular attempted mob hit of all time when Hymie "The Pole" Weiss sent a convoy of cars tooling by and poured hundreds of rounds into the Hawthorne Inn where his arch-rival, Al Capone, was taking lunch. The Hawthorne Hotel was "Big Al's" headquarters in Cicero, the Chicago suburb he ruled as a private fiefdom. He escaped unharmed, much to Hymie's regret not long after in front of Holy Name Cathedral (Block Section #11, above).

Closely modeled down to the smallest details, this Block Section is a faithful reproduction of the original Hawthorne Hotel, including the twin businesses operated on the ground floor, the infamous Inn and the Hawthorne Men's Wear Shop where "Snorky" Capone had all his muscle buy their nattiest suits.


Model and Photos courtesy of Glen Allison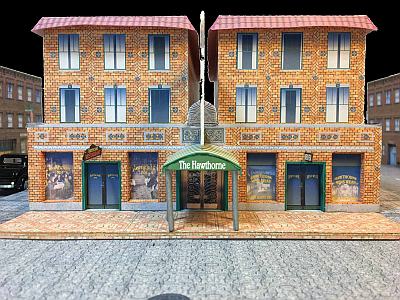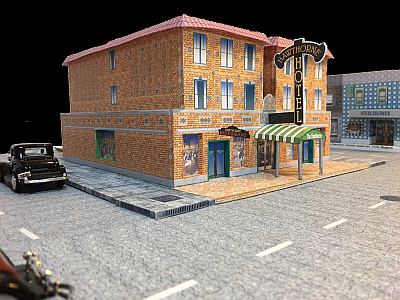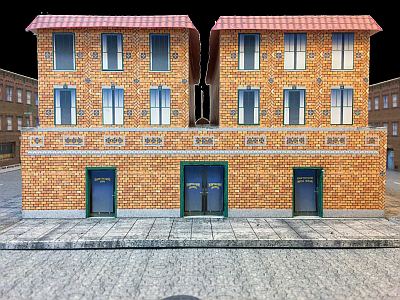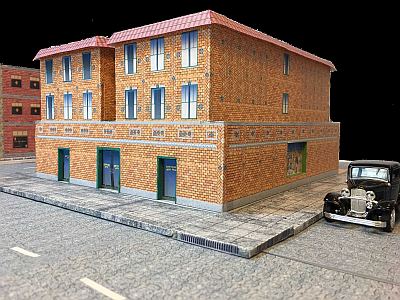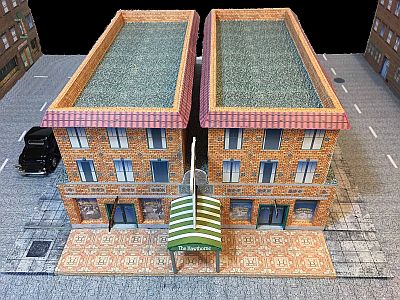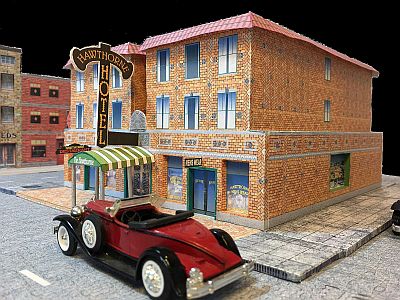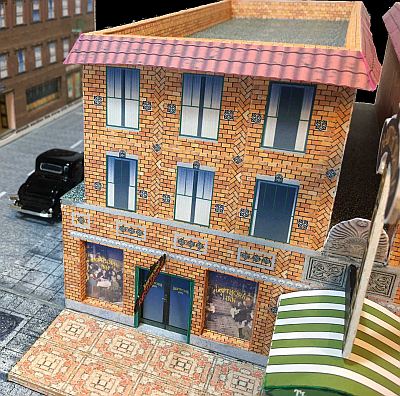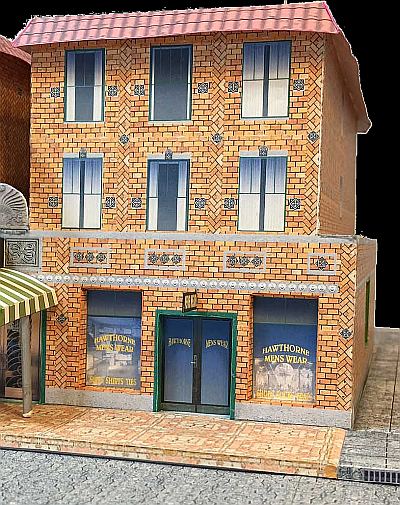 PDF File Format: $10.00


---
Block Section 26--General Hospital, the place that most residents of "Mean Streets" will visit sooner or later! Occupying the full 10" area, it has an Emergency Entrance for Ambulances and "limp in" street customers. The Ground floor has offices for doctor's, administration, a waiting room and locker room for nurses. The second floor has private rooms for those who can afford them, while the top floor has public wards --and most befitting "Mean Streets"--a high security area for holding wounded police prisoners and/or the insane.



Model and Photos courtesy of Alan Lockhart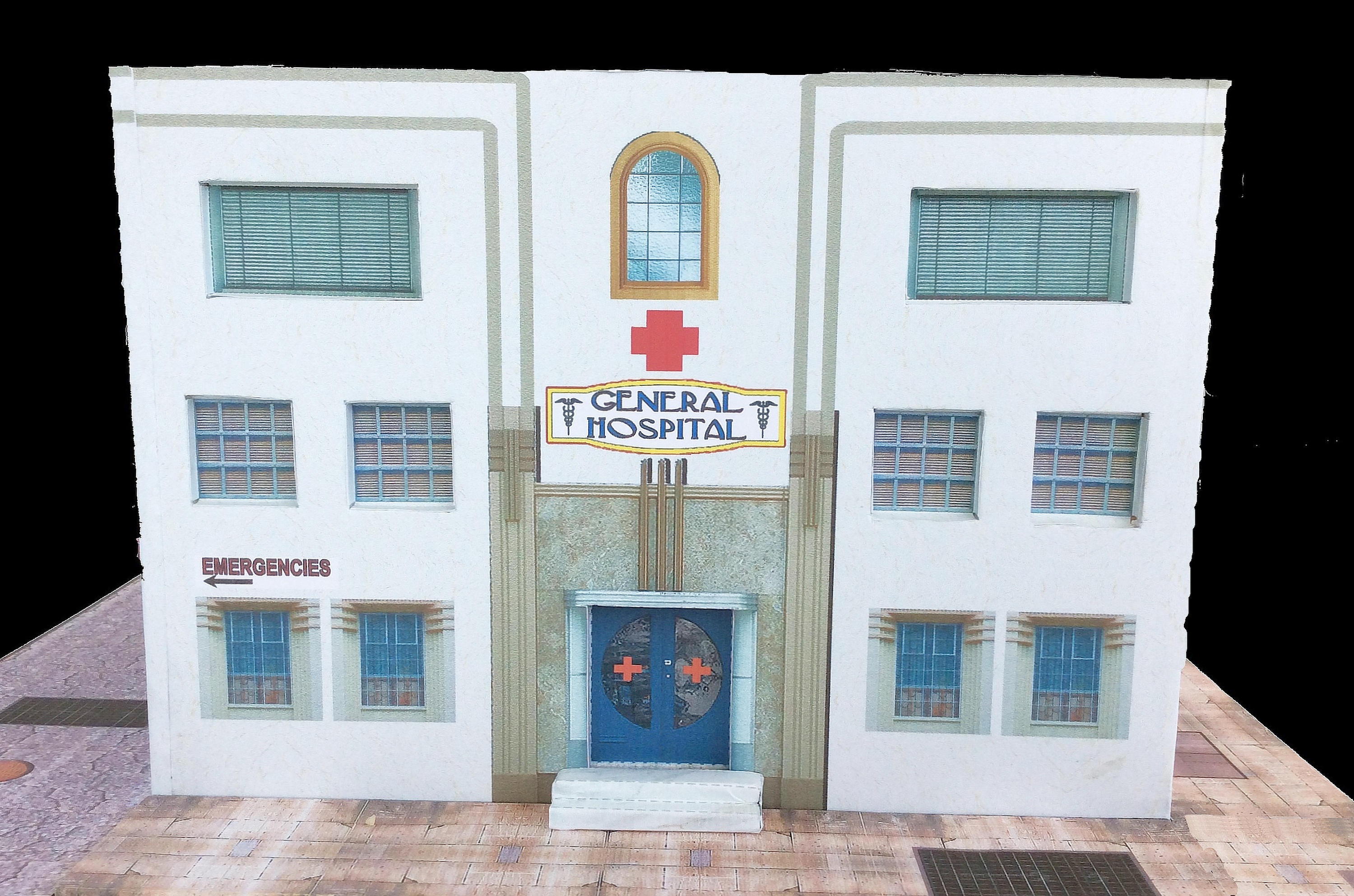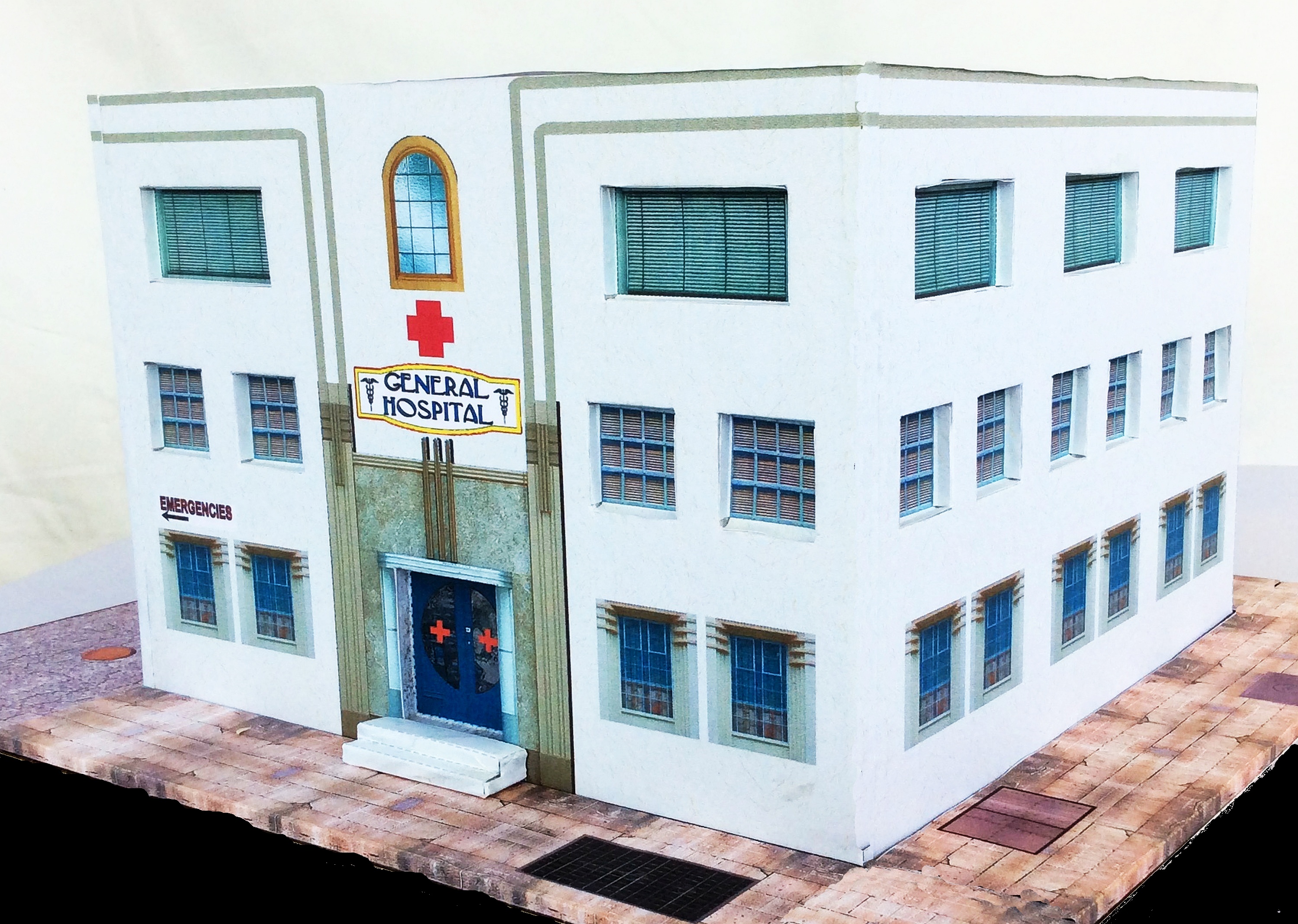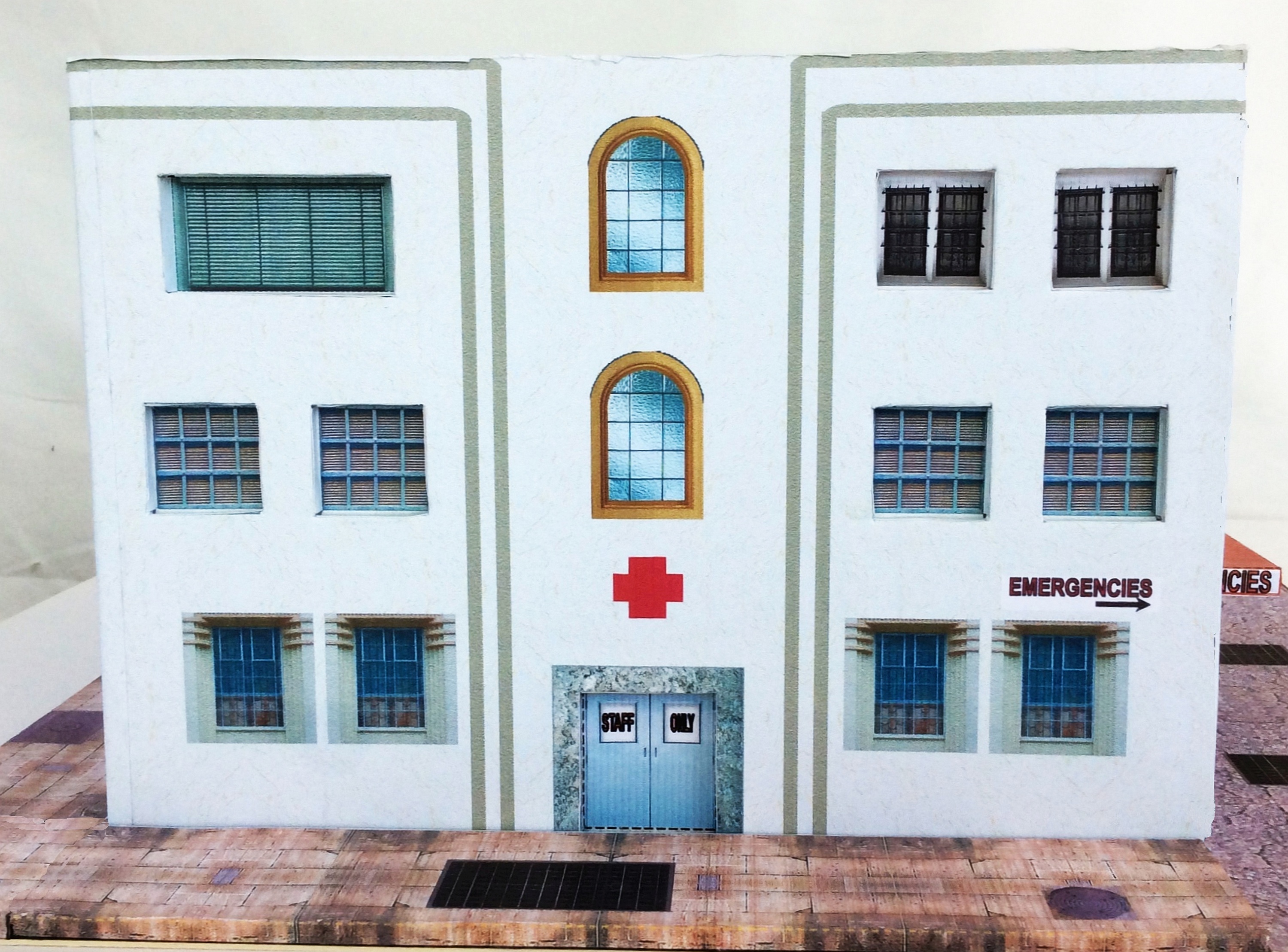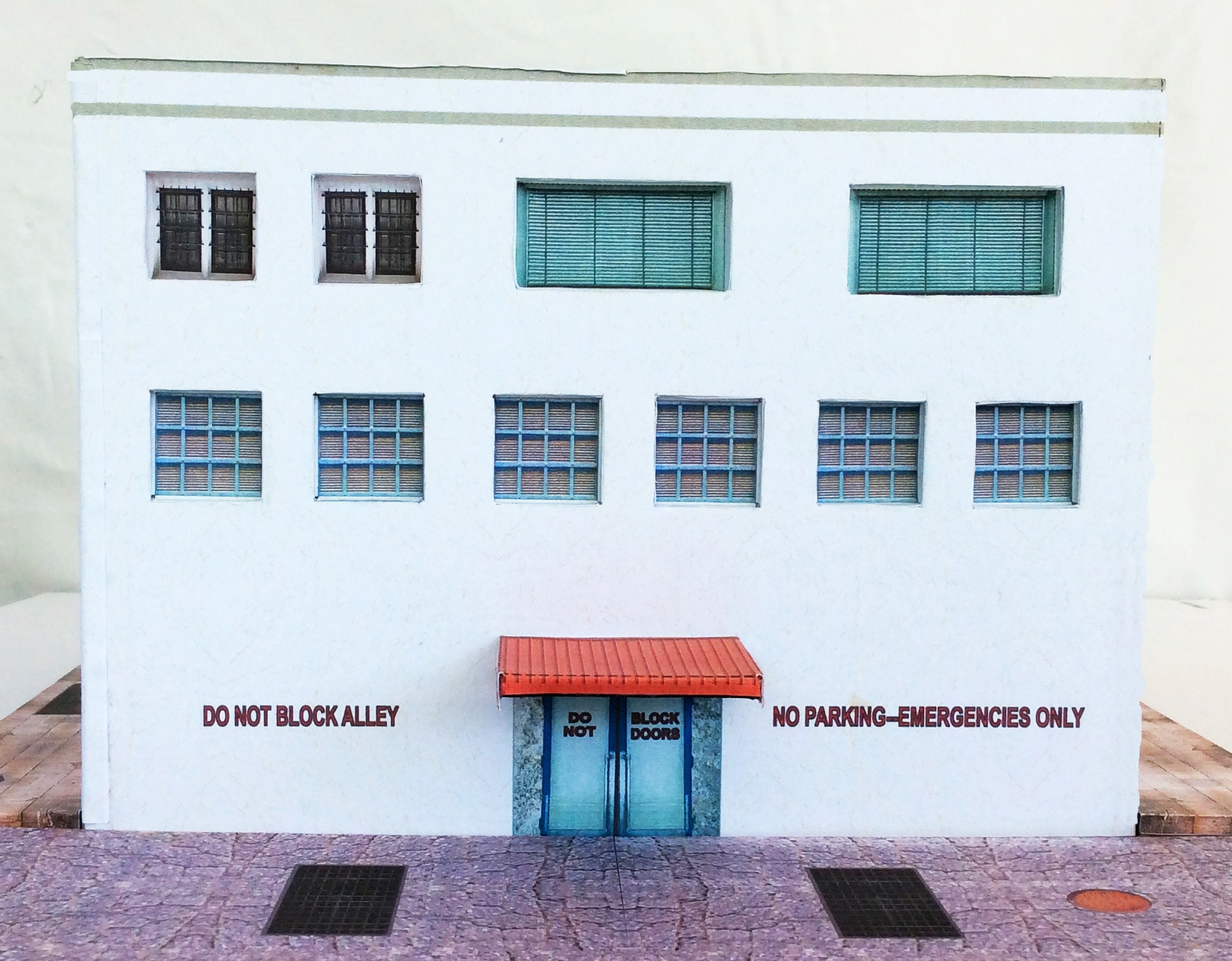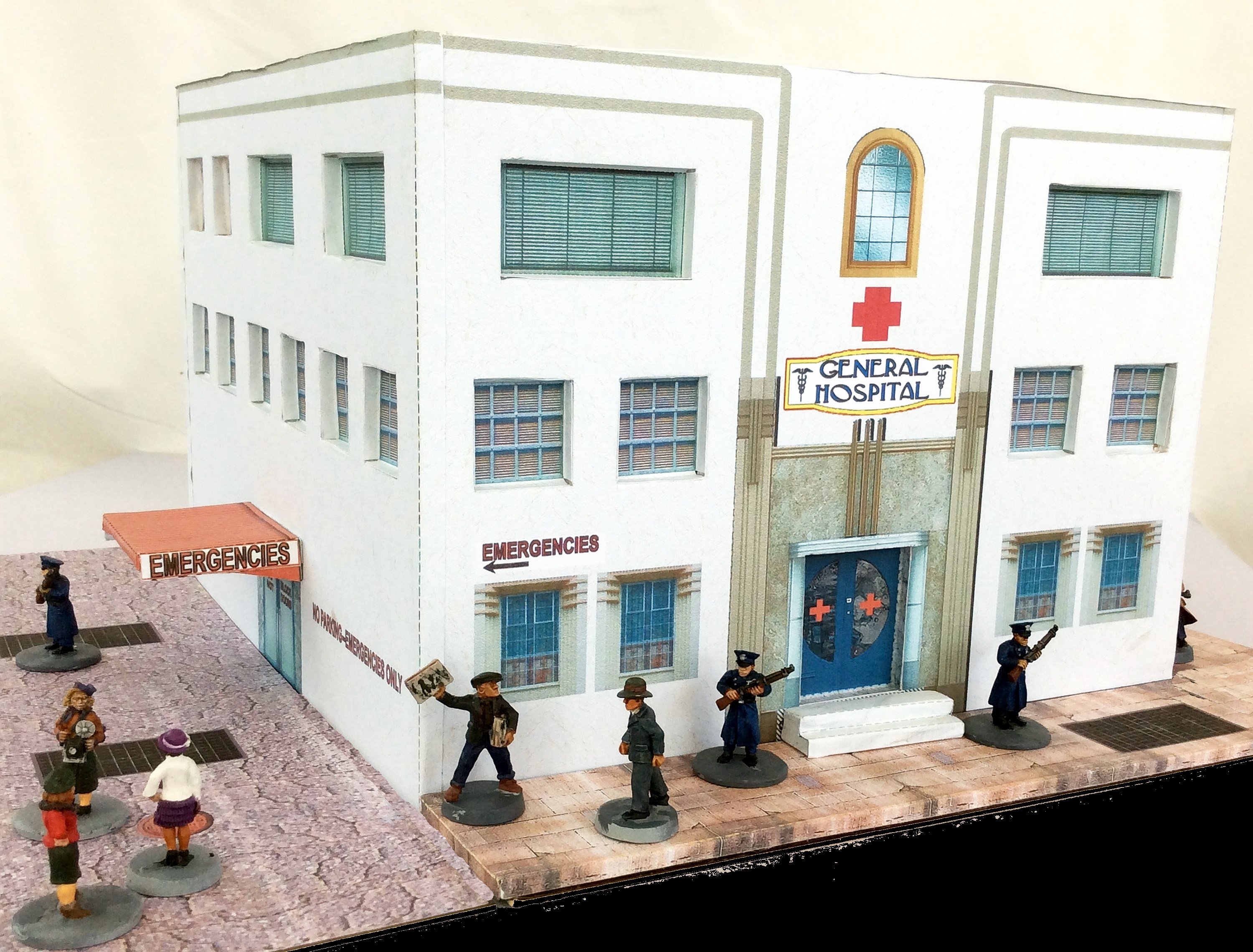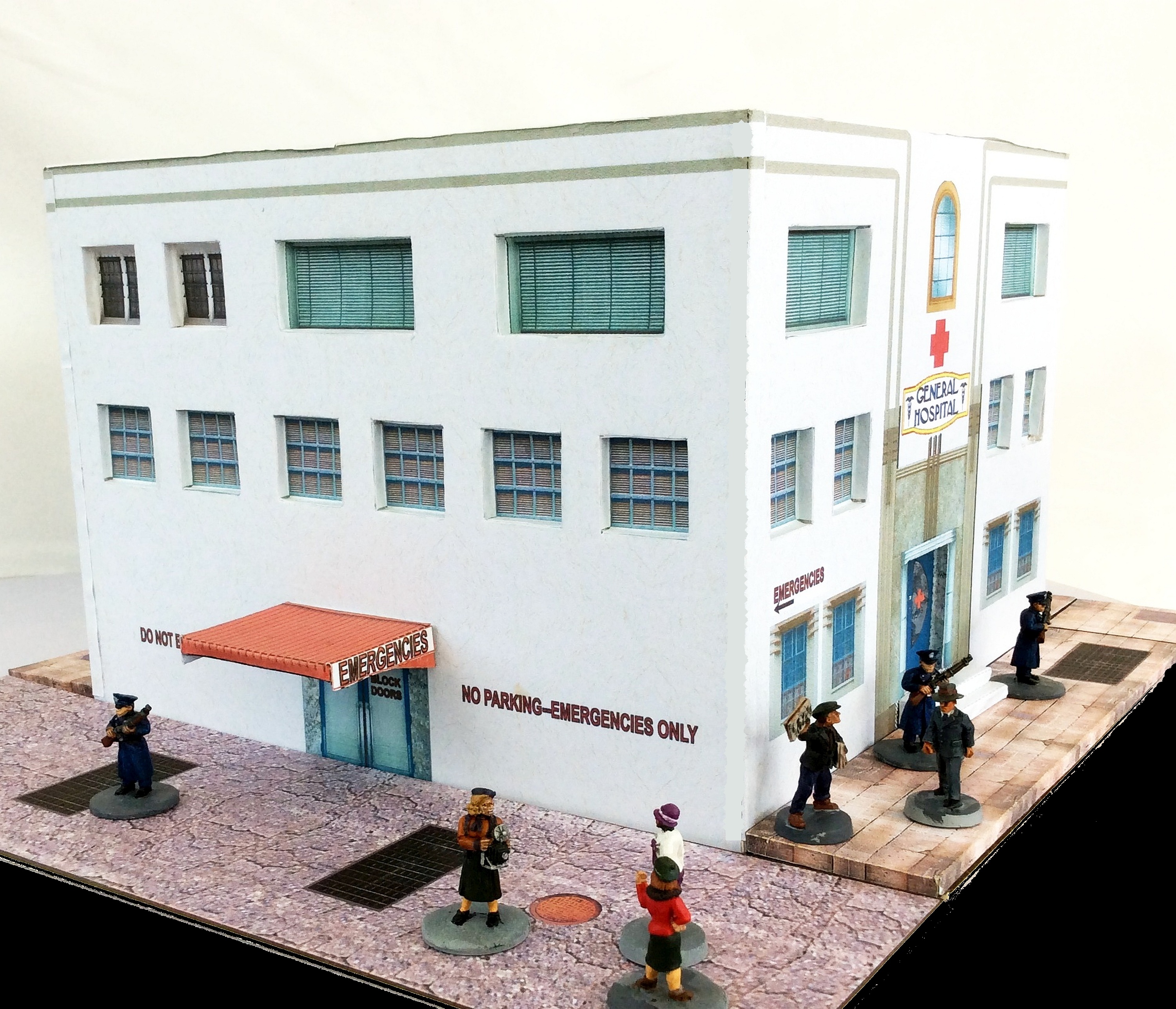 PDF File Format: $10.00



---
Levee, Streets, Alleys, Sidewalks, Streetcars And Tracks,
Roof Top Structures, & Graphics Sets

No city layout can be complete without these. With the Streetcar and Track sections, you can now add Public Transportation to your layout, a classic icon of City life in this era. Using more photographic textures, a variety of materials may be chosen from to provide your layout with its own distinct character: Brick Streets and Sidewalks for the older portions of town, concrete and asphalt for the more recent. Similarly, what are "Mean Streets" without those dark Alleys for quick escapes--or ugly surprises found in the morning?

Levee/Riverfront Section-- Smuggled Booze and other cargoes have to come into the city by water as often by land, and here is the way to incorporate this vital terrain into your layout. Each Section comes with enough material to represent 20" each of Seawall, water (out to a distance of 8" from its base), and asphalt topped Brick Street running parallel to it. One Ramp and 6" long Pier is included as well. This distance represents the same width of one Full Block plus 6" of Street to one side of it. Thus, for the entire Layout as pictured (above), 3 Levee/Riverfront Sections would provide the full 5.5" necessary to make one end of front the Sea or River.
PDF File Format: $10.00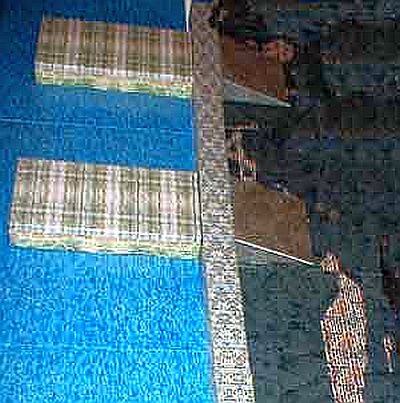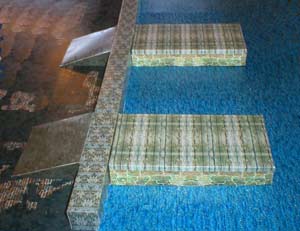 ---
Streets
Each Street Set consists of 4 10" long pieces, 6" wide, enough length to provide a street for one side of a Full Block of four Block Sections, with a bit more to spare. Also, there is a 10" x 8" section of Intersection between Full Blocks and other Streets. Each Street piece has a center traffic stripe, and each set has two lengths with manholes (which should each be separated by at least one length without one) to provide one more place to flee when the action gets too hot!
PDF File Format: $8.00

Street Set #1-- Asphalt (Not common until the 1940's)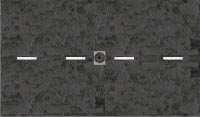 Street Set #2-- Concrete (Common from the 1920's on)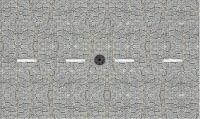 Street Set #3-- Brick #1 (Most common prior to 1920)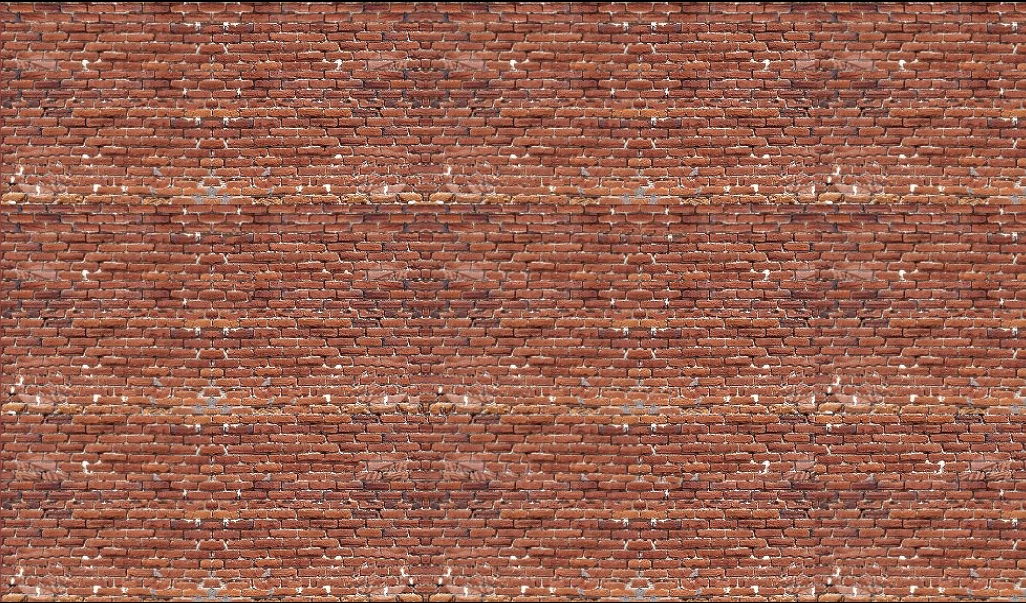 Street Set #4-- Brick #2 (Most common prior to 1920)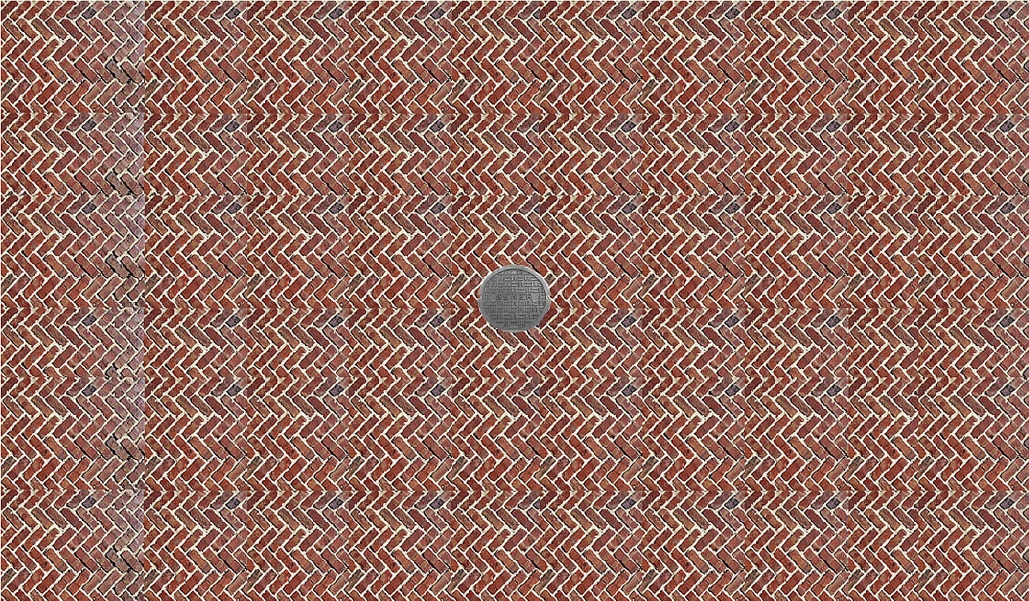 Street Set #5-- Cobblestone (Most common prior to 1900 in the Eastern US, but universal throughout Europe)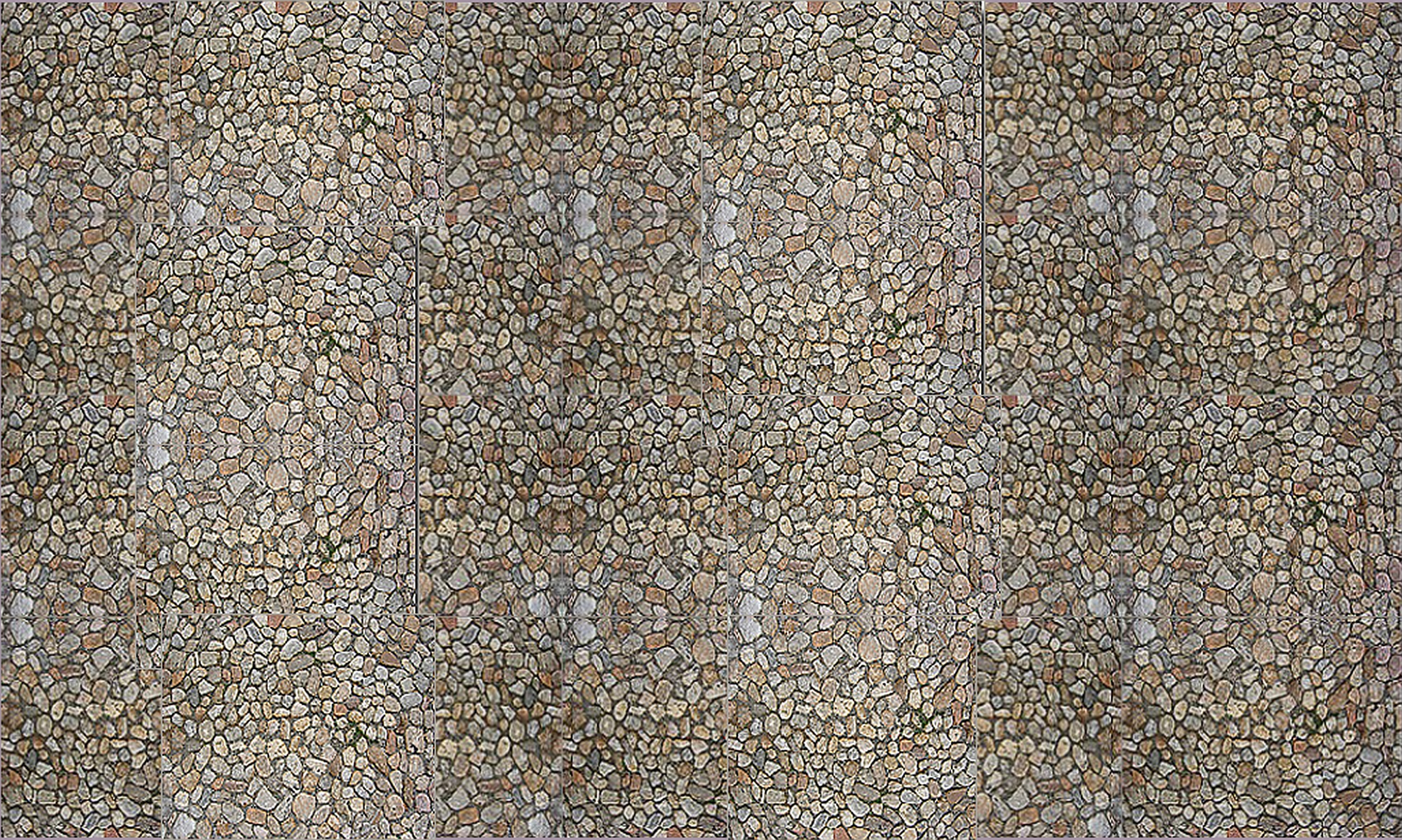 Street Set #6-- Old Concrete (Pre-1930)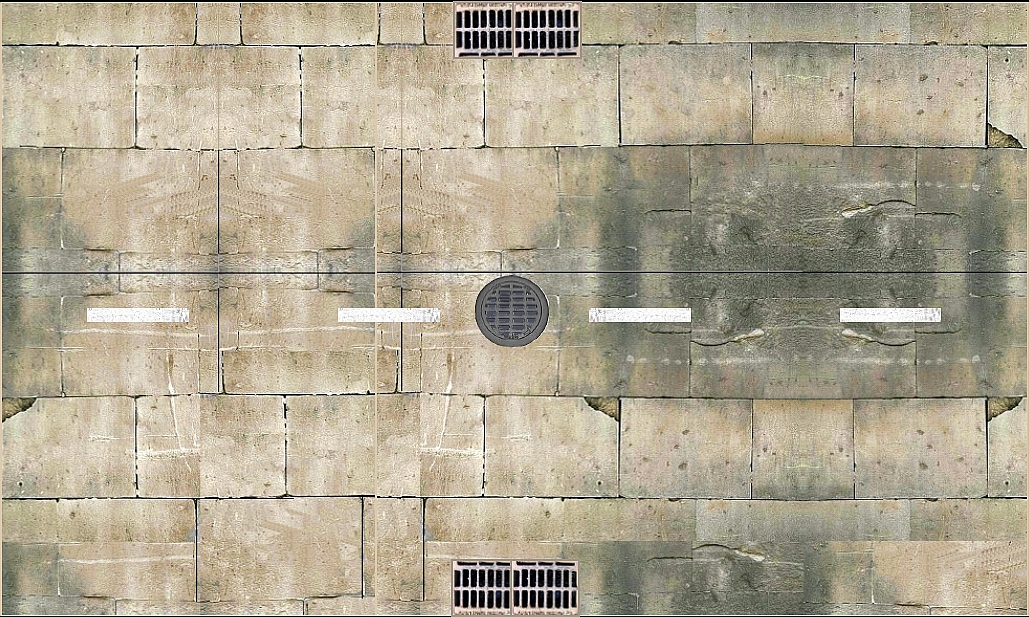 ---
Alleys -- NEW FEATURES!
Alleys, like Streets, come in a variety of textures, with gratings and manholes, as shown below. Two sets are provided with each: Two separate sections which joined total 14" in length and 4" wide, and two more of the making the same length, but 2" wide so that both types of Alleys shown on the Full Block Schematic can be represented as crossing completely from one street to another.

And now a new feature is added! Both Alley widths are now duplicated, one showing trash and litter (even the odd dead rat!), and the other without so that modelers may print whichever best suits their preference.
PDF File Format: $2.00 each

Asphalt Alley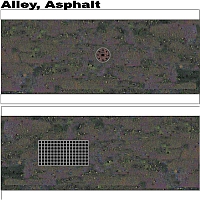 Concrete Alley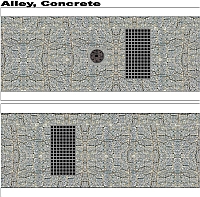 Brick Alley #1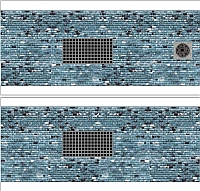 Brick Alley #2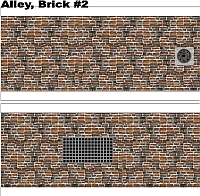 Paving Stone Alley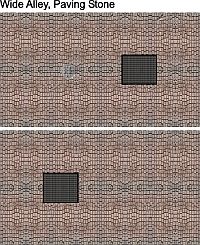 ---
Sidewalks
Sidewalk Sets come printed on two sheets five 10" lengths sufficient to represent up to 50" (one Full Block side and one end), plus a pair of 2" matching corner pieces with storm drains. Sidewalk lengths have authentic gratings and manholes in different locations for still greater variety.
Sidewalk sections are to be mounted on standard 3/16"/5mm thick foam board pieces cut to match. By scoring, folding and gluing the curbs down, a full 3-D effect is created for maximum visual appeal (note the photographs above)
.
PDF File Format: $2.00
Brick Sidewalk, Type 1


Brick Sidewalk, Type 2


Concrete Sidewalk

Old Concrete Sidewalk


---
Streetcar And Tracks
Designed by master dioramist, Mr. Eric Cox, this highly detailed and accurate model now adds a nostalgic presence--and tactical significance!--to your City. When assembled, it is 8.5" long, just less than 2" wide, just above 2" in height, and comes complete with "bumpers," the correct design of "trucks," and a selection of signage for the 1920's through 30's.
PDF File Format: $5.00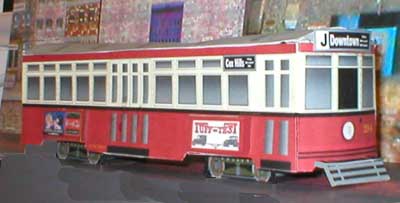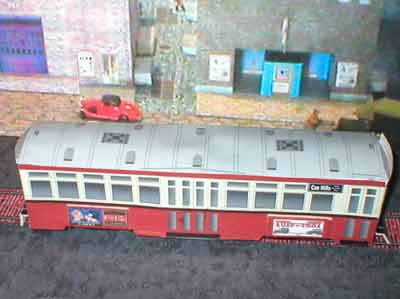 A Streetcar is of little use without rails to run on, so a full selection of street surfaces with the rails already in place is provided. Track Sets come on 5 sheets of card stock, enough for 50" of straight line track (no curves or intersections are necessary) in your choice of Asphalt, Concrete, or Brick, to match the other Street surfaces available (see above).
PDF File Format: $4.00
Asphalt, with Track center in Brick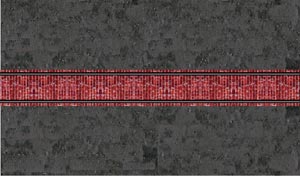 Brick, with Track center in different Brick, Type 2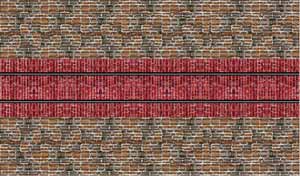 Concrete, with Track center Asphalt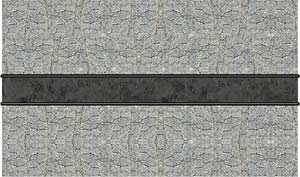 ---
Roof Top Structures
A refinement over the first releases, these structures are now available optionally. A total of eight different designs are available in the one set. Two have long slanting roofs representing stair wells, and five are more general in shape. A pigeon cote which may be mounted on any large enough roof is included to complete the set, and a pair of Water Towers help complete the effect.
PDF File Format: $4.00

---
Advertising, Posters, & Signs (Graphics Sets)
Finally, the three principal Graphics Sets are full color pages of properly scaled, authentic period advertising, theater, circus, movie, and political posters to cut out and add to your buildings and alley walls. Organized by decades, you have the option of actually putting up only those films, theater shows, products, etc, that match the period you want your layout to represent.
PDF File Format: $2.00
Graphics Set #1 (1920-1930)--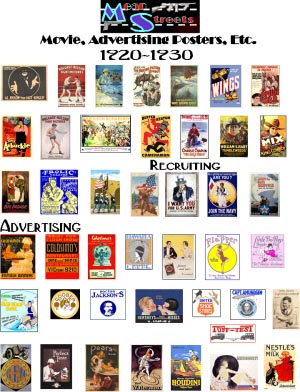 A full page of Silents and early "Talkies," as well as proper period Recruiting Posters, and products (though no Alcohol!) for the era of Prohibition.

Graphics Set #2 (1931-1940)--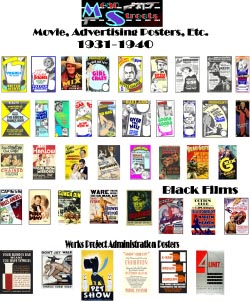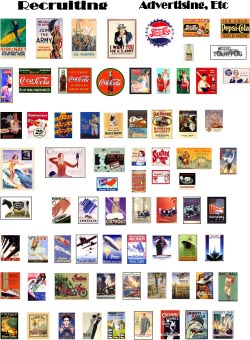 A two page collection of classic Movie, Work Projects Administration posters, Recruiting, Beer and Liquor ads reflecting the era of the Great Depression and Repeal.

Graphics Set #3 (1941-1950)--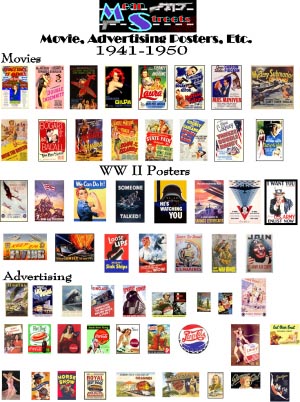 A full page of famous 40's Movies, a variety of product advertisements, and a wide selection of Recruiting and Propaganda posters reflecting the Era of WW II and "Hard Boiled" Detectives.

Graphics Set #4 (Generic, all periods)--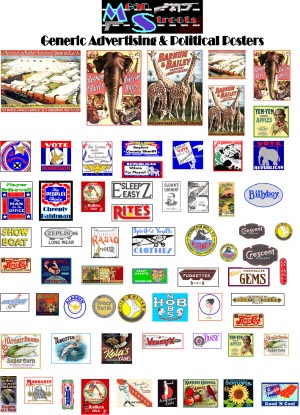 Another full page of Political, Advertising, Circus Posters, and other items that could be seen on walls in the period(s) you may wish to set your Mean Streets.

NEW! Graphics Set #5 (Ethnic Neighborhoods)--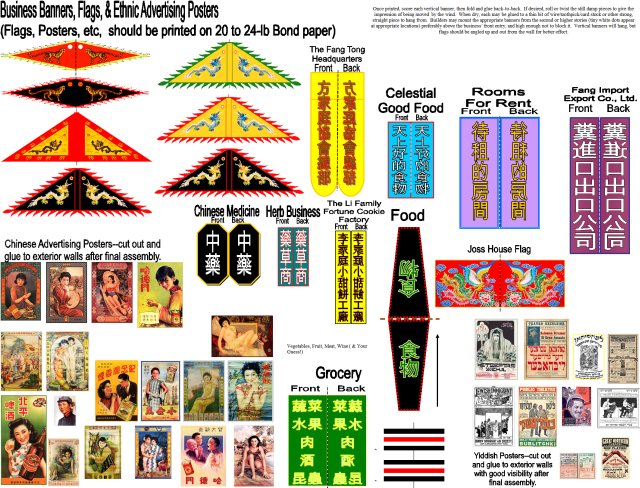 Just what you need to give "Chinatown" and the Jewish Business Blocks their flavor and color! Authentic Chinese Lanuage advertising, business, and political posters, signage, and flags to bring these exotic blocks to life, as well as English and Yiddish examples to post on other walls. An especially exotic and humanizing detail set to take your Mean Streets layout to the next level.

---
---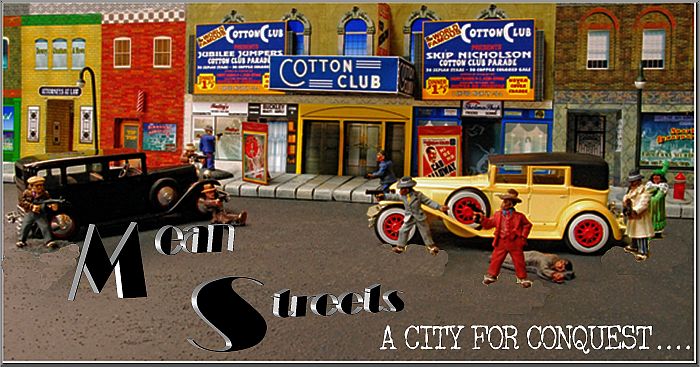 Each of the listed "neighborhoods" consists of four related Block Sections which may be laid out to form the four corners of an intersection, or two adjacent Blocks facing another pair, or in one full length city block. The $35.00 price for each neighborhood includes all appropriate Alleys, Sidewalks, and Streets, plus the buyers's choice of the Graphic Set which best suits their preferred period, as well as general or specific assembly instructions, and a set of schematics for each possible layout. Everything you need to build the perfect "back lot" for your Pulp, Gangster, Horror, or other scenarios.

More neighborhood sets will be assembled, particularly as new Blocks continue to be added to "Mean Streets."

1. Chinatown / Jewish Neighborhood
Two neighborhoods in one! By facing all Chinese buildings/businesses together, you have Chinatown, and by reversing their faces, you have the Jewish businesses. All four Blocks come with less than "modern" Alley/Sidewalk/Street textures as this part of town doesn't receive the attention from local government as other, more "mainstream" areas. This set also comes automatically with Graphic Set #5, which includes Mandarin signage, flags, etc, as well as Yiddish advertising, and posters.

2. The Slums
All three Tenement and the Light Industry Blocks with a mix of the oldest Alley/Sidewalk/Street textures befitting the age of most of these buildings and their neglect by local government.

"Take Over The Town" Deals


Order any 5 Block Sections as PDF's, and choose a 6th for free and your files will be E-mailed to you immediately upon processing.

To place your particular Deal, simply

E-mail TVAG and specify your choices of Buildings, Streets, Alleys, Sidewalks, etc, from the lists above. I'll figure the price and invoice you via PayPal.

The Offer You Can't Refuse!
Order the Complete "Whole Town Deal" PDF Collection of Mean Streets with ALL Street, Sidewalk, Alley, and all other Accessories
to build the entire town as it currently stands for $180.00 and save $185.00 over the retail total cost of everything!
---
More To Come (Including A New Game)!
Coming soon will be Block Sections representing "Big Jim" Colosimo's Restaurant, and more businesses are coming as well. A full set of Mean Streets already occupies some 8' x 5' without duplication of any Block Sections.
A unique rules system for Gangster and Police games in the period of the "Beer Wars," We Only Kill Each Other , originally developed by the late Scott Saylors and P.R. Wilson is still on the burner. Specifically designed to make use of Mean Streets , the game includes detailed rules for Driving on the actual miniature streets, risks of accidents, the advantages (and disadvantages!) of Police Sirens, the use of Police Call Boxes, and other features missing from rules without a "town" to be played in. There will be scenarios with specific reference to Block Sections and Businesses in the Mean Streets collection. The rules will also cover the period of the famous bandit gangs of the early 30's, and with just a hint of Sicilian cooking.
How far the Mean Streets and related projects proceed still depends in part on public interest and customer support!
---
Fall Back To The Virtual Armchair General's HOMEPAGE
All text, photos, and artwork are COPYRIGHT©2003 by Patrick Wilson.
They may not be used without written permission.
Contact The Virtual Armchair General
Names of individual product lines are trademarks (TM) of the manufacturers.