Products by
LINE
Alphacast
(Kept in Memory of Spyros Koumousis)
Products by
TYPE
FEATURES
---
SHIP AND BOAT MODELS FOR BOOTLEGGER WARS AT SEA
And Pulp Fiction, Gangster, & Horror Skirmish/Role Playing Games of All Kinds
TVAG proudly welcomes the ship models of Mr. Bob First to our family of service and product providers!
Specializing in over-sized 25mm pieces, particularly Pre-Dreadnought Cruisers and Battleships, Bob has produced a collection of models designed for 28mm war games of the Rum Runner Wars of Prohibition, as well as any other good gaming use buyers may wish to put them to.
Being models of smaller vessels, types commonly pressed into service by the bootleggers, these are quite manageable for the table top, and considerably less expensive than some others. These original models are each "one-of-a-kind" and come as shown in their accompanying photos, ready for immediate play.
Bootleggers ashore used small private craft to run out into International Waters where the freighters, schooners, and other working ships hung out on Rum Row where they bought whatever they wanted, loaded up, and dashed back to shore. These small and increasingly fast "Contact Boats" (or "Blacks" in naval parlance) were the prey of the US Coast Guard, local police, and Prohibition Agents who in the early days relied on converted WW I Sub-Chasers for the hunt. As time passed, simple speedboats gave way to tricked out vessels, purpose built with aircraft engines, and even armor plating! This cat-and-mouse game off America's East and Gulf Coasts ran for 14 years in an ever escalating war of wits and firepower.
Ready for delivery now, the models below--and more by demand--will be joined by a set of eponymous rules now under development. In the meantime, gamers may use any rules of their choice for actions between rival gangs, police, Coast Guard, and more. Besides your own Gangster and Police figures, don't forget the excellent US Navy/Coast Guard figures offered by Bob Murch's 28mm "Pulp Figures" as "American Adventurers Abroad ," and the Tramp Steamer Crews/Sea Going Bootleggers as part of his "Savage Seas" range.
Similarly, Brigade Games Miniatures offer several packs of 28mm Merchant Marine Crews and extra weapons who also make formidable Rum Runners!
---
PLEASE NOTE:
All models are made of solid pine, fully painted, and detailed with full color printed textures. Unless otherwise described, holds do not open, superstructures are solid, and roofs/decks are not removable. Some come with light weaponry, as indicated in their descriptions. When shipped, masts, funnels, ventilators, etc, are first removed and packed with the model to avoid breakage, and may easily be replaced when received.
Models will be shipped by the buyer's choice of USPS Priority or First Class Mail, thus postage added to the purchase price when using the site's Shopping Cart might be sufficient, or more may be required. Buyers will be contacted by E-mail and informed of the expense of both choices. Any Postage due may be paid directly to TVAG@att.net via PayPal, or by invoice to you by the same service, as you prefer. All models will be insured via USPS when possible, the cost of which will be added to that of postage.
---
A new addition to "Rum Runners!" will be 25mm models of small Freighters that can be used for any sort of smuggling or other adventures with whichever Pulp Fiction or other RPG rules that... float your boat.
Two models of "Tramps" will be made available in what may be described as "kit" form. That is, for a bargain price, either "Tramp 1" or the slightly larger "Tramp 2" may be bought as a complete hull and painted in your choice of either all black, all dark gray, or "Cunard" style (black hull, white upper works, with a red funnel). Full color printed graphics of plank decking, portholes, etc, will also be applied as part of the offer. Further, a full set of white metal ship fittings from Houston's 25mm Naval Guns and Fittings particular to that design will come with the model. Masts will be provided with holes already drilled in the deck, for mounting permanently or left removable as preferred. Finally, your choice of the vessel's name and port of registry placed on either side of the bow and across the stern will also be appear, along with the national flag/merchant ensign of you may specify. Thus, each model will be uniquely your own for whatever purpose you may wish to put her to!
Prototype Tramp #1

Prototype Tramp #2
---
Second Model of "Tramp #1"




Tramp #1--In Cunard Colors

20" long, 3.5" wide, and 5.5" to top of funnel, with exposed bridge, she has brass railings, two removable masts, white metal companionway and deck hatches, life boat davits, ship's wheel, binnacle, telegraph, and ventilator.
$125.00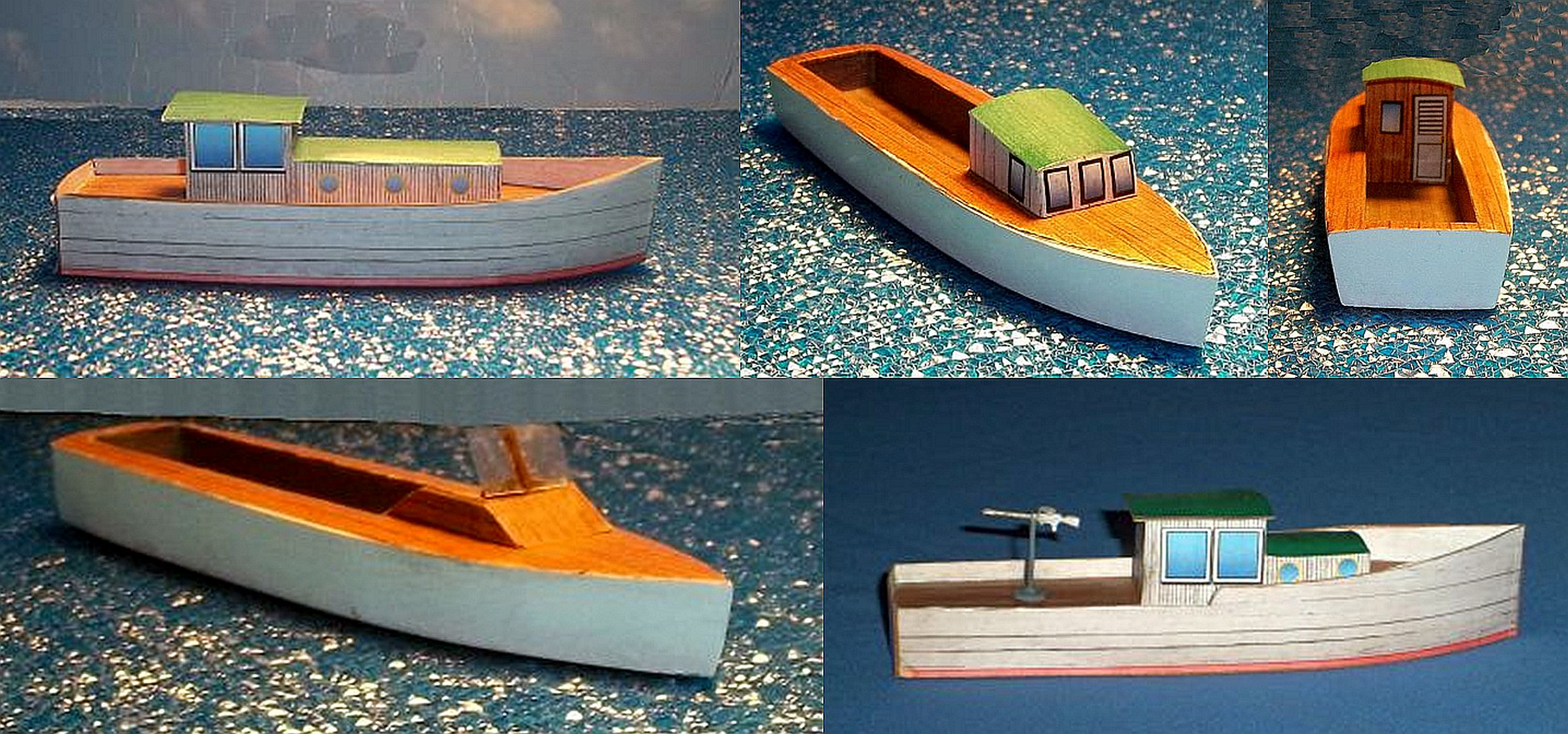 All 13 of the original Models Sold Out, but more are in the works!
---
These are the newest addition to the ever expanding range of "Rum Runner!" models created by Bob First. Copies of the highly successful designs first appearing in the 1920's, there are two basic styles of the same model. The one pictured, with all white wooden hull, and an essentially identical version with a dark natural wood color. All models are 8" long, 2" wide, and have about 3/4" freeboard. Each has a wind screen, wheel, instrument panel, and twin compartments, each capable of holding four 28mm figures on 3/4" bases. The after compartment can hold about eight 1/2" cubical crates of cargo.
Chris Craft has figured prominently in films for decades, though a more recent example may serve as as reminder.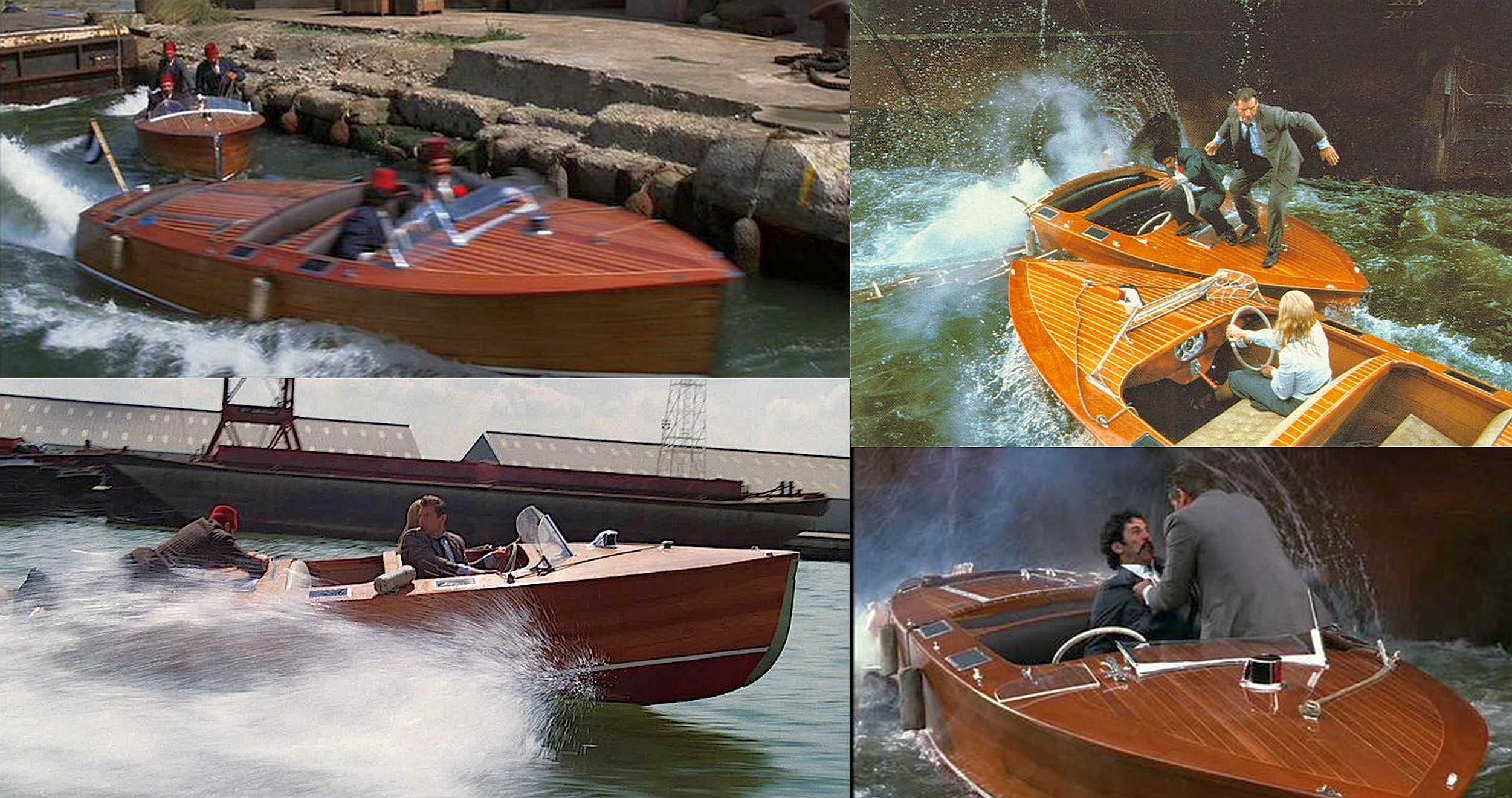 Photos of the second design will be posted soon, but there are currently three of each type already available, ready for immediate shipment. Further models of either type my be commissioned for the same price each, plus postage. Please allow up to 6 weeks for delivery.
CC-002, CC-003
White Hull
$25.00

CC-005, CC-005
Brown Hull
$25.00
---



Small commercial boat that can make a lot more money for its owners hauling in booze from Canada or the Caribbean than fish. She's 16"long, 3.5" on the beam, and 6" high from waterline to funnel top. That's a 3-pdr on her bow, but it's removable if you think she's over armed. A type that might be seen on the Great Lakes making from Canada to Detroit, or anywhere along the Eastern Seaboard.

RRT-003 Trawler/Smuggler

SOLD! 12/21/17
---
US Coast Guard Sub-Chasers/Patrol Boats




PT-001 Patrol Trawler #1

16" X 3.5" X 6"", this vessel is essentially the same design as the Trawler above, but here she has been armed to keep an eye on other vessels of her type. She could also serve nicely as a war time harbor patrol boat to keep watch for uninvited guests to her harbor. She comes armed with a 3-pdr and 1-pdr gun (both removable) for raining small explosive shells on anyone not playing by her rules.

SOLD! 12/21/17
---
RRP-001
Sub-Chaser #1

18.5" X 2.62" X 2.5", this vessel is a dart originally aimed at running down U-Boats in the Great War, and soon relegated to running down other prey. She comes armed with a 12-pdr (3") gun, and a Lewis MG as potent persuaders to "Heave To!"

SOLD! 4/8/17
---
RRP-002
Sub-Chaser #1

18.5" long, 2.62" on the beam, and 2.37" from waterline to top of wheelhouse, she also comes armed with a 12-pdr, but with a 20mm gun for her secondary "persuader."

SOLD!
---
ADDITIONAL WEAPONS & MORE ARE RIGHT HERE!
... And at the best prices on the Web from Houstons's Naval Guns & Fittings at TVAG. Hop over and see what you can add to protect yourself from Liquor Pirates and "Go-Through-Men" more dangerous--and numerous--than the Lawmen in your wake.
---
Fall Back To The Virtual Armchair General's HOMEPAGE
All text, photos, and artwork are COPYRIGHT©2003 by Patrick Wilson.
They may not be used without written permission.
Contact The Virtual Armchair General
Names of individual product lines are trademarks (TM) of the manufacturers.