Products by
LINE
Alphacast
(Kept in Memory of Spyros Koumousis)
Products by
TYPE
FEATURES
What's New in the General's
Unmatched Collection?

---
---
AN IMPORTANT MESSAGE FOR OUR INTERNATIONAL CUSTOMERS!
PLEASE READ BEFORE ORDERING!
When placing your orders via our Shopping Cart, you will not be charged for Postage in order to allow buyers their choice of costs for either International Priority Mail ($44.00 for all Overseas orders weighing up to 4 pounds/1.8 kilos), OR First Class Mail.
The latter rates are calculated by weight and size of package, and while potentially less expensive for smaller orders, they quickly climb to the point where Priority Mail will in fact be far more economical.
This information will be explained in an E-mail of acknowledgment to Overseas Customers upon receipt of their orders.
TVAG's policy is not to profit from postage at any price, though not to lose money, either, so the amounts charged are the best we can offer.
Still trying to earn your business, and make your hobby coins go as far as possible, I remain
TVAG
---
Two New Editions Of Long Time Sellers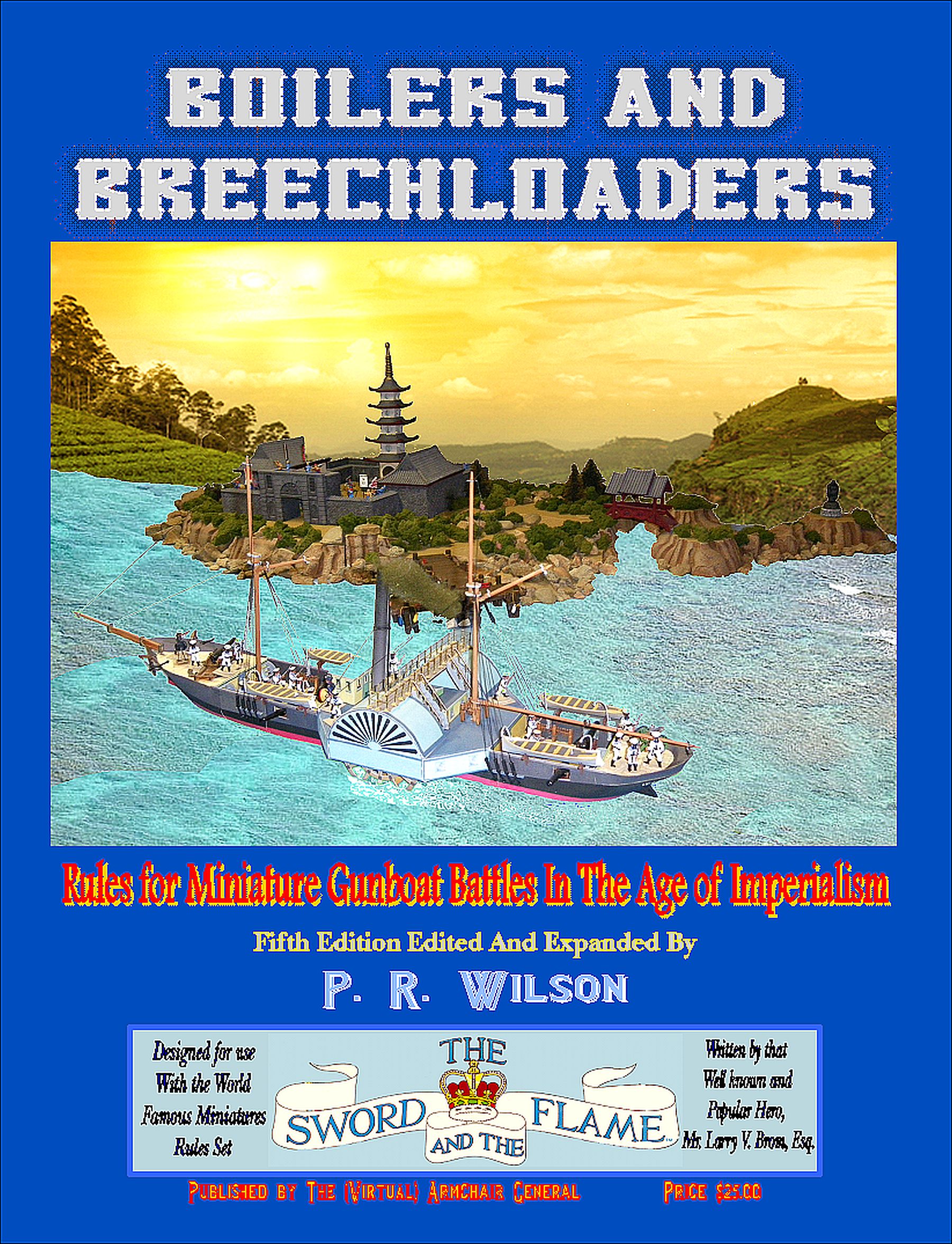 Still can't believe that as TVAG itself enters its 20th Anniversary, the all time classic Colonial Campaign Game system, The Sun Never Sets, originally developed for The Sword And The Flame , now has reached it's 40th Anniversary since first publication in The Courier back in 1982.
Consequently, an new, full color interior 5th Edition, with some new rules, clarifications, and illustrations has been prepared and is now on the shelf at TVAG's Rules & Books Page. Better still, Boilers And Breechloaders--still just a lad at 18!--has similarly been reissued in its 5th Edition, also now in full color interior with new rules. And a dip of our colors to Mr. John McEwan of Reviresco/Tin Soldier for his generous contributions of new rules ideas, as well as some wonderful photos of his models and games which were added to our own in a three page section for the reader's inspiration.
The ever increasing price of printing has persuaded us to discontinue paying to print the full color Graphic Supplements which both titles require (most especially TSNS), and now to offer them in PDF file formats for self-printing. This has allowed the price of TSNS in particular to be reduced, and B&W versions of both sets may be received FREE simply for the asking. More details appear for each title on the Rules page, so check 'em out.

---
---
FYI

Where The General Tells You More Than He Knows
About What's Going On In The Background Here

February, 2022

"Houston's Naval Guns And Ship Fittings"
This nearly 50 year old range continues to transition from traditional white metal castings to 3D Printed resin. And when we say "resin," please don't roll your eyes and think of what you have seen in that medium before! The latest 3D Printers using the latest incarnations it produce the smoothest, most highly detailed 28mm miniatures you've ever seen.

Besides duplicating the late Richard Houston's original designs (done with exact precision using electronic calipers, etc), altogether new items are increasing the range in ways never possible before. Besides new weapons, new and superior fittings are being added in order to make scratch building easier and more rewarding than ever.

Other Stuff
Viva Juarez!, released back in June, has done exceptionally well and we expect it to remain one of our best efforts. Indeed, we are still in "recovery mode" after almost two years of high pressure research and writing, so the next project is still somewhat up in the air.

The next addition to "Mean Sets" will still be the "Tiki Bar." It has already been started, but there may be some new developments making this an especially interesting item. More on that later.

Competing for attention is the long promised scenario book "Tales of The Mean Streets" in support of We Only Kill Each Other. Besides the time eaten up by preparing VJ! for publication, "Tales" hit a snag on the question of whether to provide fully pre-generated Character Sheets for each scenario, which would add to the printing costs and take much of the player's own creativity out of the process. The answer may be taking shape even now....

Another candidate is a long cherished project for a definitive Private Detective RPG which also requires a final decision on how to proceed. In this case, I may go to the public and explain the basic design options and ask which would be preferred. Well, we'll need to look into that, too.

And now, we return you to the dance portion of our broadcast....
"In The Pipe"

This page provides progress reports on the latest projects under development for TVAG. Just click on "In The Pipe" here or on the Navigation Bar button under "Features" to take a first peak at new rules titles, gaming accessories and miniatures lines in various stages of development.
---

WHO ARE WE ... And What's the Deal?
All text, photos, and artwork are COPYRIGHT©2003 by Patrick Wilson.
They may not be used without written permission.
Contact The Virtual Armchair General
Names of individual product lines are trademarks (TM) of the manufacturers.