Products by
LINE
Alphacast
(Kept in Memory of Spyros Koumousis)
Products by
TYPE
FEATURES
Little War Wheels
& Boats
---
54mm (1:32 Scale) Card Stock Model Vehicles

Sculptor/Modeler Chris Ferree has designed some wonderfully affordable and

easy to assemble period vehicles. These are provided as full color PDF files for self-printing and assembly, needing only one or two sheets of card stock printed, cut ou, scored, and glued together in a short time. Now, your Armies can have Staff Cars and more to transport their Generals, and more.

Chris has also begun providing Armored Cars for the period up 1914, tanks for the Great War, and designs for the inter-wars period, too.

Horse drawn--and "dog drawn"--vehicles are also now available, including Field Kitchens and Forges to feed the troops and shoe the horses. Ambulances, and more will all be offered at bargain prices, actually allowing collectors to provide virtually everything needed for conducting their own Little Campaigns.

Please note the 1:32 figures in photos are provided for size reference only, and do not come with the models.
Autos, Armored Cars, Wagons, Boats, Etc, Currently Available
LC-01
Rolls Royce Staff Car
If you're an "Brit" General and Staff, how can you do better than a Rolls? Superb "British Craftsmanship" by workers who can't even afford "British Dentistry."

PDF File Version--Price: $4.00
---



LC-02
Opel Scout Car
Now, this little "Hun-ney" can scamper about the field as a Scout, but would also make a good Brigadier's car.

PDF File Version--Price: $4.00
---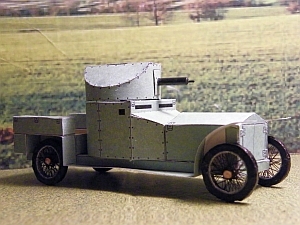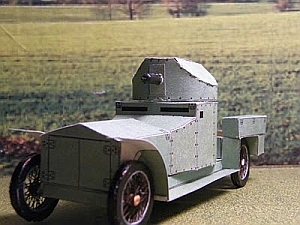 LC-03
Rolls Royce Armored Car
Please note that the model does not come with a machine gun to mount in the turret--it must be provided at this point by the buyer. Also, the wire wheels shown are a conversion made by the builder. The model's wheels will be solid when assembled.
PDF File Version--Price: $4.00
---




LC-04
Mercedes Staff Car
"Style! That's what the Boche has. Style!" Not only could the Staff ride comfortably here, but a Feldmarschall could even travel with a Masked Lady at his side without compromising either.

PDF File Version--Price: $4.00
---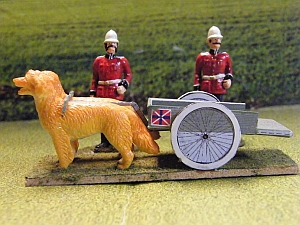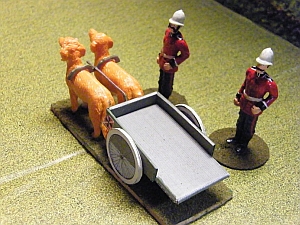 LC-05
Machine Gun Carts
Used extensively in fact by the Belgians of 1914, as well as the Dutch, but only experimentally by the British. The Germans thought them "inhumane" for the dogs, but Ruritania might have no such scruples.
Two Carts with full assembly instructions and example photos are produced on each printing.
DOGS NOT INCLUDED!
Suitable 1:32/54mm models of same are inexpensively available from most toy sources.
Please don't forget to choose if you want your carts to be for Army Purple, Red, or Ruritania, as well as your preferred printed format.
PDF File Version--Price: $5.00
---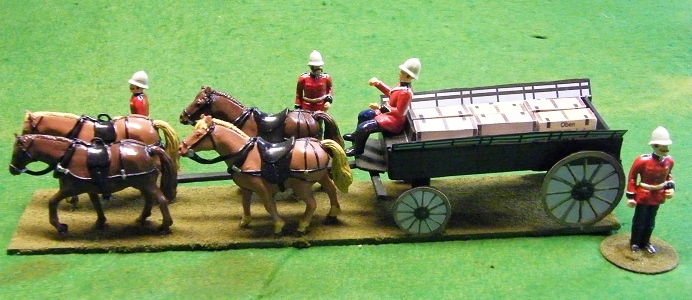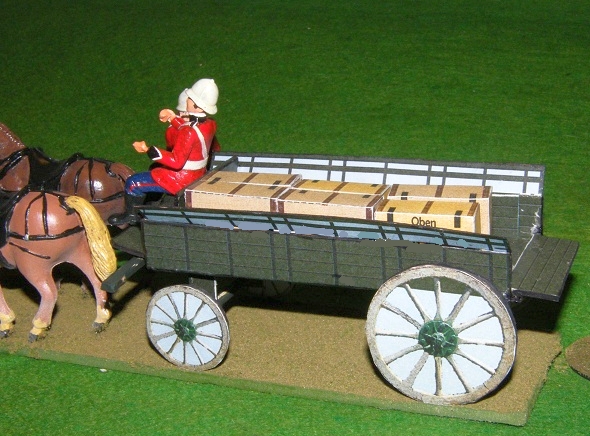 LC-06
General Service ("GS") Wagon
The most common and reliable rolling stock in the British Army, it also serves any other just as well--and affordably!
Easy to assemble, full color card model which can be printed en masse , providing all the rolling stock your collection could ever require. A variety of supply crates are included for showing the wagon loaded.
The model may optionally be built using your own wooden/plastic/metal wheels, as preferred.
DRAFT HORSES NOT PROVIDED!
These must come from other, fortunately readily available sources.
PDF File Version--Price: $5.00
---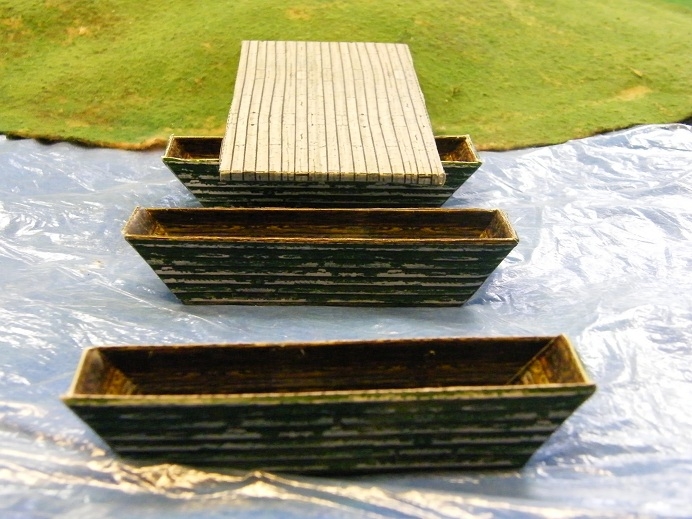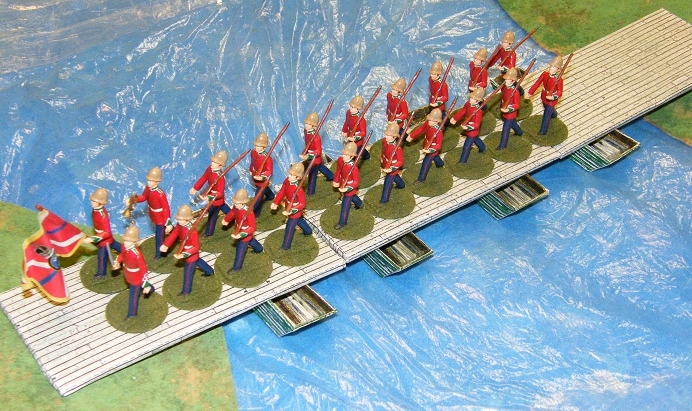 LC-07
Pontoon Bridging Set
Everything you need to cross streams of any size--preferably not under fire!
Each set includes one Wagon, two Pontoons, and one section of plank bridge. By printing as many sets as desired, bridges of any length can be constructed, and even represented as being carried by the necessary wagons!
The 2" x 4" Pontoons are detailed inside and out, and are stackable so that a nested pair fit on each wagon. They may even be used as boats for ferrying small numbers of figures across streams or lakes.
Wagons are detailed on all surfaces, and may optionally be built using your own wooden/plastic/metal wheels, as preferred. The tail gate can be built to open and close.
A very expensive extra in the traditional metal--if it can be found!--but now yours for a song.
DRAFT HORSES NOT PROVIDED! .
PDF File Version--Price: $5.00
---



LC-08
Field Kitchen
Closely modeled on Great War Era German Army types, this easily assembled Field Kitchen is ready to feed the men. The cauldron is full of beans, and the fresh bread is baking in the oven. Just stand your Cook figure on the stool behind the Stove, and your Rear Area begins to look almost "homey."

The Kitchen and its Limber are detailed and the graphic wheel designs may be substituted using your own wooden/plastic/metal wheels, as preferred.

Another very expensive accessory in miniature--if it can be found!--but also bargain priced.

DRAFT HORSES NOT PROVIDED! .

PDF File Version--Price: $5.00
---



LC-09
Field Forge

Cavalry Horses need shoeing, and other blacksmithing can always be done, so your Cavalry Brigades need a Field Forge to keep themselves mobile and ready for action on campaign. As with other designs, the graphic wheels provided may be replaced with wooden/plastic/metal substitutes.

DRAFT HORSES NOT PROVIDED! .

PDF File Version--Price: $5.00
---




LC-10
Naval Landing Boat

Your wargame's amphibious option, and this is just the item to make it practical. Measuring 10" long, 3.25" wide, and 1" freeboard, this very simple to assemble model will accommodate up to ten 54mm figures standing, plus a Sailor at the bow and another at the tiller. Buy this PDF file and produce as many models as you wish. Sea born invasions/river crossings were never so affordable!

PDF File Version--Price: $5.00
---




LC-111
Transport Barge

Now, for SERIOUS amphibious operations in the age before purpose-built landing craft, TVAG offers this all purpose barge for moving guns, cavalry, and infantry from transport ships to the beaches and/or ports of your enemy. The hold of this barge accommodates 20 infantry or 8 cavalry or the largest guns and crews, and all with good protection from small arms fire (at least until it's time to leap into the surf!).

It measures 15" in length, 7" in width, and 2" high, and like all other such designs, comes in full color, requiring nothing but assembly for use. As a PDF, it may be printed as often as desired, allowing for as many such barges as your invasion plans may require!

PDF File Version--Price: $5.00
---
Fall Back To The Virtual Armchair General's HOMEPAGE
All text, photos, and artwork are COPYRIGHT©2003 by Patrick Wilson.
They may not be used without written permission.
Contact The Virtual Armchair General
Names of individual product lines are trademarks (TM) of the manufacturers.